17 Best Things to Do in Tucson, AZ: Top-Rated Attractions 2022
The charming city of Tucson, a fascinating place to explore, has so much to offer. Nestled in the scorching Sonoran Desert and magnificent mountain ranges looming nearby, it is just a stone's throw from breathtaking scenery. There are countless outdoor activities and other active things to do in Tucson for locals and tourists alike to enjoy.
Home to the University of Arizona, the second-largest city in the state has a lively yet laid-back vibe, plus thriving art and cultural scene to dig into. In addition, it has beautiful botanical gardens and historic neighborhoods with many sights and tourist attractions related to the Wild West.
1. Arizona-Sonora Desert Museum
The Arizona-Sonora Desert Museum is one of the most popular places in southern Arizona and features a wide variety of attractions. In addition to having a botanical garden and a zoo, it also has an excellent art gallery, an aquarium, and a natural history museum.
Founded in 1952, the establishment offers invaluable insight into the natural history, animals, and plants of the sun-scorched Sonoran Desert.
Visitors can see coyotes and cougars in their natural habitat and learn all about the history and nature of the remote region. The amazing Arizona-Sonora Desert Museum, located just a 20-minute drive west of the city, is an interesting and educational excursion.
2. Sabino Canyon
Nestled northeast of Tucson is the fascinating landscape of Sabino Canyon, amid the vast Santa Catalina Mountains. Due to its proximity to the city, it is a very popular place that offers epic outdoor activities and majestic views.
Here you can find everything from streams and cacti to waterfalls and wildlife, as the canyon is located entirely within the Coronado National Forest.
In addition to hiking and horseback riding, you can also ride the Cañón del Sabino tram, which stops at trail starting points, peaceful picnic spots, and fantastic viewpoints.
3. Mount Lemmon Scenic Route
Widely regarded as one of the most scenic drives in the state's southeast, the fascinating Mount Lemmon Scenic Trail is a delight to travel with. At more than 40 kilometers in length, it takes you to the top of the mighty mountain, passing through spectacular landscapes, nature, and viewpoints as you go.
The extraordinary route takes you through a luscious desert landscape with sparkling lakes and streams that can be seen near its lofty summit.
High on the peaks of the Santa Catalina Mountains, visitors can enjoy breathtaking views over Tucson and the Sonoran Desert. You can go hiking, camping, and even skiing on its steep slopes.
4. Saguaro National Park
Made up of two separate sections on either side of Tucson, the sublime Saguaro National Park boasts spectacular desert landscapes.
Named for the gigantic cacti that dot its desolate confines, it boasts incredible, incredible hiking, mountain biking, and horseback riding routes. There are also some splendid scenic drives to enjoy.
Created in 1933, the park protects part of the Sonoran desert and the mighty Tucson and Rincón mountain ranges that run through it.
Although it has wonderful natural spaces to explore, the highlight is its strip of spiny saguaro that rises to 12 meters in height and is an iconic image of the American Southwest.
5. Mission San Xavier del Bac
One of Arizona's most important historical places, the wonderful Mission of San Xavier del Bac, is located south of downtown. Known as the "White Dove of the Desert," the beautiful white Baroque building exhibits one of the country's best remaining Spanish colonial architecture.
Built between 1783 and 1797, the mission is remarkably the oldest European structure in Arizona. Its fabulous features and facade are popular with pilgrims and tourists alike.
It is a striking sight with its elegant entrance and exterior and its interior exquisitely decorated with frescoes, paintings, and statues.
6. University of Arizona Campus
The colossal campus of the University of Arizona occupies a large part of downtown. Thanks to its large student population, it has a lively yet relaxed atmosphere, with beautiful grounds and beautiful old buildings for you to explore.
It is one of the most prestigious universities in the United States, founded in 1885. Many of the buildings in its historic center date from the early 20th century. In addition to appreciating the variety of architectural styles, visitors can stop by the excellent Arizona State Museum and the magnificent Museum of Art.
7. Old Tucson
With spectacular shootouts and stunt shows, lounges to visit, and vintage stagecoaches to ride, Old Tuscon is certainly a great outing for the whole family. Nicknamed "Hollywood in the Desert," the former movie studio is now a wonderful Wild West theme park with thrilling rides and entertainment options for visitors to enjoy.
Built-in the 1930s, its sprawling set has been used for more than 400 movies and television shows, with Gunfight at the OK Corral and El Dorado being the most famous.
In addition to touring the magnificent studio and its county jail, ranch house, and railroad station, visitors can view reenactments of gunfights and ride attractions.
8. Tohono Chul
Located on the way to Catalina State Park is the Tohono Chul, which connects people with the impressive art, nature, and culture of the Sonoran desert region.
It acts both as a botanical garden and a cultural museum. Its name means "corner of the desert" in the local indigenous language.
Founded in 1985, this peaceful property has magnificent gardens for strolling, dotted with wild and native flowers, shrubs, and trees. You can also enter its exquisite art gallery, displaying sculpture and folk art from across the American Southwest.
9. Wood Canyon
Located just a 45-minute drive south of Tucson is the majestic Madera Canyon. Nestled between the high mountains of Santa Rita, it has fabulous fauna and flora. Its rugged reaches are widely regarded as one of the best birding spots in the United States.
Thanks to its serene and secluded setting, many migratory birds stop in the rugged canyon to rest. To date, more than 250 species have been sighted.
The Madera Canyon also has beautiful hiking trails that take you alongside a charming stream and through ponderosa pine patches before emerging at prominent peaks and overlook.
10. Pima Air and Space Museum
One of the largest aerospace museums in the world, the phenomenal Pima Air and Space Museum, is located just a 15-minute drive southeast of the city. Here you will find a spacious airfield and huge hangars that house more than 400 historic aircraft and spacecraft.
Since its opening in 1976, its collection has grown considerably, with civilian aircraft alongside military bombers, missiles, and uncrewed spacecraft. The huge museum also has interesting and attractive exhibits and artifacts documenting the evolution of aviation.
11. Tucson Botanical Gardens
A quiet and scenic place to stroll in the Tucson Botanical Gardens, a short drive from downtown. The magnificent gardens are home to orchids, bromeliads, and succulents, with countless cacti and palms dotted with an oasis of calm and tranquility.
Once the private property of the Potter family, the historic home and grounds were turned into a beautiful botanical garden in the 1970s.
It has since expanded to include herb, neighborhood, and children's gardens to a serene Zen section and a butterfly greenhouse.
12. Gaslight Theater
For an evening out for the whole family, look no further than the Gaslight Theater, located east of the city on Broadway Boulevard.
Here you can enjoy unforgettable performances from melodramas and musical comedies to wild westerns, Christmas specials, and science fiction shows.
Since its opening in 1977, the theater has been very popular with locals and tourists thanks to its attractive entertainment and cozy atmosphere.
While watching a show in the wonderful Wild West-themed theater, you can also enjoy a meal, a drink, and popcorn as you boo the villain and cheer on the hero of the play.
13. DeGrazia Gallery in the Museum of the Sun
On the city's northeastern outskirts is the charming DeGrazia Gallery at the Museo del Sol. What began as a small site in 1951 has grown into an incredible National Historic District. Its adobe buildings now house a captivating collection of works of art.
Designed by acclaimed Arizona artist Ettore DeGrazia, the sprawling series of beige buildings look gorgeous, and the highlight is its permanent collection of paintings.
They highlight the history of the Native cultures of the American Southwest and display many of DeGrazia's striking abstract and impressionist works.
14. Tucson Mountain Park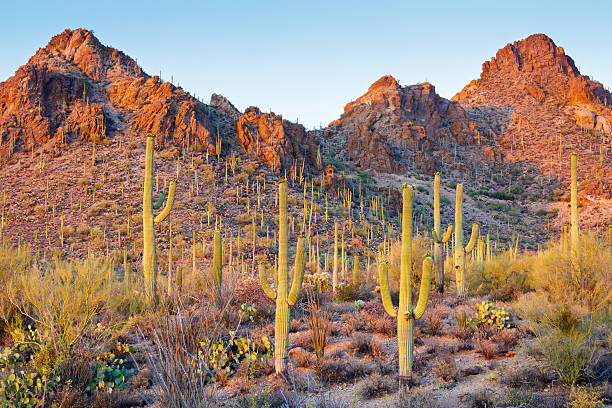 Enchanting Tucson Mountain Park, located west of the city, stretches across a huge stretch of the sun-scorched Sonoran Desert. In addition to having stunning scenery, the pretty park and its prominent peaks offer a host of outdoor activities.
Popular with nature lovers and outdoor enthusiasts, the park was created in 1929 to protect the remote mountain range. Splendid saguaros can be spotted with fascinating views and photos from above within their wonderful nature. In total, it has more than 100 kilometers of trails for hiking, mountain biking, or horse riding.
15. Catalina State Park
The captivating Catalina State Park is a half-hour drive north of town. With its rugged canyons and sparkling streams, as well as its forests and wildlife, its rugged expanses are a delight to explore.
Nestled at the base of the towering Santa Catalina Mountains, the park has trails for hiking, mountain biking, or horseback riding. Enjoy breathtaking scenery with views of the mountains and Tucson in the distance.
16. City of trail dust
Nestled in the city's northeast is Trail Dust Town, a unique open-air shopping center. Rumor has it that it was once a movie set and features Wild West-themed shops. Other attractions include a picturesque carousel, a Ferris wheel, and a miniature train.
Since its opening in 1961, this small town has been a popular tourist attraction. People come from all over to sample Pinnacle Peak steaks, watch a Wild West stunt show, or try panning for gold.
17. Reid Park Zoo
Despite its relatively small size, the Reid Park Zoo is home to an astonishing variety of animals and favorite with locals and tourists alike. Located east of the city center, its collection of animals includes everything from brown bears and jaguars to giraffes, elephants, and tigers.
Founded in 1965, the zoo has four zones that will take you from Asia and Africa to South America. In addition to learning about the animals and their natural habitats through exhibits and demonstrations, you can also feed giraffes and splash around in their wild and humid water park.
Frequently Asked Questions: Best Things to Do in Tucson, AZ
What is Tucson best known for?
Tucson was the first city to earn the designation of World City of Gastronomy by the United Nations Educational, Scientific, and Cultural Organization (UNESCO). Plus, with a thriving visual and performing arts scene and respected galleries and museums, Tucson's vibrant multicultural heritage shines.
Is Tucson worth visiting?
But within easy access are breathtaking mountainscapes, desert kitsch and outstanding wildlife-viewing opportunities. Tucson is worth a visit for any traveler, regardless of means, but I'm happy to say I kept well within my modest budget when I visited last month.
Why is Tucson so dark?
Thanks to a local ordinance that strictly limits artificial-light pollution, Tucson supposedly has the darkest night skies of any city its size in the country. According to the Tucson-based International Dark-Sky Association, excess nighttime lighting doesn't just waste energy.
What is the best time of year to visit Tucson Arizona?
The best times to visit Tucson are from April to May and from September to October. These shoulder seasons offer pleasant weather and reasonable room rates. Winter's sunny skies and comfortable temperatures attract thousands of northerners in need of a thaw.
Is Tucson walkable?
Tucson is not as dense as many cities, but there are still quite a few areas in town that are very walkable. Most of Tucson is pretty flat, which makes walking and biking easier than hilly cities. Walkscore.com ranks Tucson as the 28th most walkable large city.
What is there to see between Sedona and Tucson?
The top stops along the way from Tucson to Sedona (with short detours) are Arizona-Sonora Desert Museum, Desert Botanical Garden, and Musical Instrument Museum. Other popular stops include Montezuma Castle National Monument, Goldfield Ghost Town and Mine Tours Inc., and Phoenix Zoo.
Related Searches:
Unique Things To Do In Tucson
Things To Do In Tucson During Covid
Things To Do Tucson This Weekend
Best Things About Tucson
Things To Do In Tucson At Night
Things To Do In Downtown Tucson
Things To Do In Tucson Today
100 Things To Do In Tucson
12 Best & Fun Things To Do In Fort Worth, Texas 2022
25 Best Things To Do In Pittsburgh, Pennsylvania 2022
20 Best Things to Do in Raleigh, North Carolina 2022
15 Fun Things To Do In Daytona Beach, Florida 2022
15 Best Things to Do in Key West: Top-Rated Attractions 2022