20 Best Things to Do in Raleigh, North Carolina 2022
Explore city parks, visit various museums, dine at great restaurants, plan a wedding in one of the unique venues, and go on one-of-a-kind, free family adventures on your weekend trip to Raleigh, North Carolina.
Art lovers can spend a morning at the North Carolina Museum of Art, which houses works of art from around the world. Other fun things to do in Raleigh, North Carolina, include food tours, pottery classes, and visits to chocolate factories.
1. North Carolina Museum of Art
The North Carolina Museum of Art started with 74 paintings donated by local businessman Robert F. Phifer and is one of the best things to do in Raleigh.
Today, the museum has an impressive permanent collection that includes essential paintings from the European Renaissance, Egyptian funerary art, sculptures and vases from ancient Greece and Rome, American and international modern art, Pre-Columbian and oceanic art, and much more.
Address: 2110 Blue Ridge Road, Raleigh, NC
2. North Carolina Museum of Natural Sciences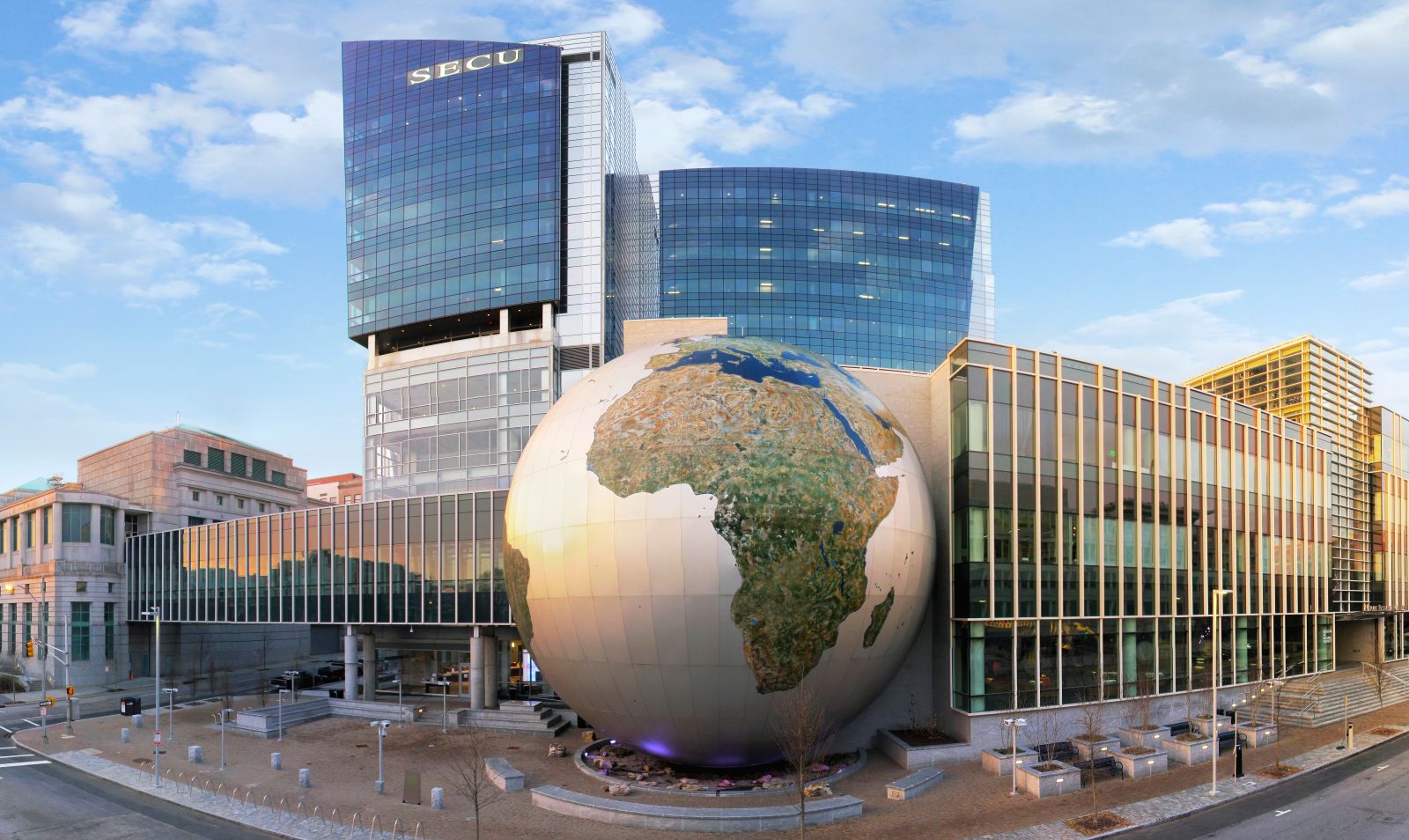 There is no better place to get close to nature's secrets than among whale skeletons, dinosaurs, a two-story waterfall, or live animals.
The North Carolina Museum of Natural Sciences is the largest natural history museum in the Southeast and one of Raleigh's top attractions.
The museum exhibits a range of permanent collections and special exhibits, live shows, and nature movies that change regularly for all ages. The museum aims to offer visitors the opportunity to learn more about nature and science and its place.
Address: 11 West Jones St., Raleigh, North Carolina
3. North Carolina History Museum
Opened in 1902, the North Carolina Museum of History features a collection of artifacts consisting of more than 150,000.
The museum has a large 55,000-square-foot gallery with permanent and temporary exhibits, a research library, several classrooms, and a large, well-equipped auditorium with 315 seats. One of the leading permanent exhibits is The Story of North Carolina, the exhibit largest ever produced and exhibited by this museum.
Using elements of everyday life, the exhibit traces the daily lives of North Carolinians, covering more than 14,000 years of history. This multimedia exhibit includes fascinating artifacts and displays dioramas, various presentations, and interactive activities.
If you are looking for things to do in Raleigh, North Carolina, with kids, this is a great place to learn about history. The museum also shares its treasures through a series of traveling exhibits. The online exhibition is part of the distance education program.
Address: 5 East Edenton Street, Raleigh, North Carolina
4. Try Carolina Gourmet Food Tours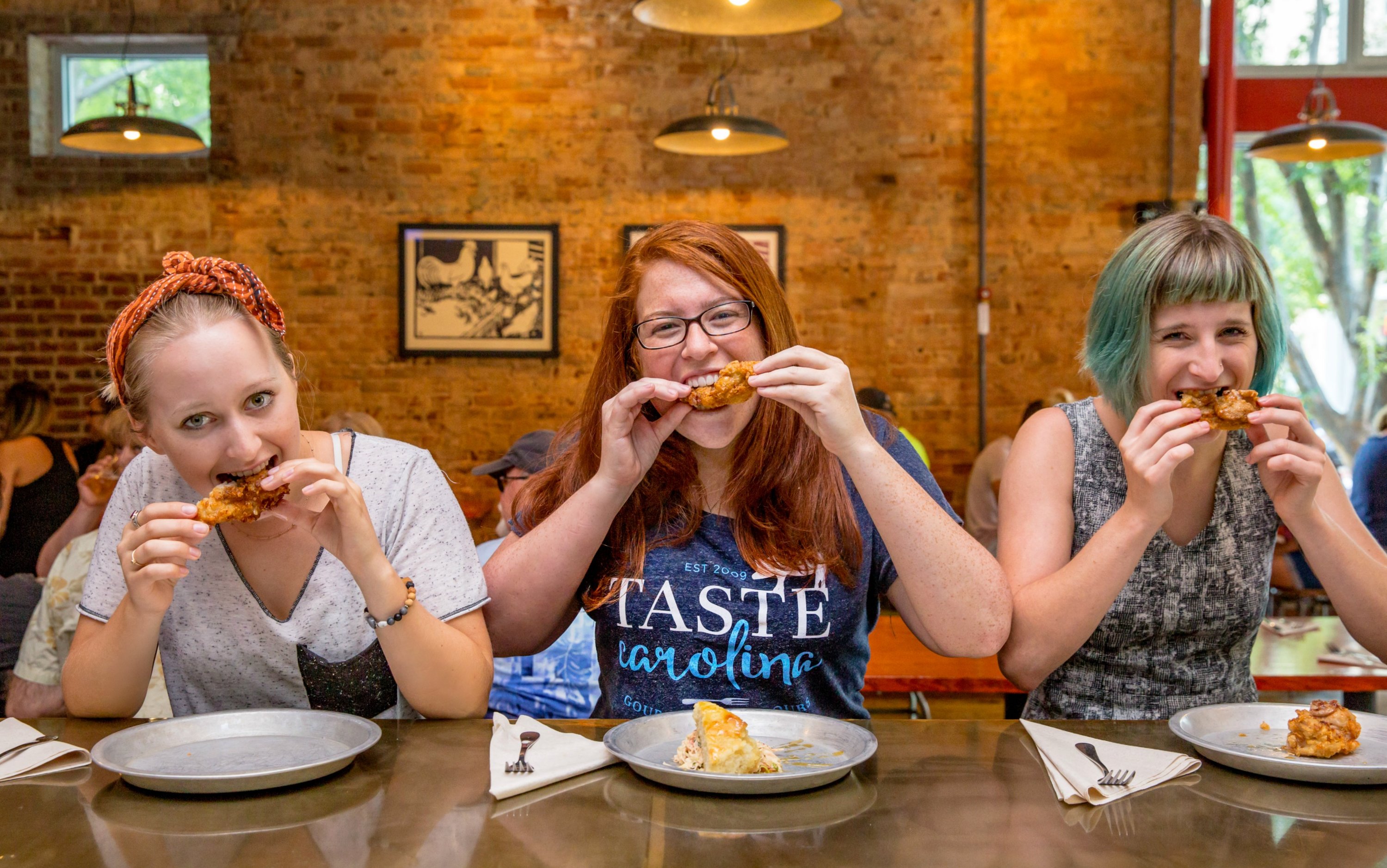 Don't miss your chance to experience the culinary delights of Raleigh in a truly unique way. Try the local expert guides from Carolina Gourmet Food Tours, who will take you on a walking tour of some of the best restaurants and food shops downtown.
Chefs will tempt you with their signature dishes and favorite drinks while sharing a bit of the city's history and architecture with you. You better bring your appetite.
On weekends there are afternoon and evening public tours, and private and corporate tours can be arranged at any time.
5. Joel Lane Museum House, Raleigh, North Carolina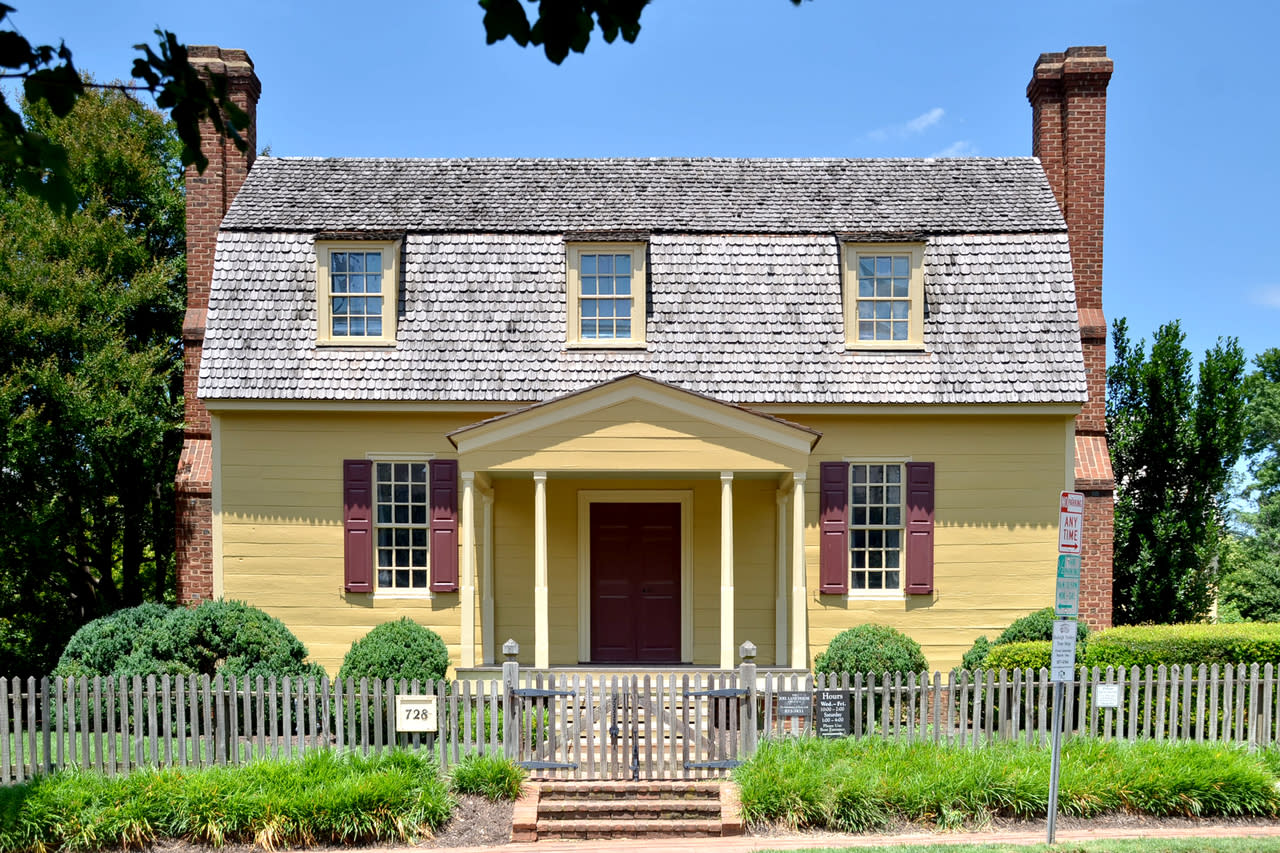 Locals call the Joel Lane Museum House "the birthplace of Raleigh, the capital of North Carolina." The plantation owner, Joel Lane, built his home in 1769, at the time, in rural North Carolina.
Joel Lane's plantation mansion was considered "Best Home for 100 Miles" during his time. It has been faithfully restored and is now an important historical site that takes visitors to very different times. The house is owned by the National Society of Colonial Ladies of America in North Carolina.
It hosts frequent events such as conferences, videos, and guided tours and can be rented for special occasions. Imagine having a birthday party in the elegant gardens of Museum House!
Address: Visitor Center at 160 South Saint Mary's Street, Raleigh, North Carolina
6. Stanbury
Stanbury is a modern and trendy restaurant housed in a charming old building in the Mordecai neighborhood, not far from the center. The decoration and the atmosphere will make you feel welcome; As you enter, you will see wooden tables, a large bar, and a bustling open kitchen where all the magic happens.
The restaurant's main hall is often packed with satisfied customers – word has spread about Stanbury's excellent food. The menu changes daily and features fresh, seasonal, and local ingredients.
You'll notice that chefs have taken an adventurous approach to American classics. Stanbury is famous for its imaginative cocktails, but the bar is also well-stocked with a good selection of wines and beers. The restaurant also has an outdoor patio for al fresco dining.
Address: 938 N Blount St, Raleigh, North Carolina
7. Visits to the Videri chocolate factory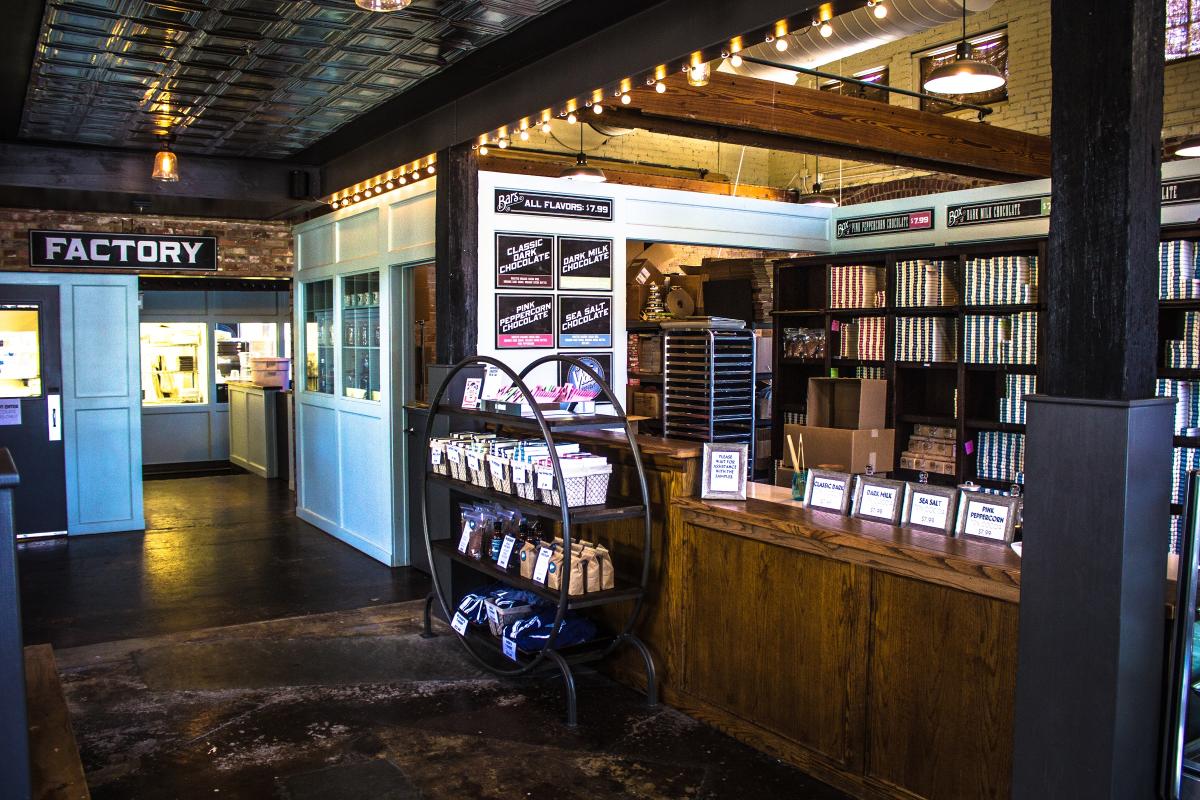 At Videri Chocolate Factory, you can get some of the best chocolates in North Carolina. The factory operates out of the historic Raleigh Depot building, which retains most of its industrial charm – you can see the exposed brick and ductwork.
You will also be able to see the whole process of making chocolate. Please stop by the shop where you can stock up on chocolate for later or relax on its charming outdoor patio.
This is a great place to visit if you are looking for things to do in Raleigh to satisfy your sweet tooth. The factory is the brainchild of three true chocolate lovers: Sam and Starr Ratto and Chris Heavener.
They are committed to fair trade and purchase their cocoa beans and sugar from Central and South American farms. The resulting chocolate is organic, pure, and free of additives or chemicals. Try Blueberry and Dark Chocolate or Strawberry Anise Ganache. After a trip to Videri, you will never see chocolate the same way.
Address: 327 W. Davie Street, Sweet 100, Raleigh, North Carolina
8. JC Raulston Arboretum, Raleigh, North Carolina
Strolling through the JC Raulston Arboretum at NC State University is a delight for all your senses. Whether you're basking in the shade in the Asiatic Valley or breathing in the sweet scent of annual and perennial flowers in the Color Trails garden, you'll wish you had more time to explore.
JC Raulston Arboretum presents one of the most diverse and extensive collections of plants adapted for landscaping in the Southeast. The garden has also been recognized as one of the best teaching gardens in the Southeast.
Many of the gardens are designed and maintained by students and volunteers. Garden also hosts symposia, conferences, family events, summer camps, and other events for the whole family.
Address: NC State University Campus Box 7522, Raleigh, North Carolina
9. Sassool, Raleigh, North Carolina
Sassool is an authentic Mediterranean and Lebanese cafeteria-style restaurant and market where you can buy a quick pita on the go or relax and enjoy the rich flavors at one of its outdoor tables.
An attached Mediterranean supermarket sells authentic spices, dried fruits, seeds, and nuts. And, of course, they have fresh pitas, bread, and desserts like baklava that will keep you coming back for more. If you are looking for ideas for a romantic date in Raleigh, this is a great place to visit. If you are unfamiliar with Lebanese cuisine, try a sample platter.
You'll get a taste of hot grilled kabobs with labneh and kalamata olives on a hot whole wheat pita, all packed with flavor. Sassool serves many veggie dishes and is heavenly for vegetarians.
Address: 9650 Strickland Rd, Raleigh, North Carolina
10. Raleigh Farmers Market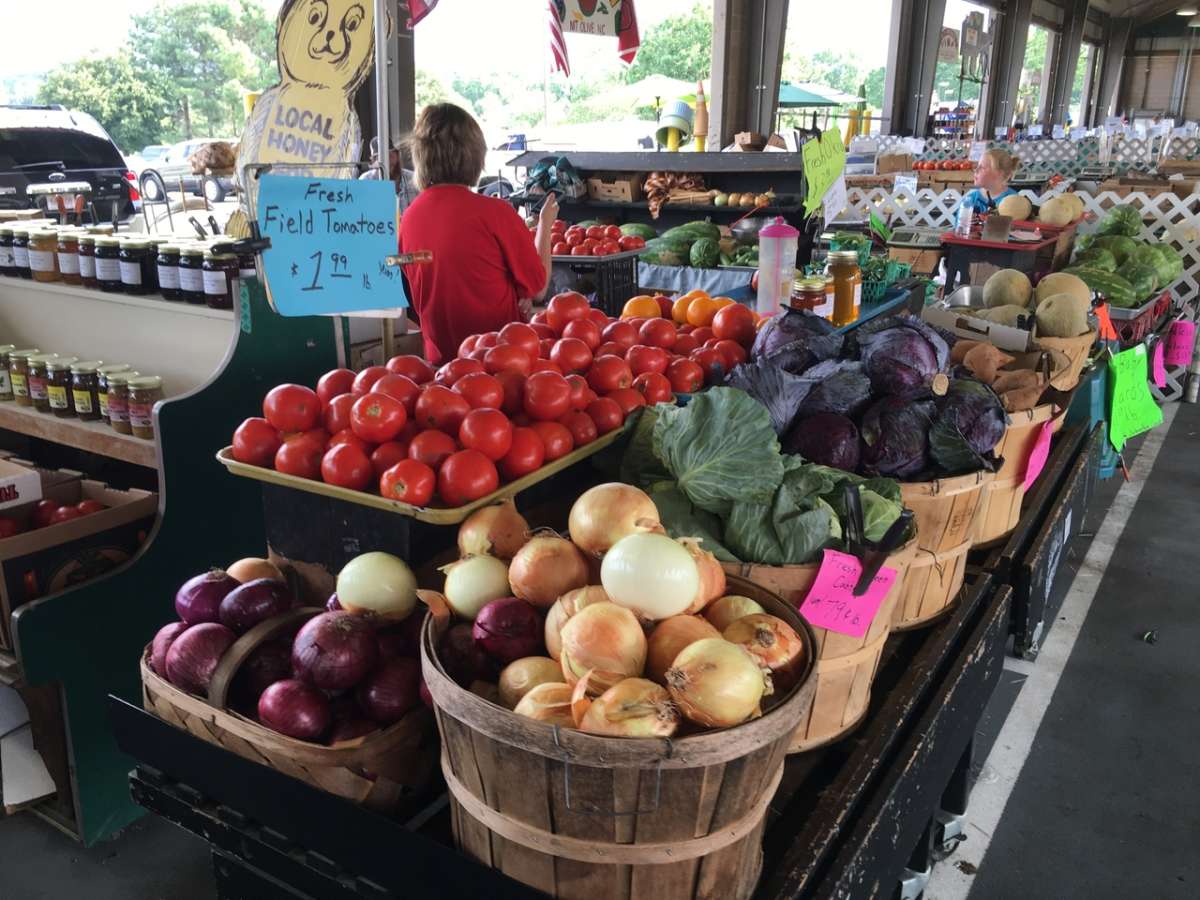 Raleigh Farmers Market is not to be missed. You'll find it all here: fresh seasonal produce from around the country, cheeses, meats, baked goods, crafts, picture frames, candy, soaps, lotions, and, of course, North Carolina wines.
There are 75 beautiful acres to explore, and around 225,000 square feet are covered and climate-controlled. There are also several restaurants where you can eat, rest and replenish energy.
You won't want to miss out on some of the special events hosted at the Farmers Market, including Watermelon Day on July 30, the Gardener's Weekend Show in August, Sweet Potato Day in September, and many others. Check your calendar because something new is happening all the time.
Address: 1201 Agriculture St., Raleigh, North Carolin
11. Tazza Kitchen Cameron Village
Tazza Kitchen is a modern, elegant, and spacious restaurant where customers are greeted with a delicious aroma of meat, garlic, and wood fire.
A lively and friendly atmosphere with casual bistro-style seating makes you feel right at home. The food and wines are excellent, and the prices are reasonable. The menu features dishes inspired by Italy and Baja California, and the ingredients come from well-known farmers and food artisans, many of whom are local.
Chefs Justin Burchill and Jared Dalby create many wood-burning dishes. Small-production wines and unique local beers accompany the main courses. The chefs are very environmentally conscious and use hormone- and antibiotic-free meat and poultry and sustainably caught seafood.
Address: 432 Woodburn Road, Raleigh, North Carolina
12. CAM Raleigh
The Raleigh Museum of Contemporary Art is a private gallery of contemporary multimedia art in Raleigh, North Carolina.
The gallery does not have a permanent collection; instead, it aims to seek out contemporary artists and present their best works through ever-changing well-curated exhibits that are fresh and representative of what is happening in the city's art world.
The museum works with the North Carolina State University College of Design and occupies 20,000 square feet of space in a repurposed warehouse in downtown 1910. Some of the more notable exhibits organized at the museum featured works by Angel Otero, Jonathan Horowitz, and Marilyn Minter.
Address: 409 West Martin Street, Raleigh, NC 27603
13. Morgan Street Food Hall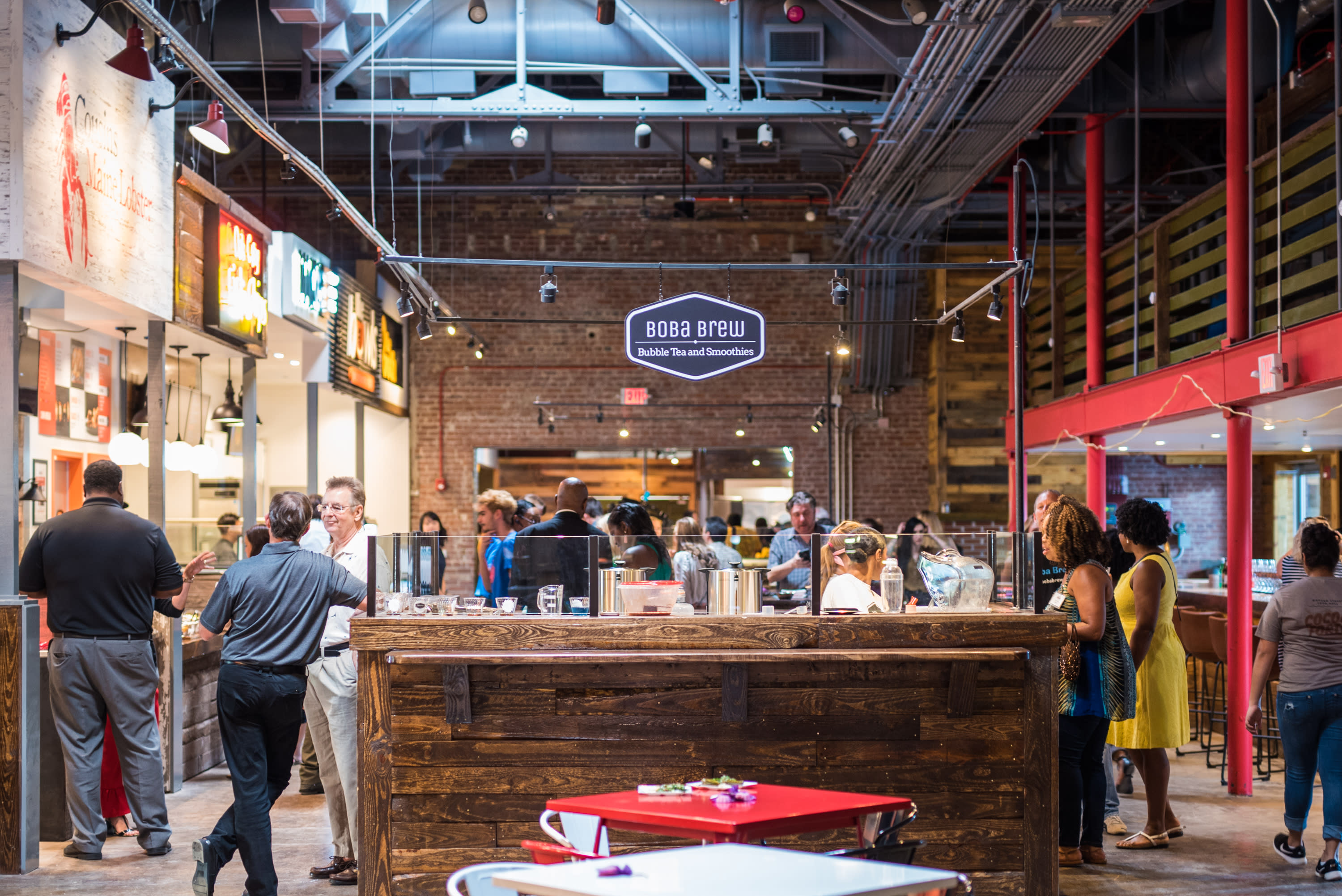 Morgan Street Food Hall was a new, modern food and beverage hall in Raleigh's Warehouse District, open to the public in August 2018. The food hall offers 20,000 square feet of the shared dining area, allowing diners to choose from nearly 20 modern and innovative food stalls serving a variety of international cuisines.
Dining options include Iyla's Southern Kitchen comfort food restaurant, Curry in a Hurry Indian restaurant, Maku's Empanadas Cuban cuisine, and Raleigh Rolls Thai-style rolled ice cream parlor. Unique drinks are also served at stalls like Boba Brew, which imports real bubble teas.
In addition to restaurants, several vendors sell pantry and household items, including Huntington Provision Co., Mike D's BBQ, Fancy Berries, and Five Points Baking Company.
Address: 411 W Morgan St, Raleigh, NC 27603
14. Go Ape Treetop Adventure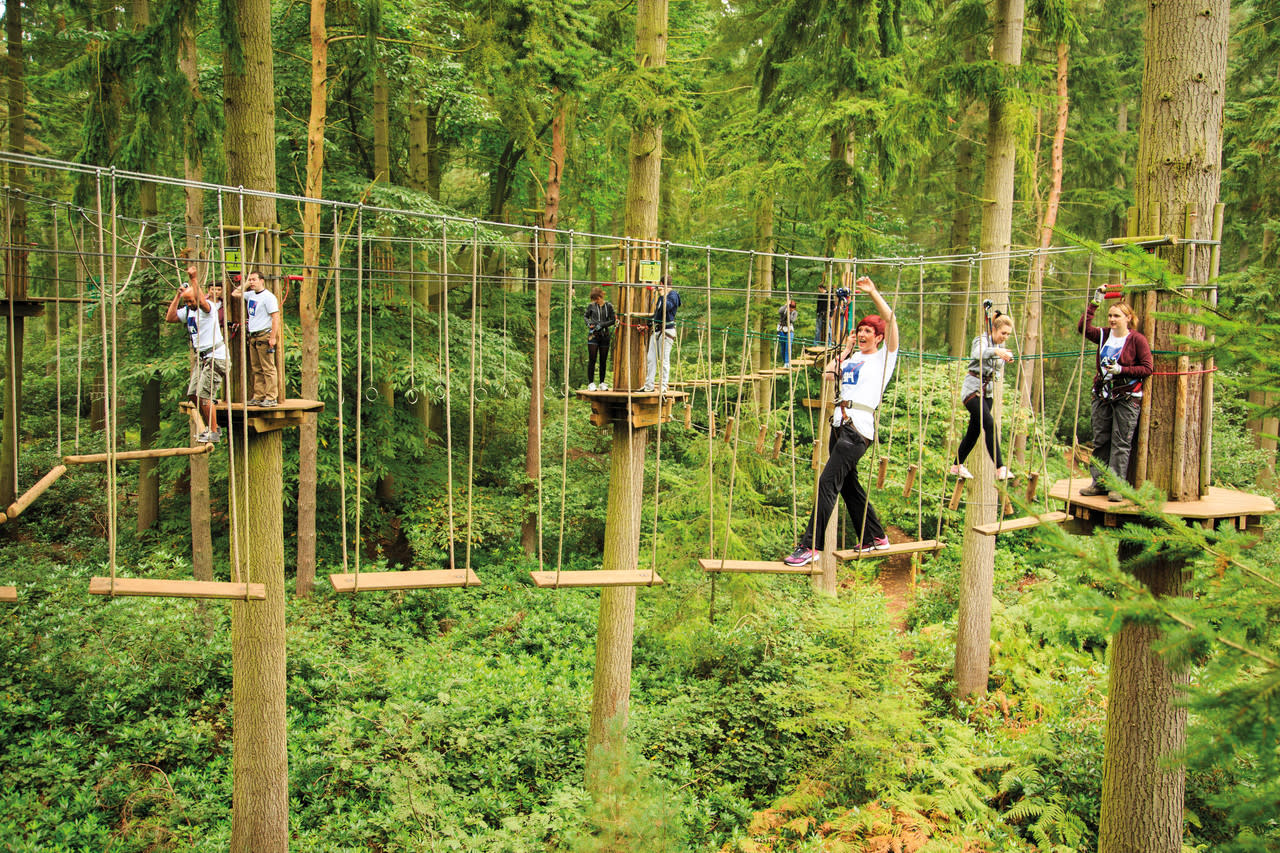 The Go Ape! Treetop Adventure Course will probably get you out of your comfort zone, get your adrenaline pumping, and you might even get sore muscles at the end of the ride, but you will spend a fantastic 2-3 hours that you will never forget.
It is a truly unique outdoor experience that will allow you to see Blue Jay Point Country Park like squirrels do from high in the air. Before the adventure can begin, you will receive a half-hour of safety briefing before donning a harness and starting the exciting ride of a lifetime.
The course offers not only a canopy tour but also rope ladder climbing, 2 Tarzan swings, Log Swing crosses, Double Stirrups, Spider's Web, Apple Picker's Ladder, and five zip lines.
The course is open and considered safe, for adventurers of all ages, from school children to retirees. Group courses are also available.
15. Jose and Sons, Raleigh, North Carolina
As you enter Jose and Sons Bar & Kitchen, a sign proclaiming "Hello Y'all" will welcome you and set the tone for your visit. That sign predicts the beautiful Mexican and Southern cuisine mix that spices up the menu.
The teal and red walls and the various milk jugs and depictions of roosters are reminiscent of Mexico and help create a welcoming, lively and warm atmosphere. The food is an imaginative blend of flavors that food critics have praised.
The Ibarra brothers, proud to celebrate their Mexican heritage and their father José's love for food, own and run this popular restaurant. The lively bar with a tequila tower and bourbon right in the middle of the restaurant is a local favorite.
Address: 327 W. Davie St. Suite 102, Raleigh, North Carolina
16. KlayStation
You don't have to be a ceramics master at making your mug or heartfelt homemade gift. At the KlayStation Pottery Studio, you can choose from hundreds of pre-fired earthenware and all the tools of the trade – paints, brushes, idea books, sponges, or whatever else you need to create that masterpiece you knew you had in you.
They'll glaze your artwork, fire it in your oven, and be able to pick it up in about a week when it's done. PlayStation is a great place to bring kids on a rainy day, or you can host a birthday party they will never forget.
Address: 10511 Shadowlawn Drive # 113, Raleigh, North Carolina
17. The green light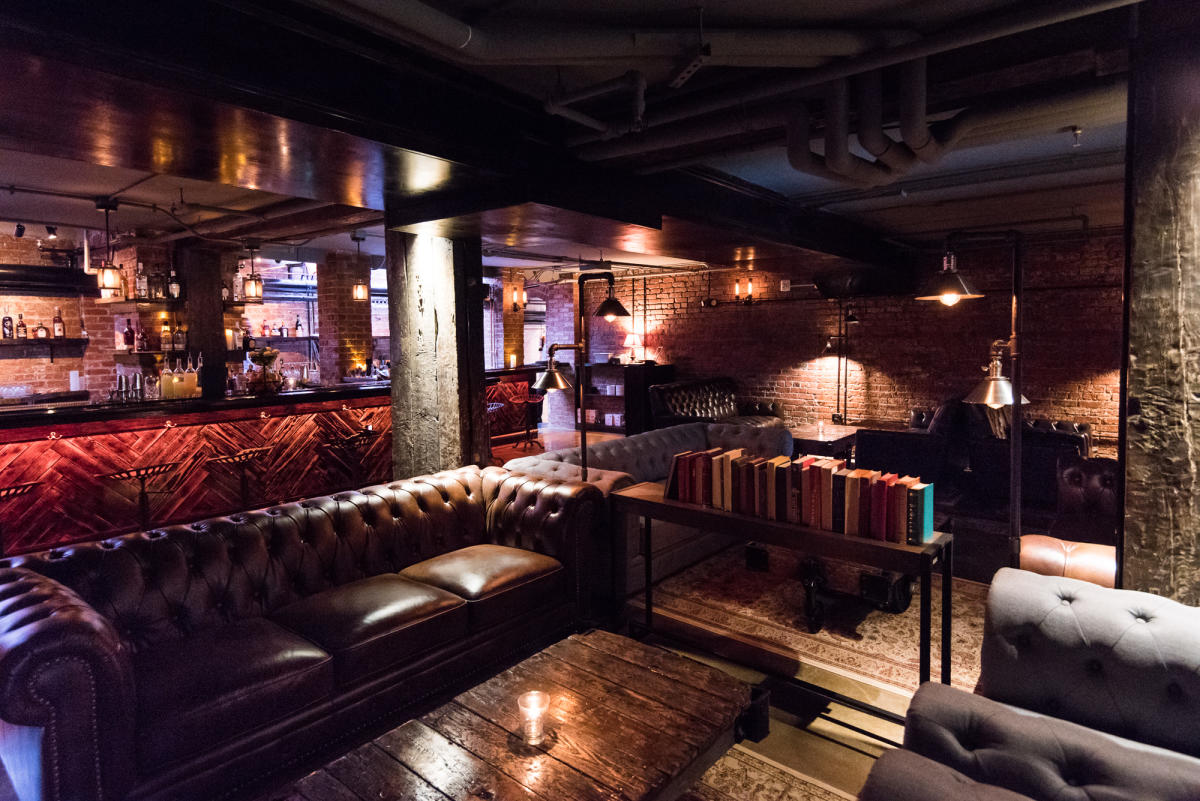 The Green Light in downtown Raleigh is a bar within a bar that Architectural Digest voted one of the best speakeasies in the country. To go for a drink in this funky place, you need to know where to look.
Your entrance is hidden behind a bookcase in the Architect Bar in downtown Raleigh, and you go up a narrow set of stairs. Once you are there, you will find yourself in a quirky place with reclaimed wood-covered walls, serving the best cocktails in town.
The bar reflects the character of the 1922 building it is housed in, cozy, stylish, and unique, with dim lights, great music, great cocktails, and a line of craft beers.
Address: 108 E Hargett St, Raleigh, NC 27601
18. King Bowl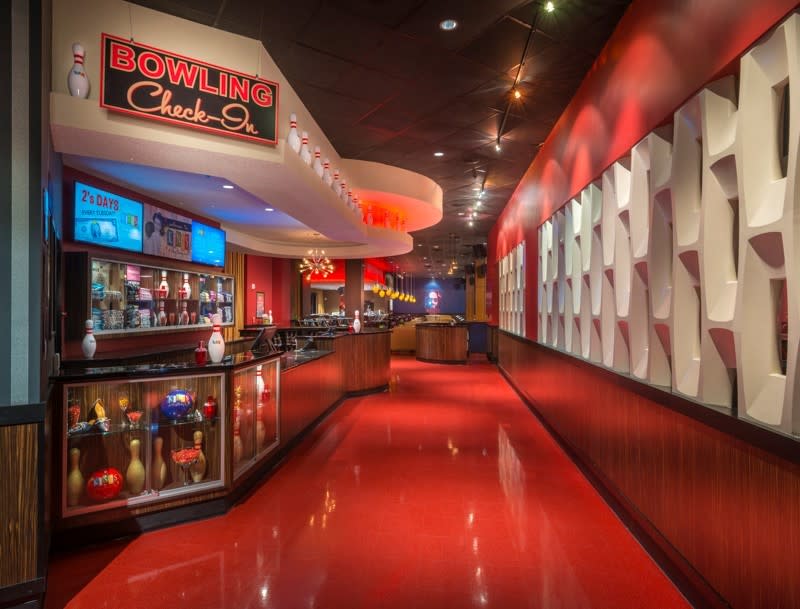 King's Bowl is one of Raleigh's premier entertainment complexes, offering 32,000 square feet of bowling and playing space for visitors of all ages to enjoy.
The facility is anchored around 18 standard bowling alleys, which are available for individual or league use or private rental throughout the week.
Six pool tables are also offered, including ping-pong, air hockey, shuffleboard and foosball tables, and fun interactive games like hoops and bubble hockey. Thirty giant screen HD televisions showcase all of the week's most significant sporting events, including five HD projector screens available for private use at special events.
A full-service restaurant and sports bar serve award-winning dishes throughout the day, ranging from creative chicken wings and street tacos to customizable pizzas and dishes made with Impossible veggie burgers.
A menu of cured draft beer is available to guests aged 21. Visitors should note that adults must accompany children under the age of 18 at all times and that the facility is 21+ after 10:00 PM every night.
Address: 141 Park at N Hills St, Raleigh, NC 27609
19. Second Empire, Raleigh, North Carolina
Whether you're having lunch or dinner in the Second Empire, you'll want to dress your best because dining in this meticulously renovated building of 121 is quite a classy affair.
Crystal chandeliers are scattered across the ceiling, the room features an ornate fireplace, and tables are decorated with damask tablecloths and silverware. The food is just as attractive. Chef Daniel Schurr carefully prepares and serves incredible delicacies that blend with the refined elegance of the surroundings.
The extensive wine list will delight wine lovers, and you will certainly have no trouble finding the right vintage for your meal. If you prefer to eat in a more relaxed atmosphere, visit the cozy Brick Tavern located in the same renovated building. The menu is lighter, but all the dishes are of equal quality.
The tavern always has a great variety of beers on tap. You may also want to try one of the bartender's famous martinis.
Address: 330 Hillsborough Street, Raleigh, North Carolina
20. Mordecai Historical Park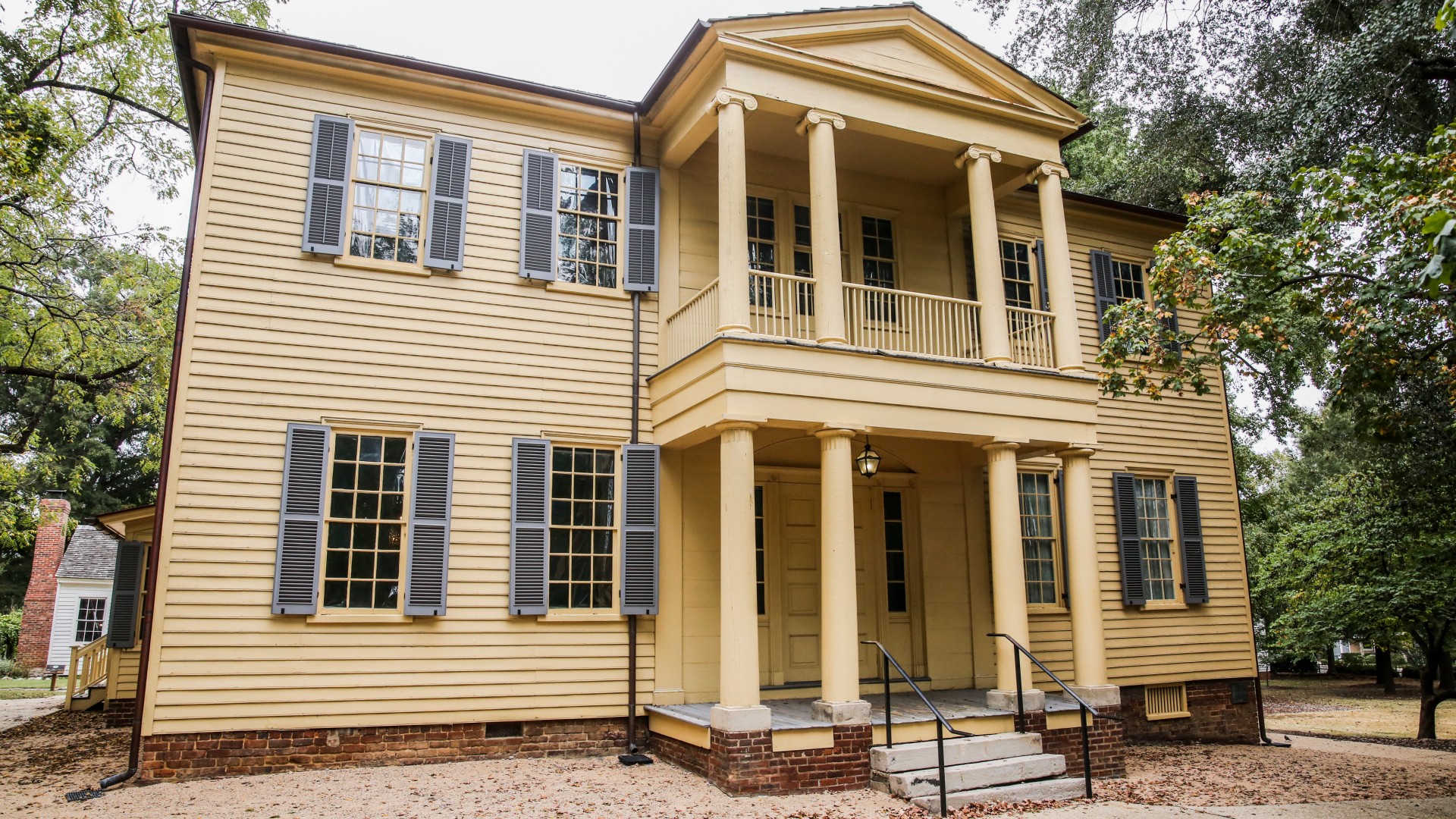 Mordecai Historic Park was established in 1785, and at the time, it was the site of the largest plantation in Wake County. The park resides on 3.2 acres in the center of downtown Raleigh.
The Mordecai House is a landmark in the city and is famous for being the birthplace of the 17th President of the United States, Andrew Johnson.
Today, the oldest house in Raleigh still stands in its original location. One of its famous attractions is the 19th-century orchard which has been faithfully recreated based on the letters and memoirs left by Ellen Mordecai.
Historic Raleigh Trolley Tours that operate every Saturday begin and end at Mordecai Historical Park and last about an hour.
Address: 1 Mimosa St, Raleigh, North Carolina
Frequently Asked Questions: Best Things to Do in Raleigh
How far is Raleigh North Carolina from the ocean?
How Far: 219 miles from Raleigh estimated 3 hours 30 minutes drive time. The beaches and towns located in the outer banks offer some of the most popular beaches in North Carolina and people will come from all over the world to visit.
Is Raleigh North Carolina safe?
Is Raleigh a safe place to live? Raleigh ranks as one of the safest cities in the nation, due to its low violent crime and property crime rates. In fact, Raleigh is 72% safer than other North Carolina cities, and it's 43% safer than other U.S. cities.
Is Raleigh NC A good place to live?
Raleigh is in Wake County and is one of the best places to live in North Carolina. Living in Raleigh offers residents an urban suburban mix feel and most residents own their homes. Many families and young professionals live in Raleigh and residents tend to lean liberal. The public schools in Raleigh are highly rated.
What is the most popular food in North Carolina?
The main food that North Carolina is known for is barbecue. North Carolina has two styles of barbecue: Eastern and Lexington. Eastern, found from the coast to the Piedmont, cooks whole hogs over oak coals, and then seasons the meat with a thin, tangy vinegar and pepper sauce.
What did North Carolina eat?
Turkey and corn are native American foods that the original North Carolinians ate, but seeds for the first broccoli and carrots in North Carolina came here with European settlers. Spanish or Portuguese explorers to Central and South America brought bananas' ancestors from Africa.
Does Raleigh have a beach?
And, although there are no beaches in Raleigh, you can still have a sandy adventure on your vacation here. With its convenient location, the city offers access to numerous beach getaways.
Related Searches:
Unique Things To Do In Raleigh, Nc
Things To Do In Raleigh, Nc For Couples
Things To Do In Raleigh During Covid
Things To Do In Raleigh, Nc For Adults
What To Do In Raleigh This Weekend
Things To Do In Raleigh, Nc Today
Things To Do In Raleigh Tonight
15 Fun Things To Do In Daytona Beach, Florida 2022
15 Best Things to Do in Key West: Top-Rated Attractions 2022
15 Best Hotels in Branson, MO: Ultimate Guide 2022
15 Awesome Water Parks In Georgia, US [Updated 2022]