12 Best Things to Do in Oklahoma City: Top-Rated Attractions 2022
Oklahoma City is a bustling hub in the southern Great Plains, roughly in the center of the oil-rich state. Known as "The Big Friendly," the city was established during the "Land Run" of 1889, although Native Americans lived in the region much earlier.
In 1995, the capital sadly became famous when a bomb attack claimed 168 lives. A national monument now remembers the victims and survivors of that tragedy.
Many of the city's top tourist attractions are located in the historic Bricktown Warehouse District. With little water taxis, museums, event venues, and restaurants create a quaint neighborhood on the Bricktown Canal. And for a true taste of ranch life, you can plan your trip to catch a barnyard auction.
1. Oklahoma City National Memorial
This open-air memorial is a tribute to the victims, survivors, rescuers, and others affected by the events of April 19, 1995, when the Alfred P. Murrah Federal Building was bombed.
The water mirror and the field of empty chairs have become well-known city symbols, and visitors can walk through the solemn surroundings. To learn more about the tragedy, you can tour the nearby Oklahoma City National Memorial Museum exhibits.
Address: 620 North Harvey Ave, Oklahoma City
2. Oklahoma City Zoo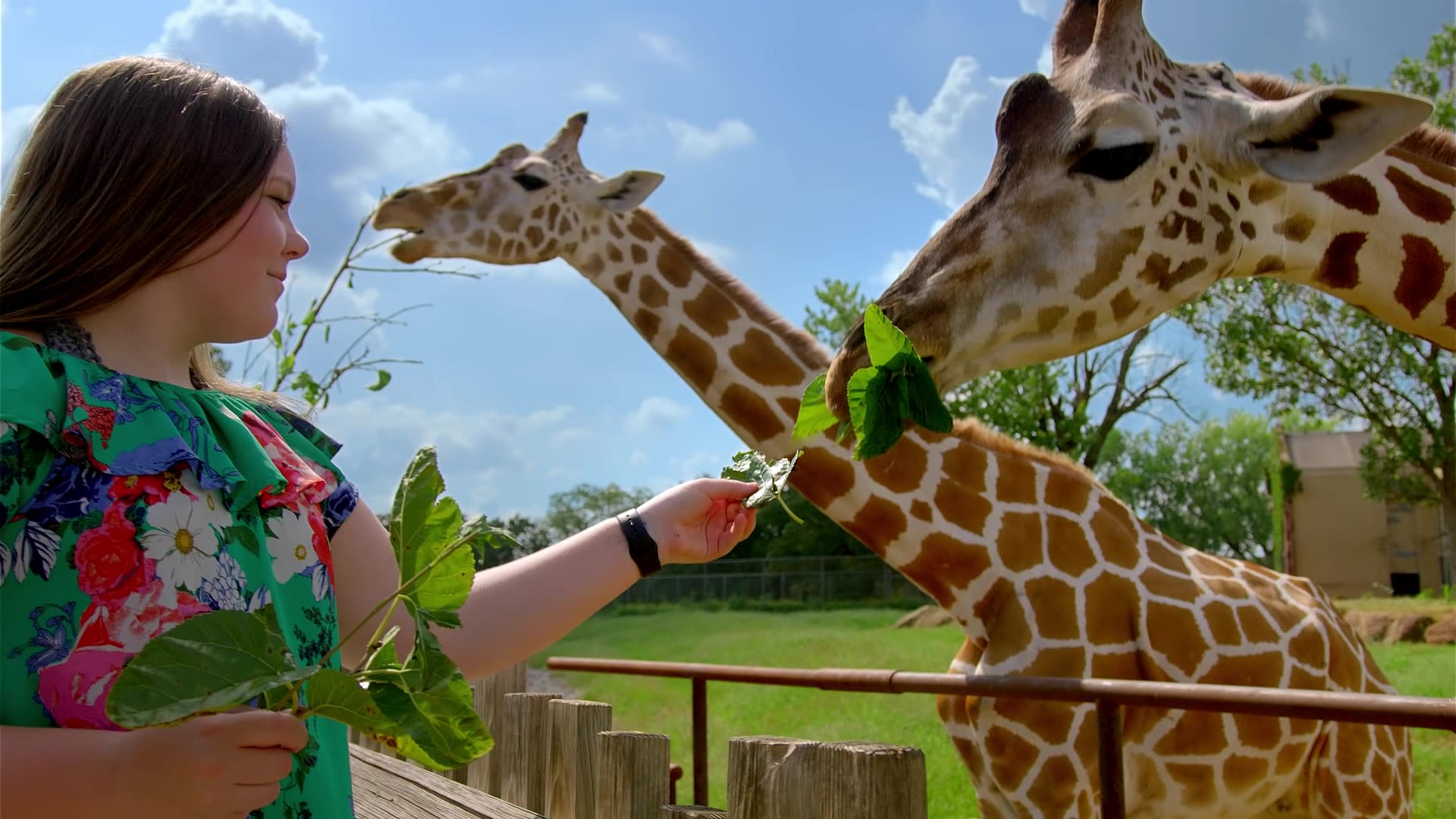 In operation for more than a century, the Oklahoma City Zoo and Botanical Garden attract tourists and families with more than 500 species of animals, including rhinos, gorillas, lions, and tigers. Impressive displays of plants from Oklahoma and worldwide can also be seen throughout the grounds.
Kids and adults enjoy interactive experiences such as parrot and giraffe feeding, sea lion shows, elephant demonstrations, a walk-through wallaby enclosure, and a stingray tactile tank.
Budding zoologists can also get up close to animals like grizzly bears and Asian elephants in special behind-the-scenes experiences. Boat and train rides provide adventurous ways to explore the park's extensive grounds.
Address: 2101 NE 50th Street, Oklahoma City
3. Oklahoma Science Museum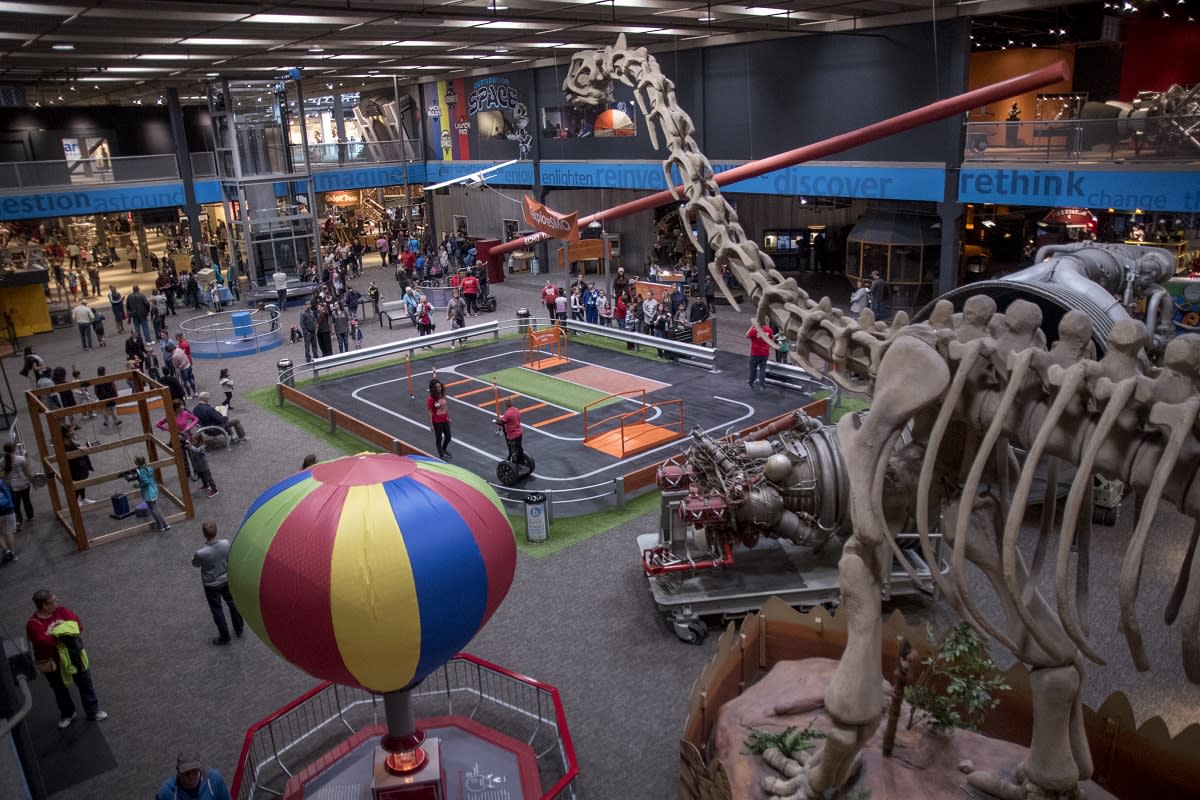 Packed with interactive exhibits, the Oklahoma Science Museum features ever-changing science-themed exhibits intended to engage, entertain, and educate. Although children are the main audience, adults also love to learn and explore here.
Step into a tornado simulator, build with giant legos, invent and test your creations, walk the tightrope, and even learn to ride a Segway. A theater and planetarium host regular shows, and the sprawling grounds are a lovely spot for a picnic, with a Japanese garden, children's garden, and lawn games.
Address: 2100 NE 52nd Street, Oklahoma City, Oklahoma
4. Oklahoma City Museum of Art
The main collection at this Oklahoma gallery focuses on European and American art from the 19th and 20th centuries, but visiting works broaden the scope. National and international traveling exhibits complement permanent exhibits, such as the brilliant glass artwork by Dale Chihuly from the Seattle area.
Other prominent artists in the permanent collection include Pierre-Auguste Renoir, Georgia O'Keeffe, and Henry Moore. The museum also runs a popular film program.
Address: 415 Couch Drive, Oklahoma City
5. National Cowboy and Western Heritage Museum
Also known as the National Cowboy Hall of Fame, this grand museum uncovers life in the Wild West with its large historical materials, paintings, and sculptures.
The Rodeo Hall of Fame features rodeo champions, but on-screen cowboys also get a hat tip in their hall of fame. Kids can test their ranch readiness skills at Children's Cowboy Corral.
To continue the cowboy theme, also plan to visit the Oklahoma City Stockyards, where open-air cattle pens fill up for auctions every Monday and Tuesday.
Address: 1700 NE 63rd Street, Oklahoma City
6. Bricktown
A fantastic example of a successful urban renewal project, Bricktown is the main entertainment center of the city. The abandoned red brick warehouses are now turned into fashion stores, restaurants, entertainment venues, and attractions.
In addition to enjoying all the great shopping and dining opportunities, you can catch a baseball or basketball game at one of the sports venues, attend a concert, watch a movie, stroll the riverwalk, or explore the American Banjo Museum.
Other popular things to do here are narrated cruises and dinner cruises along the canal. Make sure to stop by the impressive Centennial Land Run Monument, which commemorates the heroic settlers of the state. Bricktown is also an ideal base for exploring the city, with many hotels nearby.
7. Myriad Botanical Gardens
Covering 15 lush acres near the city center, Myriad Gardens is a wonderful place to stroll in the open air amidst flower beds and horticultural displays.
Other features of these beautiful gardens are a playground, bubbling fountains, and jogging and walking trails – even Fido is welcome at the off-leash dog park. After a walk, dine in the garden patio and restaurant or go ice skating at the Devon Ice Winter rink.
The Crystal Bridge Tropical Conservatory grows plants in hot climates (both wet and dry varieties). The acrylic panels of the greenhouse allow plenty of Oklahoma sun to illuminate the space. Conservatory admission fees apply, but outdoor gardens are free.
Address: 301 West Reno, Oklahoma City
8. Museum of Osteology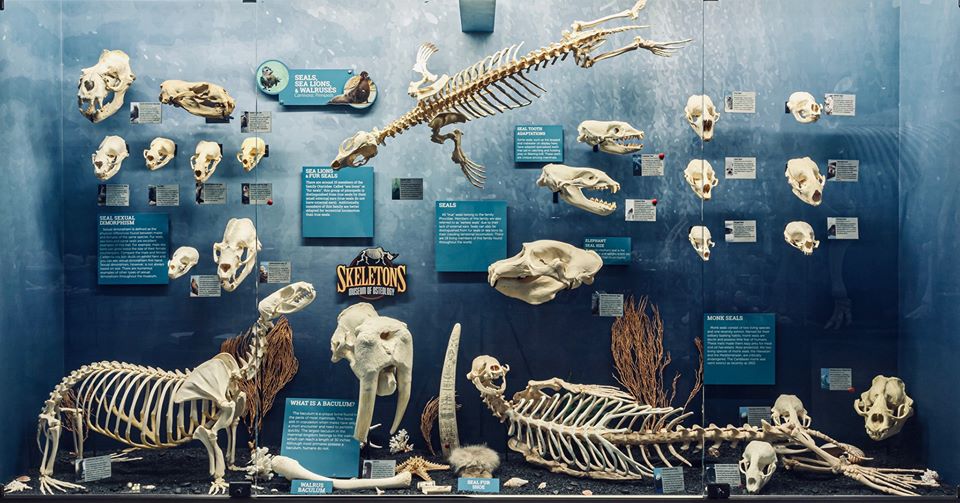 If this tourist attraction seems unusual, it is because it is. The bones of hundreds of animals make up the exhibits in the only skeleton museum in the United States.
The carefully presented specimens range from large mammals to small critters, from apes and kangaroos to snakes and penguins. Most of the specimens are in natural poses, so you can see how the animals move.
You can stand under a giraffe or elephant skeleton or see a sloth skeleton hanging from a tree. Fun activities like scavenger hunts are aimed at curious children.
Address: 10301 S. Sunnylane Road, Oklahoma City
9. Oklahoma History Center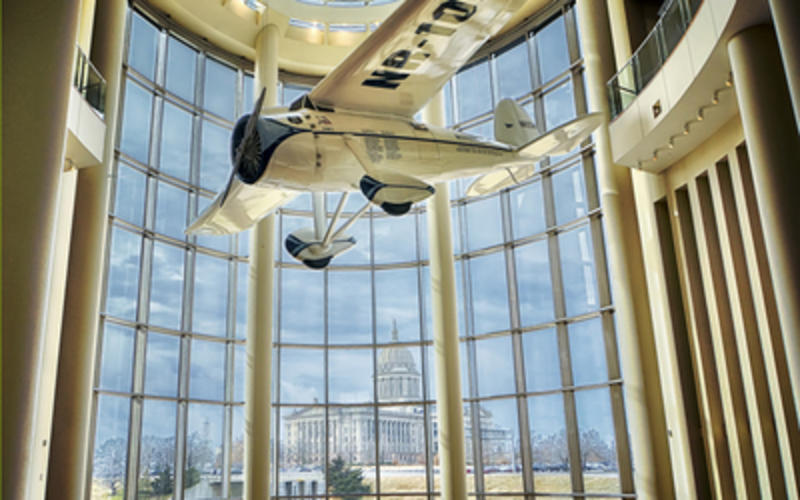 The Smithsonian-affiliated Oklahoma History Center displays an astonishing array of fascinating exhibits covering all facets of Oklahoma's history. It is also a center for archival and research materials.
Exhibits cover everything from Native American history, pioneer, and cowboy life to the Crossroads of Commerce and even Oklahomans and Space.
Excellent traveling exhibits complete the collection, and many interactive features keep little hands busy. Downtown also offers beautiful views of the vaulted Capitol Building from its galleries. Outside, you can explore the botanical gardens and stroll among beautiful sculptures and native plants on the Red River Journey.
Address: 800 Nazih Zuhdi Drive, Oklahoma City, Oklahoma
10. 45th Infantry Division Museum
The 45th. The Museum of the Infantry Division in Oklahoma City is a must-see for fans of military history. It is located in the Lincoln Park Armory, which dates back to 1937.
Exhibits in the museum include uniforms and firearms displayed in a spacious building that can be explored on a self-guided tour. The pieces tell the story not only of the 45, established in 1920 but of many world conflicts. The dozens of military vehicles featured in a 15-acre outdoor park are perhaps most impressive.
Address: 2145 NE 36th Street, Oklahoma City, Oklahoma
11. State Capitol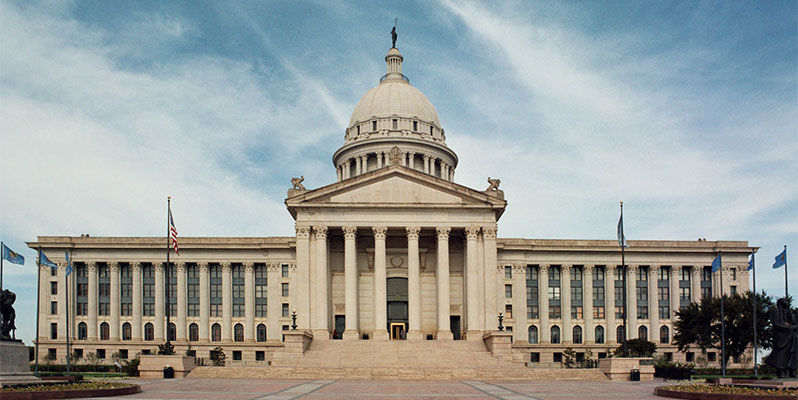 The seat of government for the state, the Oklahoma State Capitol Building, was designed and built between 1914 and 1917, although its large central dome was not completed until 2002.
The classic Greco-Roman structure has an Indiana limestone exterior and black granite base. Guided and self-guided tours are available every day. Government business keeps the campus busy. The building is currently undergoing a major restoration scheduled for March 2019.
Address: 2300 N Lincoln Blvd, Oklahoma City, Oklahoma
12. Overholser Mansion
Oklahoma City founder Henry Overholser built the city's first great home, and the charming 1903 structure remains the Overholser Mansion.
The three-story French-style house features a French chateau-style with English rugs, French stained glass, and fine Antwerp oak paneling. Visitors can walk through the furnished rooms. There are also ghost stories in the house.
Address: 405 NW 15th Street, Oklahoma City, Oklahoma
Where to Stay in Oklahoma City for Sightseeing
To explore the sights, the best place to stay in Oklahoma City is downtown, where there are several exclusive neighborhoods, such as Bricktown and the financial district. This is also where many of the city's attractions are located. Below are some highly-rated hotels in convenient locations:
Luxury Hotels: Built-in 1912, the 12-story Colcord Hotel was Oklahoma's first skyscraper and today combines some of the original charms with modern, up-to-date luxury. The hotel is centrally located, near the Cox Convention Center and within walking distance of the Oklahoma City National Monument and Museum.
The elegant Ambassador Hotel Oklahoma City Autograph Collection is housed in a 1920s Art Deco building in Midtown, steps from the Bricktown Entertainment District. The Skirvin Hilton Oklahoma City was recently renovated and restored in a fabulous, historic building and has a great downtown location.
Mid-Range Hotels: In the heart of Bricktown, Homewood Suites by Hilton is an all-suite hotel with a full kitchen, indoor pool, fitness center, and business center.
Nearby, the Aloft Oklahoma City Downtown Bricktown is a sleek, contemporary hotel with a small pool, a large gym, and plenty of casual space to meet fellow travelers. Near the Myriad Botanical Gardens in the financial district, the Sheraton Oklahoma City is well-positioned for sightseeing.
Budget Hotels: True budget hotels are located within walking distance of the city center. Fifteen minutes by car from the city center, the Holiday Inn Express & Suites, near the airport, is an excellent option, with comfortable rooms and reasonable prices.
Close to I-35 and I-44, the Sleep Inn & Suites offers good value for money and is only 15 minutes from downtown. South of downtown, off I-240, the Hampton Inn and Suites Oklahoma City-South features comfortable and spacious suites.
Frequently Asked Questions: Best Things to Do in Oklahoma City
Is there anything to see in Oklahoma City?
Myriad Botanical Gardens & Crystal Bridge Tropical Conservatory. Oklahoma State Firefighters Museum. National Cowboy & Western Heritage Museum. Science Museum Oklahoma.
Are there bad areas in Oklahoma City?
Wildewood, South Park Estates, and Briarwood Circle: These neighborhoods are all west of Remington Park, The Oklahoma City Zoo, and the Science Museum. Heading south on Martin Luther King Boulevard from I-44 these areas will be on your right. This area is known for drug use and violence.
What is the best month to visit Oklahoma?
Plan a fall trip The best time to visit Oklahoma City is between September and November, when the weather is mild. Summertime highs can soar past 90 degrees, making it uncomfortable to tour some of the city's outdoor attractions. Meanwhile, winter temperatures can dip below freezing.
Is Oklahoma City safe at night?
90% of the nights the REST of Oklahoma City has a double, triple or higher crime rate than Bricktown and downtown. (Fact. Look it up.) When there is a "special event" then, yes, you need to be careful.
Is Broken Arrow OK Safe?
The chance of becoming a victim of either violent or property crime in Broken Arrow is 1 in 48. Based on FBI crime data, Broken Arrow is not one of the safest communities in America. Relative to Oklahoma, Broken Arrow has a crime rate that is higher than 60% of the state's cities and towns of all sizes.
Is Oklahoma a friendly state?
According to a study done by Travel+Leisure, OKC ranked No.5 on its "America's Friendliest Cities" list. According to a survey, OKC ranked as the least rude and snobby city in the U.S. 4.
Related Searches:
Things To Do In Okc For Adults
Things To Do In Okc This Weekend
Things To Do In Okc Today
Things To Do In Oklahoma City At Night
Things To Do In Oklahoma City In December
Things To Do In Oklahoma City In November
Things To Do In Oklahoma City In April
Free Things To Do In Oklahoma City
17 Best Things To Do In Sacramento, California 2022
15 Best Things to Do in Williamsburg, Virginia: Top-Rated Attractions 2022
15 Best Things to Do on Hilton Head, South Carolina 2022
12 Best Things to Do in Baltimore: Top-Rated Attractions 2022