15 Best Things to Do on Hilton Head, South Carolina 2023
Hilton Head Island is a beautiful South Carolina vacation destination, complete with sandy beaches, excellent golf courses, and various activities.
The island is intertwined with an extensive network of trails, so you can easily explore it by bike or foot. With kids, the top things to do on Hilton Head Island, South Carolina, include Daufuskie Island, the Coastal Discovery Museum, and the Sandbox Interactive Children's Museum.
1. Coligny Beach Park, Hilton Head, South Carolina
Once you reach the end of Pope Avenue, just off Coligny Circle, you will find Coligny Beach Park, the largest and most popular beach on Hilton Head. Miles of fine, compact and are often packed with tourists working on their tans, splashing in the sea, or relaxing in the shade of their umbrellas.
The beach has great amenities, the bathrooms are clean, there are quaint changing rooms and outdoor showers, and you can rent whatever beach-related gear you need. Multiple and varied food options in the park encourage you to spend a day at Coligny Beach.
If you prefer more secluded and private beaches, keep cycling to Alder Lane, Burkes Beach, Chaplin Community Park, Folly Field Beach Park or Islanders Beach Park.
They are all as beautiful as Coligny and have public access. While all Hilton Head beaches are public, access to them is often private. There is a lifeguard on duty at most public beaches and parks during the swimming season. If you're wondering what to do on Hilton Head Island, this is a great place to start exploring.
2. Hilton Head Island Bike Trails
There is no need for cars in Hilton Head. The island is small, only twelve miles long and five miles wide, and it has no towering hills to climb.
There is no place that you cannot access with a bicycle. To encourage cycling and discourage gas-guzzling and smoky vehicles, smart islanders began developing a dense network of bike lanes in 1960 and are still working on it to this day.
You can go from place to place while enjoying spectacular views on your leisurely bike ride. There are sixty miles of bike lanes and more than two hundred miles of shared trails. About a quarter of the city's streets have designated bike lanes or shoulders.
There are excellent maps of all the bike lanes, but let your pedals take you to secret spots on the island that you would otherwise get lost; Venture under the canopy of live oaks and pines to discover secret beaches and forgotten parks and monuments. You can see so much more when you go slow and take it all in.
3. Carolina Coastal Arts Center, Hilton Head, SC
There is much more to do in Hilton Head than enjoy the beaches and magnificent views. In the island's heart, there is a 349-seat theatre that can easily stand up to much larger and well-known art centres in the country.
The enthusiastic group of islanders is doing a remarkable job of providing the islanders with the best in visual and performing arts; Every year, they host exciting festivals like Taste of Gullah, Christmas Holiday Tree Lighting, and Youth ArtsFest.
They also produce five musicals, dramas, and comedies each year, feature famous musicians, artists, and performers, and host contemporary visual art exhibits at the Walter Greer Gallery.
They offer an excellent educational program for youth through visual and performance workshops, engaging lectures, and fun field trips. When you've got enough swimming and cycling, take a look at what's going on at the Art Center – there's something new every day.
Address: 14 Shelter Cove Lane, Hilton Head Island, SC
4. Coastal Discovery Museum, Hilton Head, SC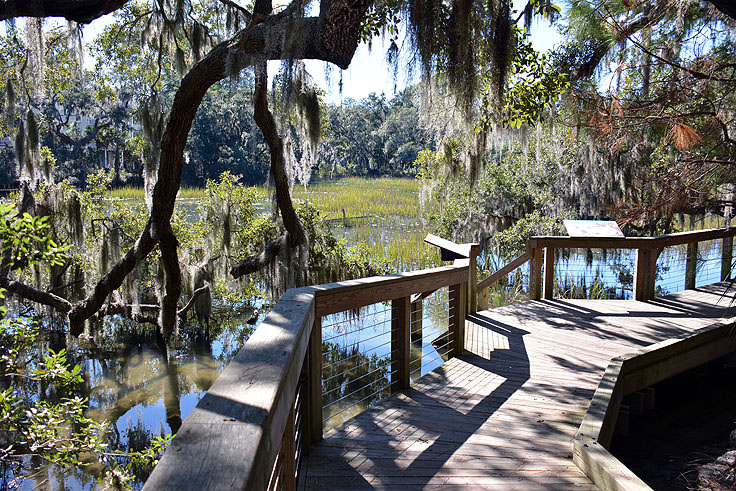 If you want to learn more about the South Carolina Lowcountry, its natural history and cultural heritage, come to the Honey Horn campus and participate in one of the many programs, excursions, courses and festivals organized by the Museum of Coastal Discovery.
Established in 1985, this community-based, nonprofit organization teaches about Hilton Head and neighbouring islands and their people, large and small.
Visit Marsh Tacky, the island's wild horses that the Spanish left many centuries ago. Check out the butterfly enclosure, enjoy the gardens full of wild colours, walk under the ancient living oaks or take one of the fun on-site or off-site tours and learn about turtles, dolphins, crabs, shrimp and crocodiles.
The Coastal Discovery Museum offers the learning that every child loves and is one of the best things to do in Hilton Head.
Address: 70 Honey Horn Drive, Hilton Head Island, South Carolina
5. Shelter Cove Town Center, Hilton Head Island
Once you visit the exclusive, cared for, and pristine Shelter Cove Town Center, you'll have a hard time believing that it recently started as an uninspiring and struggling mall.
With a little imagination and the help of some visionary developers, the Shelter Cove Town Center was born, and the Hilton Head community and thousands of tourists have an exciting new destination with great shopping, great restaurants, and some very attractive residences for sale.
Now it is a modern town that shows a new way of life in the middle of the island, where so much is quite old. Overlooking scenic Broad Creek and featuring two ponds and a new park, the Shelter Cove Town Center is a little gem that locals and tourists alike love to visit.
Address: 40 Shelter Cove Lane, Hilton Head Island, South Carolina
6. Pinckney Island National Wildlife Refuge
About a half-mile from Hilton Head Island is the Pinckney Island National Wildlife Refuge, which features excellent outdoor nature and wildlife classrooms.
It is a popular tourist destination for those who love to explore, photograph wildlife, hunt white-tailed deer, fish, or hike and bike through the 14 miles of trails that wind throughout the refuge. The 4,053-acre refugee consists of Pinckney, Big Harry and Little Harry Islands, Corn Island, and Buzzard Island. Pinckney is the largest.
The refuge consists primarily of marshes, scrublands, forests, and freshwater ponds teeming with life. You can see more than 250 birds, white-tailed deer, lynxes, red foxes, and many American alligators. Take a hike to Dick Point or White Point – the breathtaking view is worth the extra effort.
7. Sea Pines Forest Reserve, Hilton Head, SC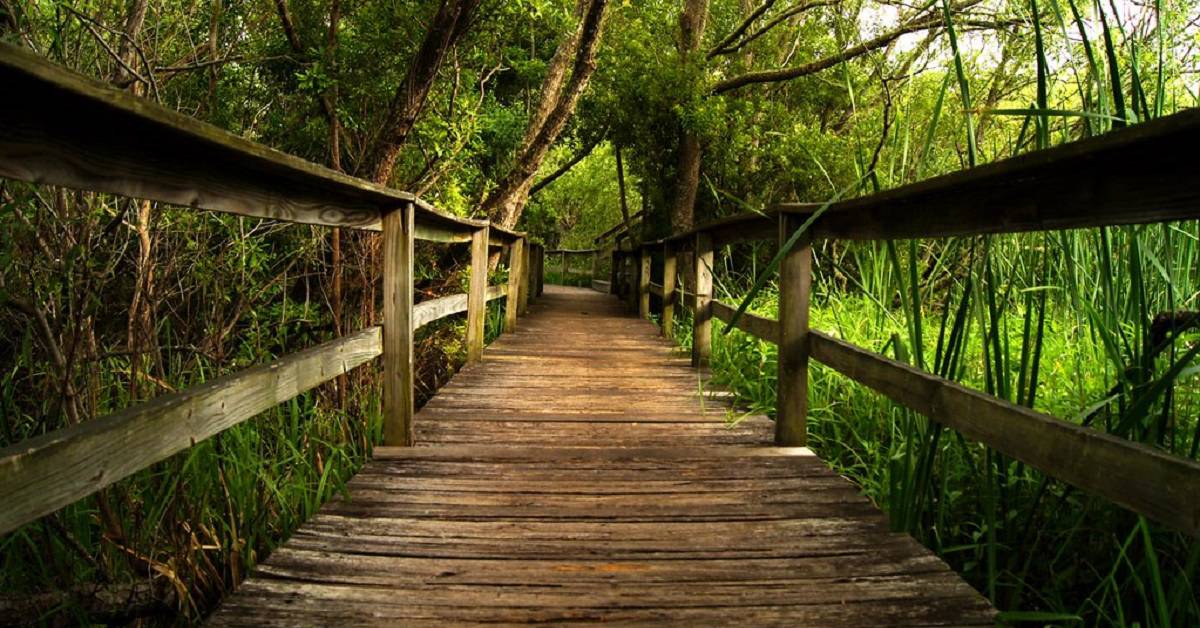 Just minutes from Coligny Beach Park, you will find yourself in a different world. Deep and mysterious forests, secluded lakes and elevated walkways over dark crocodile-infested swamps are just a few of the things you can see at Sea Pines Forest Preserve, the place discovered by a group of nomadic Indians 4000 years ago.
They left us remains of their ceremonial plaza, known as the Indian Shell Ring, and vestiges of their abandoned village. Explore the Forest Reserve on foot, on horseback, in a wagon, boat, or bicycle and travel through trails and paths, small vegetation-covered canals, and tall observation towers.
Enjoy miles of blooming meadows filled with native flowers, watch birds and other inhabitants of four small lakes and numerous meticulously preserved canals.
The Fraser family established the Preserve in 1959 and dedicated 605 acres of resort land to Sea Pines for the wildlife sanctuary and public park. Next Reading: South Carolina Beaches and South Carolina Resorts
Address: 175 Greenwood Drive, Hilton Head Island, South Carolina
8. Palmetto Dunes Tennis Center, Hilton Head Island
Whether you're a guest at the Palmetto Dunes Oceanfront Resort, a guest elsewhere in Hilton Head, or a native of Hilton Head, when you want to play tennis, head to the Palmetto Dunes Tennis Center, the ultimate tennis centre.
There are 23 clay and two Nova ProBounce courts. You don't have to stop playing after the sun goes down; six courts are brightly lit at night.
Experienced staff members are there to make your visit enjoyable, and the Center's professionals are there to help you improve your game. There are daily tournaments and instructional programs for any experience level, including children. The Resort and Tennis Center is located in downtown Hilton Head.
Address: Palmetto Dunes Oceanfront Resort, 4 Queens Folly Road
9. Live Oac Outdoor Adventure Company
When you're on an island, chances are there is more to see around the island than there is. Live Oak will help you see all those hidden parts.
As the most popular outdoor adventure company on Hilton Head Island since 1996, they will offer you the opportunity to see dolphins frolicking in the water, sharks feeding, turtles swimming slowly, and birds hiding in the mangroves.
Your incredibly comfortable Odyssey boat has a very quiet engine with a noise suppressor to avoid disturbing the animals. Live Oak can take you fishing, kayaking, waterskiing, wakeboarding, or tubing. You can explore the streams or cruise around the island and observe the abundance of marine and coastal life.
Your knowledgeable guide will also tell you interesting stories and share the legends about many of the small islands that you pass by.
Address: 43 Jenkins Rd, Hilton Head Island, South Carolina
10. H2O Sports, Hilton Head, SC
When you visit an island, you expect to have a lot of fun in the water. At Hilton Head, that means heading to Harbor Town Marina and signing up for one of H2O's sporting activities.
The only problem is deciding which activity to try, or at least which one to try first: fly a Parasail, paddle, rent a Jet Ski, ride a banana boat, see the alligators, rent a sailboat or boat, explore in a kayak, go sailing, watch dolphins, go tubing or water skiing.
Even if you have active kids, these activities should be enough to keep them busy. H2O has highly trained and certified guides, and their equipment is brand new and in excellent shape.
Address: 149 Lighthouse Road, Harbor Town Yacht Basin, Hilton Head Island, South Carolina
11. ZipLine Hilton Head
Seeing Hilton Head from 75 feet in the air is the thrill of a lifetime. ZipLine Hilton Head will allow you to fly between huge live oaks and ancient pines. You'll get a spectacular view of the water, salt marshes, and boats in a way you've never experienced before.
This two-hour canopy tour includes hanging on eight zip lines 75 feet in the air and swinging from swaying bridges and an aerial ladder.
You will pass from platform to platform above the canopy of majestic trees. Participants even have the option to race against each other to the finish line. ZipLine has highly experienced and trained professionals who will ensure you are safe and provide you with a basic school before you tie up.
Address: Broad Creek Marina Adventures, 33 Broad Creek Marina Way, Hilton Head Island, SC
12. Java Burrito Company, Hilton Head Island
When Java Burrito Company opened its spacious and cheerful burrito and cafeteria, people began to flock. The secret to your instant success? They have the right attitude, a perfect atmosphere, and great food.
Part of his philosophy is knowing the name of the boat his fish entered, each farm he works with, and exactly what he puts on his guests' plates.
At Java Burrito Company, they use excellent quality ingredients and do not use products with MSG, other additives, hormones, or antibiotics. This family-run business serves delicious burritos with unusual but flavorful fillings like swordfish, tilefish, and barrelfish.
Throw in a nice cup of java roasted at Hilton Head and brought in via fair trade, and you've got the perfect meal, whether you're there for breakfast, lunch, or dinner.
Address: 1000 William Hilton Parkway, Hilton Head Island, SC
13. Sandbox Interactive Museum for Children, Hilton Head, SC
A group of Hilton Head moms came up with the idea for The Sandbox. This interactive museum is where children, from toddlers to eight-year-olds, can come to play and learn while playing.
All activities are designed for children and parents to do together. Children take the initiative in choosing the activity that interests them the most, and parents do the same, answer questions and have as much fun as possible with their children.
Each activity has a different objective: from language development to improving reading skills to awakening interest in science or math. Finally, learning through play helps children improve their physical and emotional well-being.
They also have a lot of fun in the process, and parents will be happy that their children have fun while learning.
Address: 18A Pope Ave, Hilton Head Island, SC
14. Daufuskie Island
Daufuskie Island lies between Savannah, Georgia, and Hilton Head, South Carolina, a speck of an island with only about 250 residents.
What it lacks in size, the island makes up for in amenities. The island consists of two resorts and a private residential community. The island has been declared a historic district for its role in the Civil War and its original inhabitants, the Gullahs.
The island is a luxurious enclave with high-end shops, excellent golf courses, art galleries, and excellent restaurants. There are no bridges to the mainland, so all transportation is by ferry and boats. The island has an air of privacy and seclusion; Even the ferry is private.
15. Hudson's Seafood House on the docks
Your dining experience at Hudson's begins long before the food arrives. Sitting at the table overlooking Port Royal Sound, you can enjoy your South Cackalachy Punch (Firefly Cherry Moonshine, Lemon, Blackberry Brandy, and Honey Syrup) as the fishing boats come in and unload the day's catch.
It's an exciting time, and you'll be caught up in the atmosphere as the bounty of the sea goes straight from the boats to Hudson's kitchen, ready for prep.
The menu is extensive and has delicious items, but why interfere with perfection? Just ask about the catch of the day. Rest assured that you will be perfectly prepared; Hudson's has been doing it for 46 years. If you're lucky, there will be a live bluegrass band to make your evening perfect.
Address: 1 Hudson Road, Hilton Head Island, SC
What are the best beaches on Hilton Head Island?
Here are some of the top beaches on Hilton Head Island, South Carolina:
1. Coligny Beach: Located in the heart of the Coligny area, this popular beach has calm waters perfect for swimming and many restaurants and shops nearby. It tends to be more crowded than other beaches.
2. South Beach: A wide beach with soft sand and gentle waves, South Beach is less crowded than Coligny and has plenty of parking available. It's great for long walks, swimming, and sunbathing.
3. Sea Pines Beach: Within Sea Pines Resort, this beach has white sand, umbrellas, and lounge chair rentals available and a more relaxed vibe. It can get crowded during peak season.
4. Driessen Beach: At the far north end of the island, Driessen Beach is more secluded with limited public parking. It's known for its gorgeous views, especially at sunset.
5. Folly Field Beach: On the island's east side, this beach has a park-like setting with shallow water for wading. It's popular with families for the on-site playground.
Some other good options are Burkes Beach, Islanders Beach, Alder Lane Beach, and Fish Haul Beach Park. When choosing a beach, consider which areas are less crowded and if you want amenities like restrooms, chair rentals, etc., nearby.
Frequently Asked Questions: Best Things to Do on Hilton Head
Is Hilton Head worth visiting?
The natural conditions of the Lowcountry breed a particularly unique ecosystem teeming with wonderful wildlife. The beauty of the landscape is one of the most rewarding aspects of visiting Hilton Head Island. While in town, travelers should consider a trip to one or more of the island's wildlife preserves.
What is the best month to visit Hilton Head?
The best time to visit Hilton Head is April and May as well as September and October. Spring and fall offer fewer crowds and lower lodging rates all the while maintaining temperatures that are still beach-friendly. Summer is also a great time to visit the island, as the weather is perfect for swimming in the ocean.
Is Hilton Head or Myrtle Beach better?
In short, Hilton Head is a much more upscale place than Myrtle Beach. It doesn't have the 'in your face' commercialism that you would find in places like Daytona and Cocoa Beach. Both have their pros and cons. If you have teenagers, they will enjoy Myrtle Beach more.
Does Hilton Head have a downtown?
Main Street Village is the center you're going to want to go to for a fun, old-fashioned, downtown shopping experience. Several locally-owned and -operated merchants, restaurants, and service-oriented businesses are located in this secret center off of William Hilton Parkway and Whooping Crane Way.
Does Hilton Head Island have a boardwalk?
Hilton Head is well-known for its many bike paths and pedestrian boardwalks. One of the nicest stretches of footpaths leads from Coligny Beach Park and the car parks around Coligny Circle to the shops, eateries, and entertainment opportunities at Coligny Plaza.
Can you swim in the ocean at Hilton Head?
With 12 miles of breathtaking South Carolina coastline, Hilton Head Island is blessed with pristine sand beaches and the blue waves of the Atlantic Ocean. Relax on the wide sands, soak up the sun, walk the flat sand banks or swim, surf, ski, board and sail in the Atlantic surf.
Related Searches:
Things To Do In Hilton Head For Couples
Unusual Things To Do In Hilton Head
Things To Do In Hilton Head At Night
Things To Do In Hilton Head This Weekend
Things To Do In Hilton Head In October
Historical Things To Do In Hilton
12 Best Things to Do in Baltimore: Top-Rated Attractions 2023
15 Best Beaches in Georgia, US: Best Time To Visit 2023
12 Best Things To Do In Monterey (California): Top-Rated Attractions 2023
12 Best Things To Do In Atlantic City (New Jersey) 2023
9 Best Things To Do In Reno (Nevada): Top-Rated Attractions 2023