15 Best Things to Do in Williamsburg, Virginia: Top-Rated Attractions 2022
Williamsburg, Virginia, is a curious mix of a living museum and a bustling college town that is a delight to visit. Stroll the centuries-old streets of Colonial Williamsburg, visit the second oldest university in the country, admire the colourful Williamsburg Botanical Gardens, and have fun at Busch Gardens. Here are the best things to do in Williamsburg, VA.
1. Historical Jamestowne
It is an incredible feeling to walk around the site where some of the first British settlers in the New World walked and lived. Located on Jamestown Island, Jamestowne was the original capital of the Virginia Colony and the first permanent English settlement in North America.
Life for the first settlers was not easy: they suffered disease, starvation and bloody conflicts with the local Powhatan Indians. The city burned down in 1676, and all that remains is a brick church tower that stands today as a reminder of human endurance.
The original settlement site is an active archaeological dig, and visitors can take a look at more than 1,000 artefacts discovered, meet conservation staff, and learn about their importance and the secrets they tell us about the life of the first settlers in the 17th century.
Children are invited to sort some of the excavated materials, such as shells, seeds, and animal bones. Park rangers and guides in historical costumes offer guided tours of the adjacent Jamestowne Historic Site, a living history museum, and one of Williamsburg, VA's top attractions.
Address: Island Drive, Jamestown, VA 23185
2. Colonial Williamsburg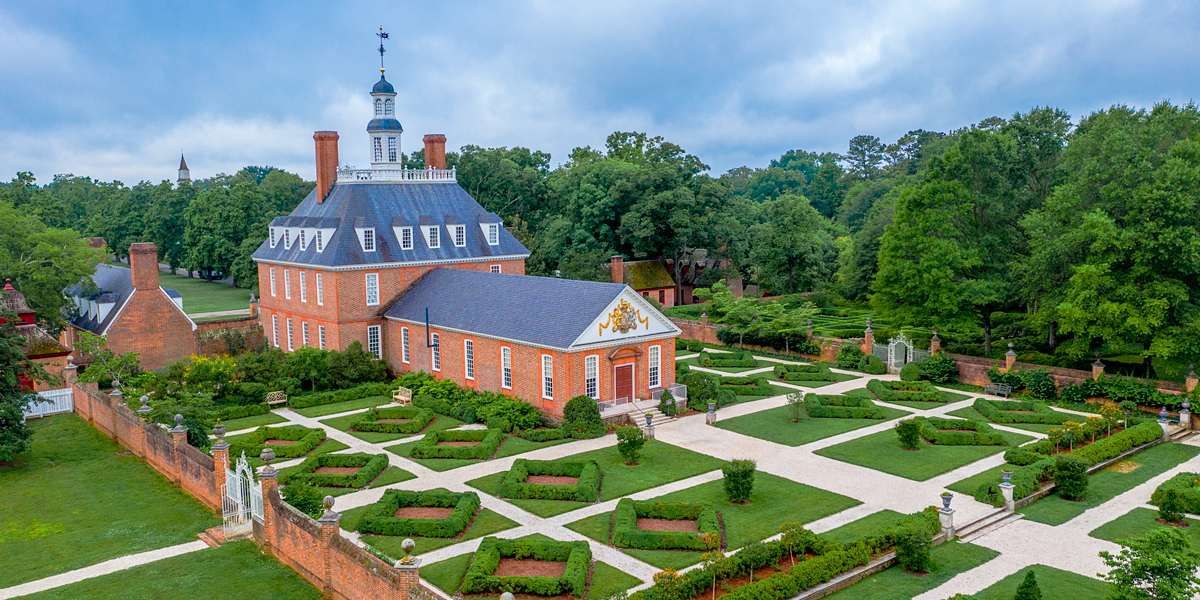 Walking through Colonial Williamsburg and passing people in historic clothing from the 17th or 18th century can feel like you've stumbled into the middle of a movie set.
They even speak using the diction and grammar of the tenses, which is different enough that we can't understand them. You will pass beautifully restored buildings such as the Governor's Palace, the Courthouse, the Raleigh Tavern, and the Capitol.
The restoration is so excellent that it is hard to believe that those lovely old buildings have been around for hundreds of years. If you're wondering what to do in Williamsburg, Virginia, with kids, this is a great place to start exploring.
You can also listen to the music that Jefferson liked, watch the 18th-century dance, or visit one of the city's great restaurants.
Address: 101 Visitor Center Dr, Williamsburg, VA 23185
3. Governor's Palace, Williamsburg, VA
Built in 1706, the Governor's Palace served as the residence of seven royal governours and the first two governors-elect of Virginia. Everything about the palace was meant to impress and convey British wealth and power.
The original palace burned down in 1781 and was meticulously rebuilt in 1930, including its grand ballroom, elegant furnishings, and the grand display of period swords.
Visit the buildings behind the palace – they are original and house an elaborate kitchen and sink. Watch the demo on the old way of cooking, brewing beer, or making chocolate. The reconstructed formal gardens create a delightful space to unwind and relax during the palace tour.
Address: 300 Palace Green St, Williamsburg, VA 23185
4. Busch Gardens
Busch Gardens Williamsburg will bring out your inner child regardless of age. This exciting theme park is designed to send you to Europe with beautiful landscapes and sights recognizable from Italy, France and Germany.
The grounds have more than 30 rides of all kinds, from dazzling roller coasters to thrilling Broadway-style shows and live animals. Special attractions for children include Land of the Dragons and Sesame Street Forest. If you are looking for fun things to do in Williamsburg, Virginia, with kids, this is a great place to visit.
The rides at Busch Gardens are among the best in the world and include monsters like Tempesto, with a famous "loop the loop." Take a look at the popular Griffon, which will take you speeds over 75mph and up to 205 feet in the air before you drop screaming.
If you are not an adrenaline junkie, try Verbolten, which will take you on a Black Forest tour and drop you 80 on the Rhine River. The Bush Gardens are famous for their excellent restaurants, which is another exciting aspect to visit when your stomach calms down.
Address: 1 Busch Gardens Blvd, Williamsburg, VA 23185
5. Jamestown Agreement, Williamsburg, VA
After wandering through the archaeological excavations of the original Jamestown, your imagination will be set for the Jamestowne Settlement, a museum and reenactment of 17th century Virginia life and culture. Through a series of gallery displays, this living history museum tells the life story of the first English settlers from when they arrived in Jamestown in 1607.
Take a look at the introductory movie to get a full picture of historical events, board the replicas of the three ships that brought the original English settlers to the New World, and visit a recreated Powhatan Indian village.
Does the museum shop have some interesting memorabilia and the Jamestown Settlement Caf? Offer food and drinks if the kids get too fussy.
Address: 2110 Jamestown Rd, Williamsburg, VA 23185
6. Muscarelle Museum of Art, Williamsburg, VA
The Muscarelle Museum of Art is part of the College of William & Mary and is located in Lamberson Hall. The museum is a collection of art gifts awarded to the university throughout its 300-year history and is one of Williamsburg's top VA attractions. Until the museum's opening in 1983, art was scattered throughout the university.
Once placed in the museum, it was possible to preserve the art better and incorporate it into the university's art curriculum and share it with the wider community.
Some of the most important treasures are paintings by Hans Hofmann, Georgia O'Keeffe, Pablo Picasso, John Singleton, Henri Matisse, and many historically significant English and American colonial painters.
Address: Jamestown Road, Williamsburg, VA 23187
7. Abby Aldrich Rockefeller Museum of Folk Art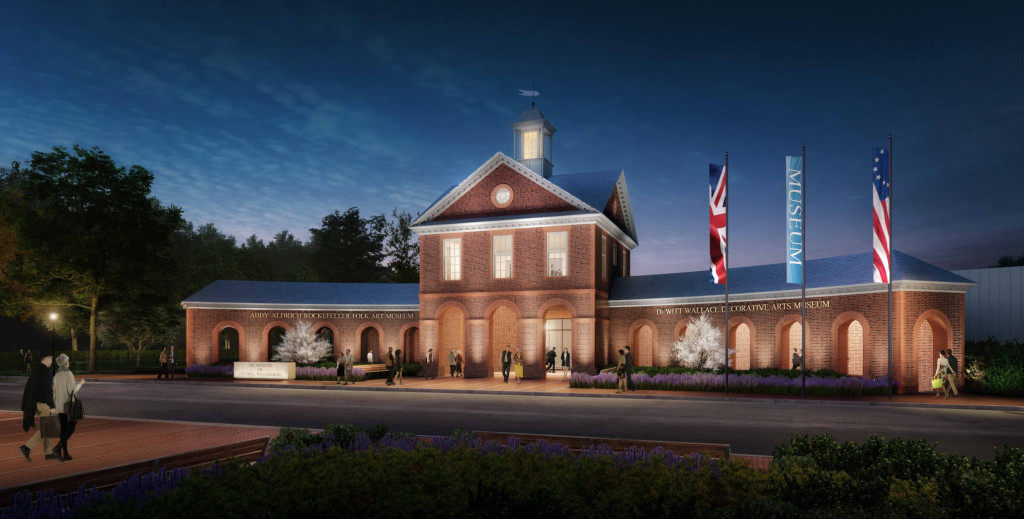 Like all popular art museums, the Abby Aldrich Rockefeller Museum of Folk Art will broaden your understanding of what art is. You will find an incredible diversity of objects, paintings and sculptures created by talented local artisans and self-taught artists.
They record everyday life and use bold colours and interesting materials, simple shapes, and imaginative fabrics. It is one of the largest collections of popular art in the country.
In addition to its permanent collection, the museum also often displays temporary folk art exhibits on loan from various other museums.
Some of the more interesting exhibits are Down on the Farm, with a carved wooden dog prince exploring the countryside in toys, paintings, and sculpture, as well as displays of popular musical instruments used by popular musicians in the 19th and 20th centuries, such as banjos.
Address: 326 Francis St W, Williamsburg, VA 23185
8. DeWitt Wallace Museum of Decorative Arts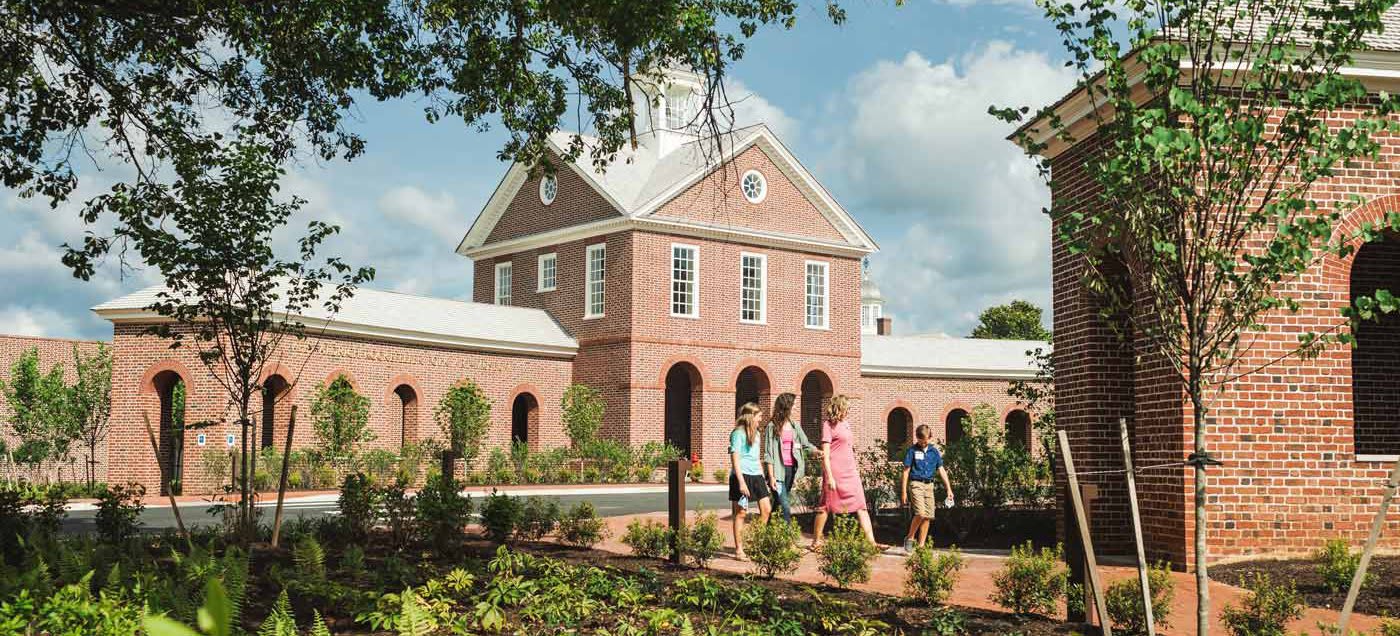 The DeWitt Wallace Decorative Arts Museum is an antique museum opened in 1985 with a significant English and American antiquities collection.
Collections include furniture, ceramics, glass, prints, paintings, firearms, and textiles from the 17th to the 19th centuries. Permanent exhibits include the Public Hospital 1773, an exhibit on treatment methods for mental illness.
The furniture collection contains English and American pieces created between 1680 and 1830 and contemporary American folk art.
The Silver from Mine to Masterpiece exhibit features nearly 150 beautiful silver items from Colonial Williamsburg. Wilkinson Gallery is home to an impressive collection of dollhouses, including the huge, fully furnished 1900 Long Island Dollhouse. The museum also hosts popular lectures and concerts at the Hennage Auditorium.
Address: 326 Francis St W, Williamsburg, VA 23185
9. Colonial National Historical Park
The Colonial National Historical Park includes the most historically important sites in North America: historic Jamestowne, the first permanent English settlement in the New World, and Yorktown Battlefield, the site of the final battle of the 1781 American Revolutionary War.
Representing the beginning and the end of English Colonial America, both sites are located on the Virginia Peninsula and are connected by the mile-long Colonial Scenic Route 23.
Colonial Park also includes the 17th Century Green Spring Plantation, the home of Sir William Berkeley, the Colonial Governor of Virginia, and the Cape Henry Memorial, erected at the likely site where the first Jamestown settlers arrived in 1607.
In addition to historical sites, the park is also a beautiful natural space with forests, wetlands, streams and fields.
10. Water Country USA, Williamsburg, VA
Water Country USA, open from late May to early September, is a water park in Williamsburg, Virginia. The park has a variety of rapid slides, pools, and lounging areas, making it a welcoming place for the whole family.
Water Country currently has 11 main water slides and four kid-specific slides. The wave pool and floating river are open to all ages. Water Country USA also offers special family passes valid for one year.
Multi-park passes are also available that give visitors access to Water Country USA and a nearby park called Busch Gardens.
Address: 176 Water Country Parkway, Williamsburg, VA 23185
11. The Wren Building, Williamsburg, VA
The Wren Building is located on the campus of William and Mary College. In addition to its use as an academic facility, the Wren Building served as the temporary seat of government for Williamsburg from 1700 to 1704. A fire destroyed the Wren Building in 1705, but the local government rebuilt it in 1716.
After enduring three fires, the Wren Building achieved its current title as the oldest standing university building in the United States. The Wren Building now houses classrooms and faculty offices.
Address: 111 Jamestown Road, Williamsburg, VA 23185
12. Bassett Hall, Williamsburg, VA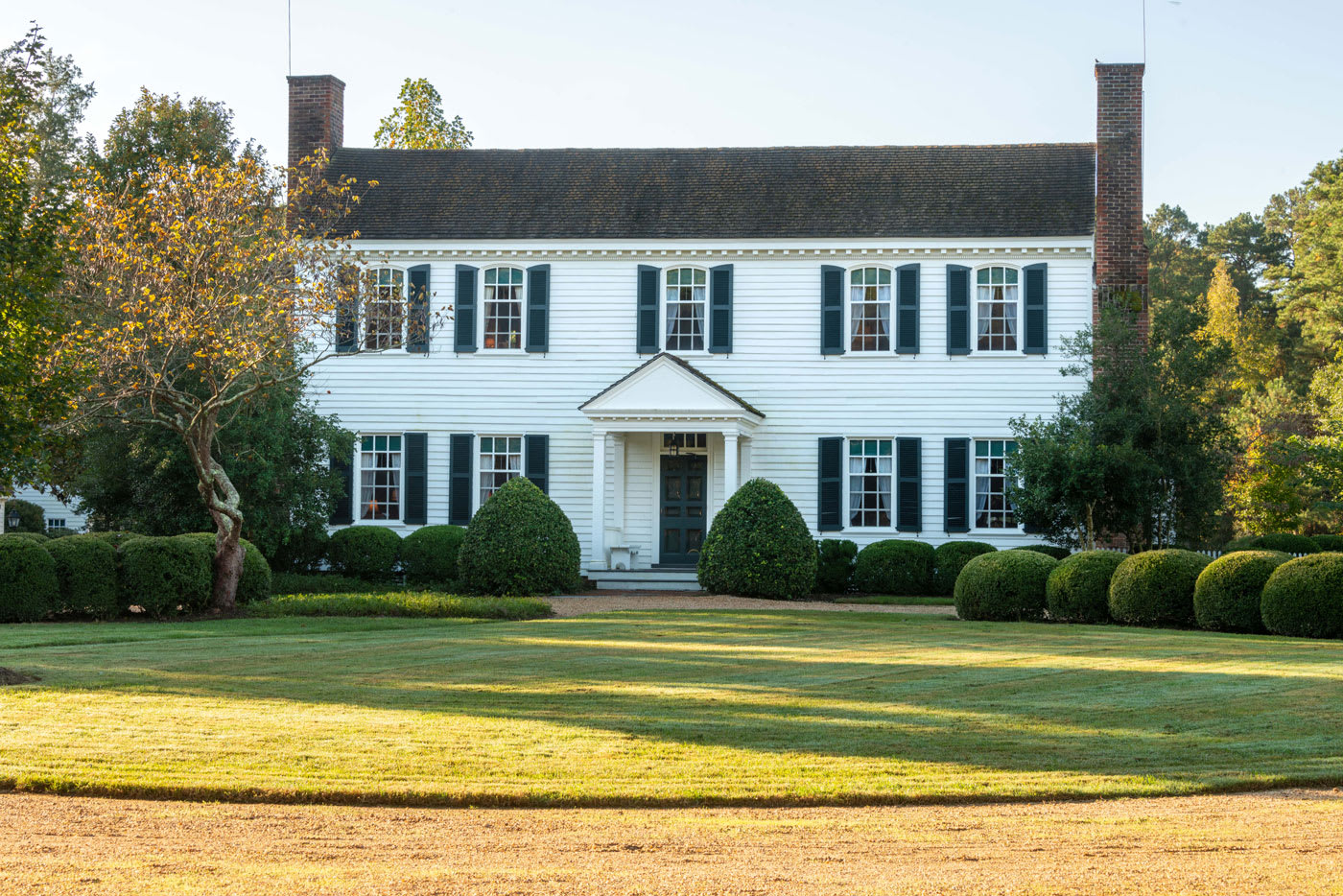 Bassett Hall was the home of John D. Rockefeller, Jr. and his wife Abby Aldrich Rockefeller, and visitors can take a guided tour of this classic house and its surrounding gardens. Guests can view Rockefeller's collection of ornate furniture, art, and figurines in the home.
The Bassett House also hosts regular events where guests can learn about specific types of art and then make their creations to take home.
Tour availability and scheduled events vary depending on the time of year. Paying admission to Bassett Hall also gives guests access to other nearby attractions.
Address: 522 Francis Street E, Williamsburg, VA 23185
13. Jamestown Greenhouse
The Jamestown Glasshouse is one of the greatest attractions of America's First Colony. Early in Jamestown's existence, officials believed glassmaking could be a profitable venture. In the end, it turned out not to be the right product for Jamestown's survival, but the greenhouse where most of the glassmaking process took place is still standing.
Today, visitors can see how glassmakers create objects using the same techniques from more than 400 years ago. Guests can also see the original kilns that early settlers used for their glasswork. Lastly, the conservatory has a gift shop that sells original pieces of glass artwork.
Address: 1355 Colonial National Parkway, Williamsburg, VA 23185
14. York River State Park
At York River State Park, two unique habitats blend to create an area teeming with plant and marine life. The park is also home to fossil beds and various colonial and Native American artefacts.
Hikers, bikers and horse riders can enjoy York River's 30 miles of forest and coastal trails, and kids will find plenty of fun in the courtyards and pavilions dotted throughout the park.
York River State Park also has a boat ramp to provide anglers easy access to the water. Lastly, the visitor centre at York River State Park is a great place to learn about the York River's history, uses, and habitat.
Address: 9801 York River Road, Williamsburg, VA 23188
15. The Williamsburg Winery, Williamsburg, Virginia
The Williamsburg Winery caught the attention of locals and visitors in 1988 when it released its first critically acclaimed wine. Today the winery consists of a tasting room, several restaurants and an inn. Two main tastings, a fine wine tasting and a reserve wine tasting are available to Williamsburg Winery guests throughout the year.
Restaurant meal tours and packages are also popular options with winery visitors. Wedmore Place, the winery's main hotel, is a European-style inn with 28 custom-designed rooms. Guests can enjoy delicious meals paired with fine wines in the hotel's Café Provenzal.
Address: 5800 Wessex Hundred, Williamsburg, VA 23185
Frequently Asked Questions: Best Things to Do in Williamsburg
What is Williamsburg best known for?
Today, Williamsburg is known internationally as the premier center for the preservation and interpretation of American colonial history: The Colonial Williamsburg Foundation; and as the home of one of the nation's premier public universities: The College of William & Mary.
How long should I spend in colonial Williamsburg?
To fully experience Colonial Williamsburg, Virginia you need about two to three days. With that, you can visit the all the shops, city sites and homes. Your kids can play the RevQuest spy game.
Can you walk around Jamestown for free?
There is no fee to walk around, however, you cannot go inside the buildings. We just walked around, but DID do Jamestown Settlement and it's sister museum in Yorktown (discount for doing both) and they were phenomenal! You go to the museums and then walk the grounds.
Can you walk around Colonial Williamsburg without a ticket?
While you do not need a ticket to walk around the city, guests must purchase a ticket to enter buildings, participate in events, go on tours, and explore other areas of the historic grounds.
Can you drive through Colonial Williamsburg?
Take a leisurely drive or bike ride along the scenic 23-mile Colonial Parkway that provides a physical and metaphorical link between Jamestown, Williamsburg and Yorktown. Scenic driving, interpretive pull-offs, biking and fishing are available along this National Scenic Byway.
How many days do I need in Williamsburg VA?
5 days is the perfect amount of time to see all the major sites as a first timer. This Williamsburg VA itinerary includes our favorite things to do in Williamsburg includes Colonial Williamsburg, Busch Gardens, antique shopping, candy, and more! A long weekend is the perfect amount of time to spend here.
Related Searches:
Things To Do In Williamsburg, Va This Weekend
Unique Things To Do In Williamsburg, Va
Free Things To Do In Williamsburg Va
Things To Do In Williamsburg Va During Covid
Things To Do In Williamsburg, Va In November
Things To Do Near Busch Gardens Va
Things To Do In Williamsburg, Va For Couples
15 Best Things to Do on Hilton Head, South Carolina 2022
12 Best Things to Do in Baltimore: Top-Rated Attractions 2022
15 Best Beaches in Georgia, US: Best Time To Visit 2022
12 Best Things To Do In Monterey (California): Top-Rated Attractions 2022