15 Best Beaches in Georgia, US: Best Time To Visit 2022
Named after King George II of Great Britain, Georgia is one of the most diverse states in the United States. The state is known for its picturesque coastline, unshakable mountain peaks, and rich history.
Georgia, home of Coca-Cola, oozes southern charm as you stroll the cobbled streets of Savannah.
The state is home to 47 state parks and has countless beaches dotted along its coast. Georgia also offers great opportunities for hiking, rafting, and canoeing. The Chattahoochee River in Columbus is famous for its urban flow, which is the largest in the world.
The state's official language is English, and Spanish is also spoken regionally. Now let's take a look at the many beach gems of this historic state.
1. Tybee Island
Located in Chatham County, Georgia, Tybee Island is a city and an island at the easternmost tip of the state and a popular tourist destination for visitors from Savannah and from around the world.
Strategically located near the mouth of the Savannah River, Tybee Island was frequented by pirates. Also known as Savannah Beach due to the two cities' proximity, Tybee is a bird watcher's paradise. Herons, egrets, and osprey can be seen easily.
The island generally attracts many families and couples who want to spend their beach holidays relaxing on the soft sand or riding barefoot through the beautiful seaside town. Seafood lovers will especially love the variety and taste of various seafood delicacies in the city.
Several endangered loggerhead turtles nest within the sand around the beach area. While the Civil War Fort and the famous Tybee Island Lighthouse are the two main attractions, swimming, kayaking, and other water sports also attract many tourists.
2. Cumberland Island National Seashore
The largest island in the Golden Isles of Georgia, Cumberland, was primarily within the borders of the Cumberland Island national coast. The 17-mile-long shoreline consists of several dunes, freshwater lakes, and swamps.
Interestingly, the island can only be reached by boat. Walking the Cumberland Island National Shoreline is a major attraction throughout the area.
Visitors wishing to stay overnight can camp on the seashore, also home to the Cumberland Island Wilderness.
The coastline comprises a wide variety of flora and fauna, so the area attracts many wildlife enthusiasts. The park is home to at least 23 different ecological communities, making it the largest of its kind among Georgia's barrier islands.
3. Jekyll Island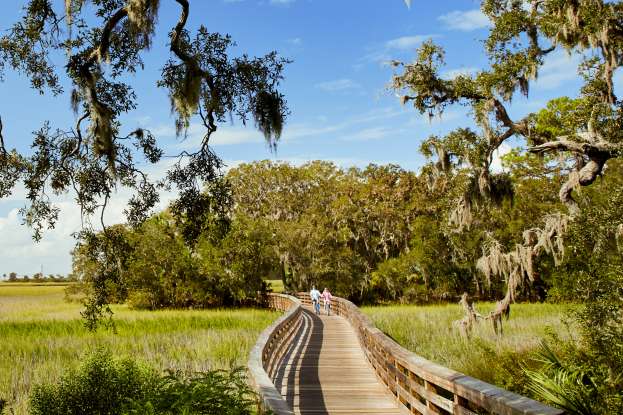 Another gem among Georgia's many golden islands, Jekyll Island is one of Georgia's sea islands located in Glynn County and the smallest of its kind.
The island is quite popular with tourists and offers guided tours of the adjoining historic district.
Biking the surrounding trails, walking, and jogging along the shoreline and sandbars are common activities in the area. The island is also home to a water park, Summer Waves, ideal for those traveling with children.
The island has a wide range of flora and fauna, including various mammals, birds, and even reptiles.
Jekyll Island is one of only four islands in the state with a paved causeway. There is a modest parking lot and three picnic areas near the island's north end.
4. St. Simons Island
The smallest of Georgia's Golden Isles, St. Simons Island, is on the southeast coast, between Savannah and Jacksonville. Also known as "The East Beach," the island serves as a residential community and a seaside resort.
The island's warm climate, striking coastline, an abundance of aquatic adventures, the natural environment, historical sites, and the shops and restaurants are some of the main factors that draw visitors from around the world to this beach retreat.
St. Simons Island is also very popular with long-term tourists and part-time residents. White-tailed deer, raccoons, alligators, terrapins, swamp rabbits, and native and migratory shorebirds are a popular sight amid San's vivid landscape. Simons Island.
The waters off the island's Beach see plenty of marine life, such as right whales, dolphins, a wide variety of game fish, and sometimes even manatees.
Golf is one of the main sports on the island, while hiking, walking, cycling, boating, and sailing are also widely enjoyed.
5. Little St. Simons Island
Among the least developed islands on Georgia's Golden Isles list, Little St. Simons Island boasts a 7-mile-long shoreline. The island is located near St. Simons Island and is distinguished by the Hampton River.
Little St. Simons Island is privately owned, and anyone wishing to visit must make prior arrangements with the Lodge office. The Lodge also offers all-inclusive day trips and overnight packages, along with guided fishing, hiking, biking, kayaking, bird watching, and historic and ecological tours.
Little St. Simons Island can only be reached by boat. An ornithologist's Nirvana, the island's forest is home to more than 330 different species of birds, including wood storks, red knots, and bald eagles.
Sportfishing is a big trend in tidal streams and can often lead you to score flounder, redfish, and speckled trout. Otters, right whales, and dolphins can also be seen.
6. Driftwood Beach
Made famous due to the abundance of driftwood in the area, Driftwood Beach sits on the northern tip of Jekyll Island.
Driftwood Beach is just steps from Jekyll Island and is a very popular site for weddings and photography enthusiasts and is covered in majestic pine and oak trees dotted around the area.
The Beach has been voted one of America's "Top Ten Romantic Beaches" repeatedly. Driftwood Beach is very popular with family tourists and allows pets throughout the year.
Constant soil erosion has led to unfavorable conditions for trees to grow here, creating a rather mysterious but impressive landscape of preserved and bleached fallen trees.
7. Glory Beach
The location of the Academy Award-winning film Glory, Glory Beach is now a quiet and peaceful beach paradise. It is difficult to imagine that the island has a painful past.
The Beach is accessible from the parking lot of the adjoining soccer complex. The boardwalk created by the filmmakers during the film's production is now a major wildlife viewing point.
The forest area around Glory Beach is home to several species of wild grasses that nestle finely together with Russian thistles and camphor wood.
The cool breeze invites various animal species to dusks such as deer, raccoons, and various shorebirds. Bring a pair of binoculars if you enjoy observing marine flora and fauna.
8. Gould's Entrance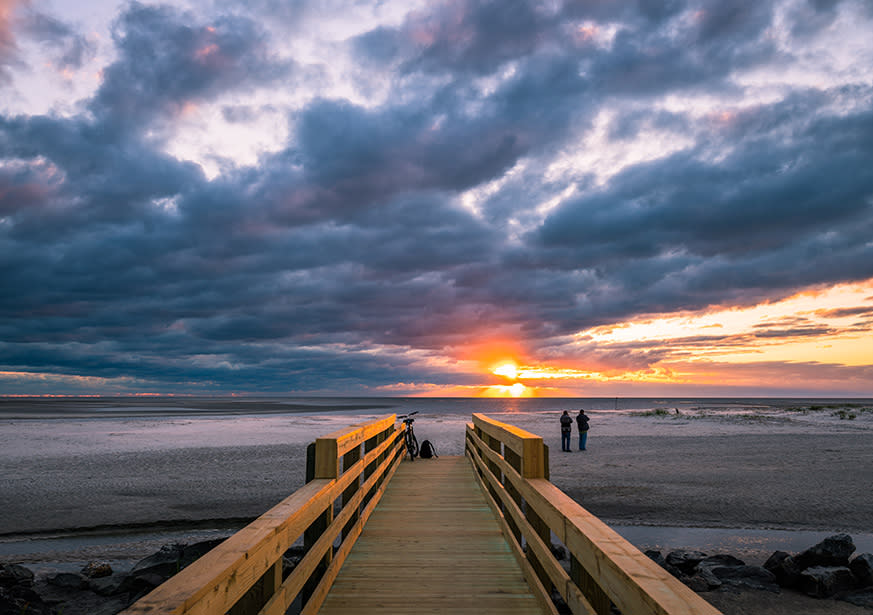 Located at the north point of St. Simon's Beach, Gould's Inlet is primarily a birdwatching spot. Although a popular beach destination, the inlet is famous primarily for bird watching, fishing, and as an ocean viewing area. The southern tip of Sea Island is visible from the entrance.
You can see flocks of seabirds of different species just across the Gould Inlet. You are more likely to see local anglers and the Beach and pier fishing daily produce.
Paddleboarding is a frequent sport here. The Beach offers several public facilities such as a fishing pier, water hose, showers, a community pet water bowl, and a dog bag station. Limited parking is available to secure your spot early in the day.
9. US Coast Guard Station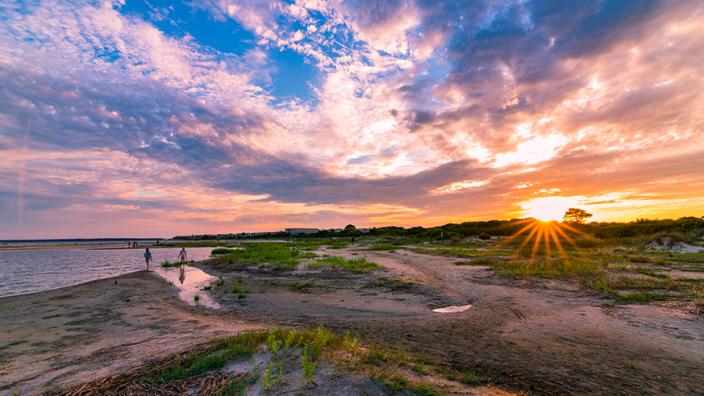 Located just south of Gould's Inlet, the US Coast Guard Station is the most eminent beach location along St. Simons Island. Titled after the distinguished Coast Guard station that still stands as the Maritime Center, the station is often referred to as "First Street Beach Access."
The US Coast Guard station, whatever it's called, offers the widest beach area in the entire St. Simons Island region and necessarily has the largest parking space.
The Coast Guard restroom in the beach area offers various public facilities such as restrooms, showers, picnic areas, water hoses, and bike racks. Grills and a playground are also available nearby for visitors.
The beachfront Massengale Park adjacent to the US Coast Guard Station is open daily from 6:00 a.m. to 10:30 p.m.
10. St. Andrews Beach and Picnic Area
Located near Jekyll Island, St. Andrews Picnic Area is the perfect gateway to St. Andrews Beach. The surrounding park is a short walk from Jekyll Point.
The beach area is especially famous for its dolphin sightings, a wide variety of shells, and various species of bird population.
St. Andrews Picnic Area is also a site of historical significance. It is home to The Wanderer Memorial, a dedication to the 400 African slaves illegally imported into the country, the last of its kind.
Visitors to the Beach can enjoy various amenities and services, such as walking trails, picnic areas, grill sections, public beach access, and restrooms.
11. Babysitter Goat Beach
Europeans developed first in the United States, and Nanny Goat Beach amazes its visitors with its unspoiled beauty. A wide stretch of sandy beaches, the pleasant atmosphere, and the historical significance of the beach area make it even more special for tourists.
A part of Sapelo Island, Nanny Goat Beach is best explored through one of the many guided tours in the area. The eastern end of the Beach, due to its rolling dunes and its variety of seagrasses, sees most of the tourists in the area.
The area lacks any tourist facilities that might seem inconvenient, but it also avoids the commercialization of the coastline.
The white sand of the Beach is the most distinguishing feature of the coast, while the waters of the Beach offer great opportunities for swimming and sunbathing. You can also go on a fishing expedition or choose to participate in a birdwatching tour.
12. Robin Lake Beach and Callaway Gardens
Celebrated as home to the world's largest artificial Beach, Robin Lake Beach, Callaway Gardens is located in Pine Mountain, Georgia, and is known to attract more than 750,000 visitors a year.
The artificial Beach was established in 1952 to conserve native azalea species. Currently, the Gardens are home to several recreation centers, including but not limited to a massive butterfly habitat and the Cason J. Callaway Memorial Forest. Callaway Gardens is also a designated National Natural Landmark.
Callaway Gardens has several walking and biking routes, of which The Discovery Bike Trail is considered the perfect way to access all tourist attractions.
The Gardens is also famous for hosting the Water Ski and Skateboard Masters Tournament on Memorial Weekend.
13. St. Catherines Island Beach
St. Catherines Island Beach is often considered the best Beach in Georgia by many. Although that can still be questioned, there is no doubt that the astonishingly paradisiacal 10-mile-long shoreline is every beach and wildlife lover's dream.
Located in Liberty County, south of Savannah, half of the island is covered in salt marshes and wetlands. Despite the Beach during the day, the rest of the area is not open to the public.
Street property. The Catherine Island Foundation, most of the island aims to conserve endangered flora and fauna and protect historically significant sites. Swimming, picnics, and lunches on the Beach are quite popular with visitors to the area.
14. John Tanner State Park and Beach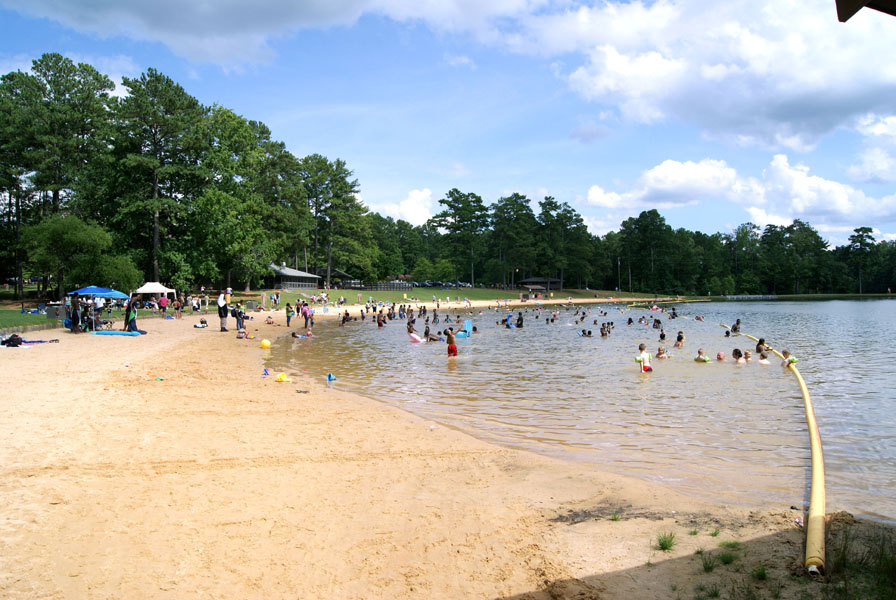 Named after a local businessman, John Tanner, the state park is home to the largest sandy beach in Georgia. Situated in Carrolton and Mount Zion, the park is a former state park with a unique history.
The park has two lakes, one of which is home to the famous Tanner Beach. It's also perfect for campers, as the park has a fully functional campground with 32 tents, RV and trailer camping spots, cable, power, and water hookups. There is also a landfill for campers.
Tanner's Beach is huge, but the region's popularity with campers also makes it too crowded for those looking to spend a lazy, relaxed afternoon by the Beach. The trail that spans the lake is ideal for hiking and biking.
15. Cabretta Beach
Located north of Nanny Goat Beach is this remote portion of a beach retreat known as Cabretta Beach. Being the northernmost Beach on the island of Sapelo, it is often withdrawn and filled with serenity.
A walk along the shoreline will reveal several tide pools, as well as sand dollars and carcasses. A short drive away is the spacious Cabretta campsite, which is your ideal getaway from the hustle and bustle of a normal Georgian beach.
Although it may feel secluded, the campground has several public convenience facilities, including indoor restrooms, hot showers, a washing station, picnic tables, and a large shooting ring. Walk past the campground, and you will find yourself on a trail that will take you through several dunes and tidal inlets.
Watching the sunrise here can be an amazing part of your vacation. The evening sky filled with constellations and planets like Mars, Venus, and Jupiter is an entirely ethereal experience. If you are observant and lucky, you can see the Milky Way.
Frequently Asked Questions: Best Beaches in Georgia, US
Does Georgia have good beaches?
Georgia boasts some of America's best beaches. Nearly 100 miles of soft white sand cover its Atlantic Ocean shoreline while other pristine strands flank the state's sparkling lakes. Barrier islands (a.k.a. the Golden Isles) pepper the coast, serving up more idyllic places to get sand between your toes.
What beach in Georgia has the clearest water?
You can't really picture clear, pristine water. And yet, there is one spot that comes to mind-a pure natural wonder for the state. Heralded long ago as one of the most popular swimming holes in Georgia, Blue Hole Falls in Towns County easily tops our list for the clearest, most pristine water in Georgia.
Does Georgia have clear water beaches?
Georgia Beaches: Cumberland Island National Seashore. Cumberland Island is Georgia's largest Golden Isle, and most of this barrier island is protected within the Cumberland Island National Seashore. It has wonderful sandy beaches, ancient dunes, large marshes, dense maritime forests, and clear freshwater lakes.
Is Tybee Island a nice beach?
Tybee is also full of history, fun in the sun and has beautiful beaches and a family-friendly atmosphere. With nearly 3 miles of sandy beaches, Tybee Island is perfect for sunbathing, swimming, water sports, kayaking, and fishing. So, don't forget to pack a bottle of sunscreen!
Is Tybee Island Better than Jekyll Island?
Both Tybee and Jekyll Island are worth visiting and are very beautiful but very different. Lots to do on Tybee and easy beach access from everywhere. Jekyll is a quieter island with an older population. I find that Tybee police are only strict if they have a reason to be.
What beaches can you drive on in Georgia?
Beach driving is allowed along the entire 17-mile beach of Cumberland Island. The Georgia Department of Natural Resources has issued over 250 beach driving permits (more than any other beach in the state of Georgia) to island residents and family members.
Related Searches:
Best Beaches In Georgia To Live
Best Beaches In South Carolina
Quiet Beaches In Georgia
Best Beaches In Georgia For Families
Best Beaches In Georgia And South Carolina
Clear Water Beaches In Georgia
Tybee Island, Georgia
Best Beaches In Florida
15 Best Things To Do In Indiana: Places To Visit 2022
15 Best Things To Do In Indianapolis: Top-Rated Attractions 2022
12 Best Things To Do In Houston: Top-Rated Attractions 2022
12 Best Things to Do in Honolulu, Hawaii: Top-Rated Attractions 2022
15 Best Things To Do In Memphis (Tennessee): Travel Guide 2022