19 Best & Fun Things To Do In San Jose, California 2022
Plan a weekend in San Jose, a vibrant city in Silicon Valley, where you will find unique museums, free attractions, lively neighbourhoods, beautiful parks, unique wedding venues, and great restaurants.
Stroll through the romantic municipal rose garden, have a delicious breakfast, explore the Rosicrucian Museum of Egypt, and stroll through the market in St. Peter's Square.
The best things to do with kids in San Jose, CA, include the Children's Discovery Museum of San Jose and Happy Hollow Park & ​​Zoo.
1. Municipal rose garden
San Jose's five-and-a-half-acre Municipal Rose Garden is one of the best places in the city to relax, recover, and smell the roses – more than 4,000.
This fragrant paradise has served as the home of these blooming roses in San José since 1927 and is one of the world's most extensive and most beautiful rose gardens.
There are 189 varieties, and rose growers are developing new hybrids every day.
The Garden is one of the main attractions in San José and, unsurprisingly, it is a popular venue for weddings. Friends of the San Jose Rose Garden volunteers also come here to help with pruning, dying, fertilizing, and weeding.
Without their help, giving these high-maintenance beauties the attention they need would be next to impossible. The Municipal Rose Garden is a must-see attraction in San José.
Address: Naglee Ave & Dana Ave., San Jose, California
2. San José Art Museum
Located on South Market Street, adjacent to Parque Plaza de César Chávez and Plaza Circle of Palms in downtown San José, the San José Museum of Art is dedicated to displaying late 20th and 21st-century artwork created by artists. From the west coast.
The museum's 2,000 works represent various forms of media, including drawings, paintings, photographs, and sculptures, among others. The museum is housed in a building originally built as the San José post office and later served as the city library.
It is listed on the US National Register of Historic Places and designated a California Historical Landmark. The San José Art Museum is one of the places to visit in San José for art lovers.
Address: 110 South Market Street, San Jose, California
3. San Pedro Square Market, San José, CA
San Pedro Square Market is a San Jose favorite for locals and tourists alike. All the food is farm to table, and it couldn't be fresher. Live music is always played, making the atmosphere fun and upbeat.
Browse for oysters at Hog Island Oyster Company, get organic meat for dinner tomorrow at Golden Gate Meat Company, check out cheeses at Cowgirl Creamery, and visit Rancho Gordo for 25 types of beans, herbs, and hot sauces. Since you're in California, you won't be surprised to find so many delicious local wines to try.
There are also handicrafts, cakes and coffees, and much more. You can't try it all in one visit, and you will want to come back for more. Indulge your love of food without guilt – San Pedro Square Market happily supports local farmers and artisans.
Address: 87 N. San Pedro St, San Jose, California
4. San Jose Attractions: Willow Glen
A historic neighborhood in San Jose, Willow Glen is known for its tree-lined pedestrian streets, many restaurants and shops, and attractive architecture, all of which give the area a small-town feel.
Specialty boutiques, vintage stores, children's stores, sidewalk cafes, and coffee shops line the streets.
The Willow Glen community began in the 1860s, and the architecture of the buildings introduces visitors to various styles such as Craftsman, Mission, Neoclassical, and Victorian.
Each year, various events take place at Willow Glen, including Christmas Tree Lights, Dancin 'on the Avenue, and Founders Day. There are over 250 businesses in Willow Glen and plenty to do this weekend.
Address: Lincoln Avenue between Willow Street and Minnesota Avenue, San Jose, California
5. Museum of Children's Discovery of San José
Located on Woz Way in downtown San José, the San José Children's Discovery Museum is dedicated to displaying exhibits that educate and inspire children to be curious and creative.
Woz Way is named after Steve Wozniak, nicknamed "Woz". He was a co-founder of Apple and was the primary donor to help fund the museum's creation. If you're wondering what to do in San José with kids, this is a great place to visit.
Opened in 1990, the Children's Discovery Museum is one of the best children's museums in the US, and it's also one of the world's leading science centres.
Exhibits include the Art Gallery and Art Loft, Kindergarten, Mammoth Discovery, Journey to Vietnam, and many more. If you are looking for fun family activities in San José, this is a great place to visit.
Address: 180 Woz Way, San Jose, California
6. Rosicrucian Egyptian Museum, San José, CA
The Rosicrucian Egyptian Museum shares the wonders of ancient Egypt with visitors. Located on Park Avenue in Rosacruz Park in San José's Rose Garden neighborhood, the museum was established by the Ancient Mystical Order Rosae Crucis, founded by Dr. Harvey Lewis.
Dr. Lewis first displayed his collection of ancient Egyptian artifacts in 1929, and after receiving and collecting more artifacts, the current museum was built in 1966.
If you're wondering what to do in San Jose on a rainy day, this is a great place. To visit. The museum was built in the ancient Egyptian style and is located in an Egyptian revival park.
Along with the most extensive collection of ancient Egyptian artifacts in the western United States, the museum also contains an impressive planetarium.
Address: 1660 Park Avenue, San Jose, California
7. Happy Hollow Park & ​​Zoo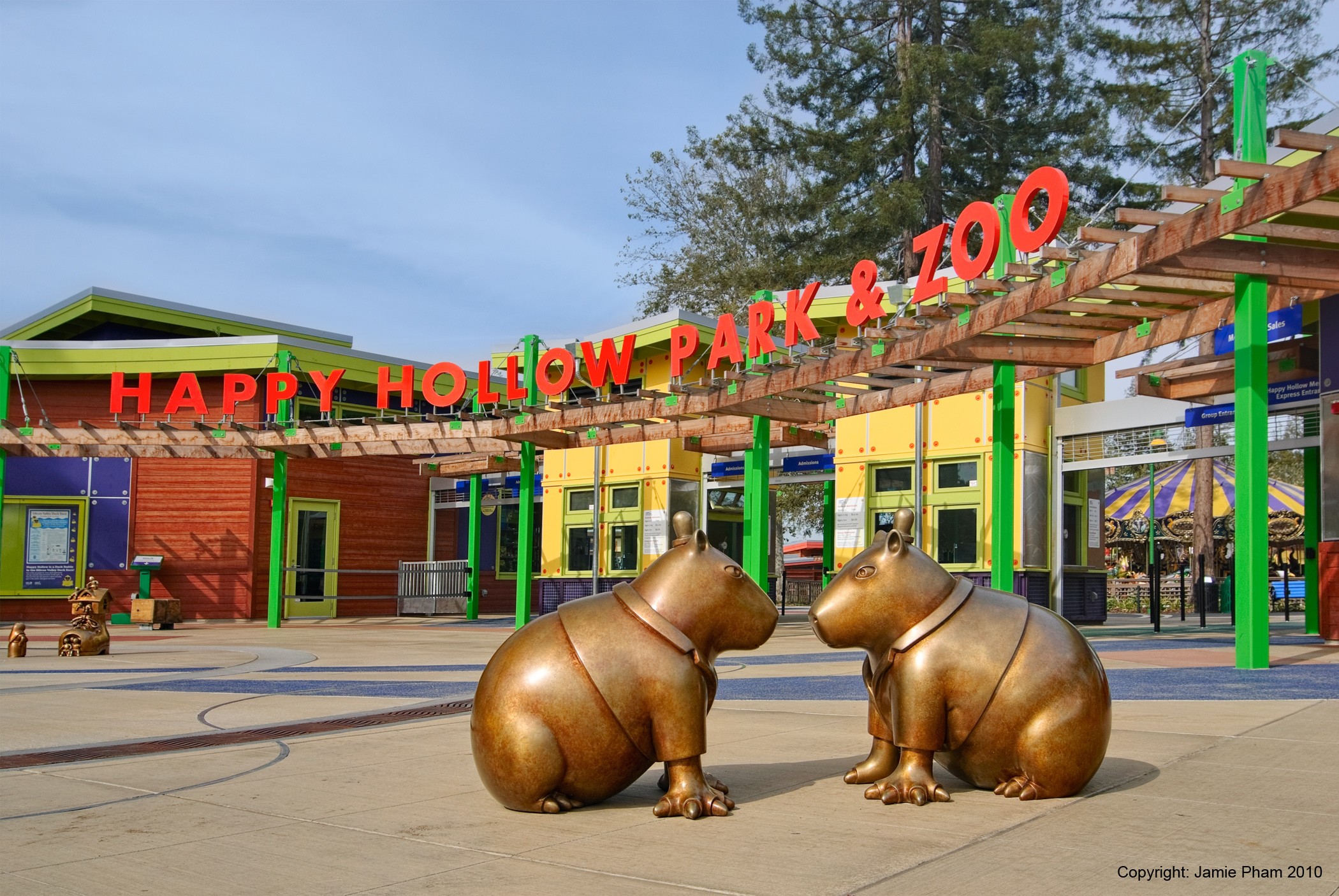 Located on Senter Road in Kelly Park, Happy Hollow Park & ​​Zoo is a 16-acre zoo and amusement park. It was first opened in 1961 and then renovated and reopened in 2010. Some of the zoo's exhibits include a petting zoo with a barn, a children's play area, a puppet theatre, and attractions for young children.
The park also has an education department featuring hands-on interactive exhibits that help visitors learn about the animals. This is a great attraction if you're wondering what to do in San José with kids. There are also classes and camps for children.
The park's Picnic Basket restaurant offers sandwiches, salads, entrees, desserts and drinks. "The Explore and More Store," a store located inside the zoo, sells clothing, games, unique things that make easy gifts, and toys for children.
Address: 1300 Senter Road, San Jose, California
8. Winchester Mystery House
Winchester Mystery House is a mansion located on South Winchester Boulevard in San Jose. This Victorian mansion was built in the Queen Anne style and once served as the residence of Sarah Winchester, the daughter of arms manufacturer William Wirt Winchester.
Construction began in 1884 but was stopped when Mrs Winchester died in 1922; others claimed the house was haunted.
The mansion is a popular destination known for its unusual size and architecture. Several tours are available, including the Mansion Tour, the Grand Estate Tour, and the Behind the Scenes Tour.
The home is listed on the US National Register of Historic Places and designated a California Historical Landmark.
Address: 525 South Winchester Boulevard, San Jose, CA
9. Museum of quilts and textiles of San José
The San José Museum of Quilts and Textiles is located on South First Street in downtown San José. It is the first museum dedicated exclusively to showcasing the intricate art of quilts and textiles.
Opened in 1977, the museum has an impressive collection consisting of over 550 quilts, textiles, and clothing, all created by artists in the 20th and 21st centuries.
The museum also has a library with more than 500 books on the techniques and history of this art form. The museum regularly offers classes and lectures for children and adults, and guided tours by trained teachers are available several times a month.
Address: 520 South First Street, San Jose, CA
10. SP2, San Jose, CA
SP2 is the latest community bar and restaurant near the renovated San Pedro Square Market in downtown San José.
The food is an American restaurant, but with Executive Chef Ben Robin and Chef de Cuisine Jacob Farleigh in charge, the dishes are transformed into something truly extraordinary.
Enjoy delicious dishes like homemade Italian sausage bread with pickled cherry peppers, tomato sauce and pecorino cheese, or the famous award-winning Ginger Rib Short Ribs with Soy-Ginger Glaze.
Dine on the cosy patio or come in the evening for a cocktail and appreciate the modern atmosphere in this trendy spot.
Address: 72 N. Almaden Ave., San José, CA
11. What to do in San José: The San José flea market
Located on Berryessa Road, the San Jose Flea Market opened in 1960 with just 20 vendors. Today, the market boasts between 1,000 and 2,000 vendors selling their wares on the weekends.
George Bumb Sr. founded the market to sell used items that he saw discarded while working in the landfill business. He built individual trading posts, deliveries that aided the vendors by offering them storage space for their wares.
More than a dozen restaurants and bars on the 120-acre property and more than four million visitors explore the market each year.
The flea market is open on Wednesdays, Fridays, Saturdays and Sundays. If you're wondering what to do in San José on a sunny morning, visit this unique market.
Address: 1590 Berryessa Road, San Jose, CA
12. Heritage Rose Garden, San Jose, CA
Established in 1995, the Heritage Rose Garden is one of the most beautiful attractions in San Jose. The Garden has more than 3,500 roses of nearly 3,000 varieties, more than any rose garden in the Western Hemisphere.
The Garden is a joint venture of San Jose, Guadalupe River Park Conservancy, and the South Bay Heritage Rose Group.
While the City of San José supplies all the materials, most of the work is done by more than 750 volunteers who help propagate, plant, fertilize, prune, weed, catalogue, and provide endless loving care. You can see 250 of the Garden's climbing roses in the Santa Clara University fence.
Address: Taylor & Spring Streets, San Jose, California
13. Things to do in San José: History San José
History San José is a child-friendly historical organization that recreates life in San José and the Santa Clara Valley during the 1880s. There are three locations, the first of which is History Park, located in Kelley Park.
This 14-acre location features original and renovated businesses, homes, and landmarks, as well as a cafeteria and carts. The Peralta Adobe – Fallon House Historic Site is next to the San Pedro Market in downtown San José.
Tours of the 1797 Peralta Adobe and the 1858 Fallon House are available. The Collection Center consists of thought-provoking artefacts and photographs and houses a research library and archives.
Address: 1650 Senter Road, San Jose, CA
14. The Farmers Union
The Farmers Union is packed with game nights when sports fans watch the action on one of the restaurant's many televisions.
Farmers Union is more of a dated tavern with closed boots, rustic wooden tables, and the occasional animal heads on the beautiful old brick wall.
The menu features American favourites like baby back ribs, crabs, and mac n cheese. Pair your meal with one of 52 craft beers on tap or a glass of wine from the restaurant's custom-designed draft wine program. The magnificent horseshoe-shaped bar with a marble top is the star of the show.
The Farmers Union is a great place to bring friends, but it's also stylish enough to impress a boss or significant potential.
Address: 151 W. Santa Clara St., San José, CA
15. Institute of Contemporary Art of San José
Located on South First Street in the South First Area Arts District of downtown San José, the San José Institute of Contemporary Art consists of three contemporary art galleries housed in a sleek, minimalist space.
Founded in 1980, the gallery is an art space that visitors of all ages can appreciate and enjoy. The exhibition space houses installations created by both individuals and groups and these events are generally opened with receptions.
The gallery also hosts programs such as artist conferences, exhibition tours, musical performances, art auctions, and much more. The San José Institute of Contemporary Art is one of the best things to do in San José, CA for art lovers.
Address: 560 South First Street, San Jose, CA
16. Chromatic Coffee Co.
Small and cramped and housed in an unassuming storefront in a downtown San Jose strip mall, Chromatic Coffee quickly became a popular spot for coffee and tea connoisseurs (a fancy word for geeks) brewed precisely like this.
From single-source batches from around the world. The place is the stylish and modern, but pleasant and fragrant atmosphere.
There's an earthy, dark roast smell from Brazil's far-flung Minas Gerais region, milder seasonal coffee from Holy Mountain, and other delicious scents that combine into an alluring combo.
They also sell granola from Manresa, fruit compote from Sweetdragon, deli salads at the Zanotto markets, and cakes and bread from 2nd Story Bakery. Their selection of local and regional craft beers is enormous.
Address: 17 North 2nd St., San Jose, CA 95113
17. Mizu Sushi Bar and Grill
Mizu Sushi Bar & Grill is an elegant and exclusive restaurant where you can delight in your love of sushi or discover what so many people have been excited about. The atmosphere is comfortable but elegant with just the right touch of artistic Asian flair.
Famous for its surprising and inspired combination of Japanese and Korean flavours, Mizu offers an extensive menu that includes timeless favourites like sushi and sashimi and traditional Korean dishes like bulgogi and galbi grilled delicacies like teriyaki or tonkatsu.
You can start your Mizu adventure with one of their famous cocktails and then move on to sake or anything else from their well-stocked bar.
Address: 1035 S Winchester Blvd, San Jose, CA
18. Manufacturers Market
Makers Market is a high-end boutique founded by Suzy Ekman, offering four locations throughout California, including one place within San Jose's Santana Row business district.
The store strives to honour and promote the heritage of fine American-made artisan products by displaying a large inventory of products created by second-and third-generation artisans who create beautiful modern heritage-inspired products.
Men's and women's clothing and accessories are sold in the boutique, along with a wide variety of jewellery, homemade craft items, and one-of-a-kind apothecary items.
All products come directly from American artisan retailers, focusing on manufacturers serving the San Francisco region.
Address: 378 Santana Row # 1110, San Jose, CA 95128
19. The Chinese-American Historical Museum
The Chinese American Historical Museum is a museum and non-profit organization located within the historic Ng Shing Gung, or Temple of the Five Gods, initially built in San José's Heinlenville Chinatown and transferred to the city's Historical Park in 1991.
The museum is overseen by the Chinese Cultural and Historical Project, founded in 1987 by Gerry Wong and Lillian Gong-Guy to preserve and promote Chinese-American heritage throughout San Jos. and the country.
The rebuilt Temple, which previously served as a community centre and shelter, now houses exhibits related to the history of Chinese Americans in the Santa Clara Valley, including the Temple's original golden altar and five statues of gods, built-in 1888.
Address: 1650 Senter Rd, San José, CA 95112
Frequently Asked Questions: Best & Fun Things To Do In San Jose
Is there anything to do in San Jose?
With 156 acres of stuff to do, you can enjoy gardens, the park's trails, the zoo, and museums. Kelley Park is the home of the Happy Hollow Park and Zoo, Japanese Friendship Garden, San Jose History Park, Viet Museum, and Portuguese Historical Museum among other historical societies.
Is San Jose California worth visiting?
San Jose is an amazing city, it is the center of the tech industry, and it is absolutely worth adding to your Northern California itinerary. The metropolis is easily accessible and jam-packed with cultural events, shopping, historic sites, parks, and museums that the whole family will enjoy.
What is San Jose famous for?
San Jose gave itself the name "capital of Silicon Valley" in 1988 as part of a publicity campaign, apparently confident in its future. It is home to thousands of tech companies, including several major tech companies, including IBM, eBay, Cisco Systems, and Adobe Systems.
How far is San Jose from the ocean?
Below is a list of our favorite beaches near San Jose from north to south. The closest beaches are about 45 minutes away in Santa Cruz. From Santa Cruz, it's a short drive north on Highway 1 to unique cove beaches near the town of Davenport. More sandy options near Santa Cruz include the beaches in Aptos and Capitola.
What is the best thing about San Jose?
Often commended as one of the healthiest USA cities, San Jose and its vicinity offer dozens of nature-cherished, outdoor activities, such as the 5.5-acre Municipal Rose Garden (4,000 rose shrubs with 189 varieties), 5,242-acre Castle Rock State Park (with giant redwood and fir trees, horseback riding and rock climbing).
What is the hottest month in San Jose CA?
The hottest month of the year in San Jose is July, with an average high of 82°F and low of 60°F. The cool season lasts for 2.7 months, from November 26 to February 18, with an average daily high temperature below 63°F.
Related Searches:
Unique Things To Do In San Jose
Things To Do In San Jose For Couples
Fun Things To Do In San Jose During Covid
Top 10 San Jose
Things To Do In San Jose Today
Things To Do Near Me
Things To Do In San Jose This Weekend
Things To Do In San Jose At Night
14 Best Things To Do In Sarasota: Top-Rated Attractions 2022
15 Fun Things to Do in Fort Lauderdale, Florida 2022
15 Best Things To Do In Georgia: Places To Visit In 2022
24 Best Things To Do In Gatlinburg, Tennessee 2022
25 Fun Things to Do in Cleveland, Ohio: Top-Rated Attractions 2022