10 Best Beaches in California, US: North to South 2022
As it is also known, the Golden State, California, is blessed with an incredible coastline home to several beautiful beaches among the best in the United States.
Many people imagine California to be a laid-back place that is a surfer's paradise, its scenic beaches with their laid-back vibe indeed promote this image.
With world-famous cities like Los Angeles, San Francisco, and San Diego located in the state and big-name attractions like Beverly Hills and the Golden Gate Bridge, California is an incredible place to visit, with something for everyone to enjoy.
Offering the most irresistible mix of beautiful landscapes, vibrant cities, and friendly, welcoming people California and its beautiful beaches are the places to be.
1. Venice Beach
The Venice Beach Boardwalk is a special place to visit thanks to its lively and relaxed atmosphere that manages to be fun and festive at the same time.
Venice Beach welcomes everyone and is known for its alternative culture, whether it's street performers putting on a crazy and exciting show, artists drawing caricatures of people, or bodybuilders exercising along the beach.
The beach itself is beautiful and a favorite with Los Angeles residents. Tourists come here to enjoy its lively promenade and the lovely canals that lie just behind the beach.
Although the area has become a bit gentrified in recent years, it still retains many of the charming, trendy shops, cafes, and coffee shops that help make it Venice Beach.
2. Huntington Beach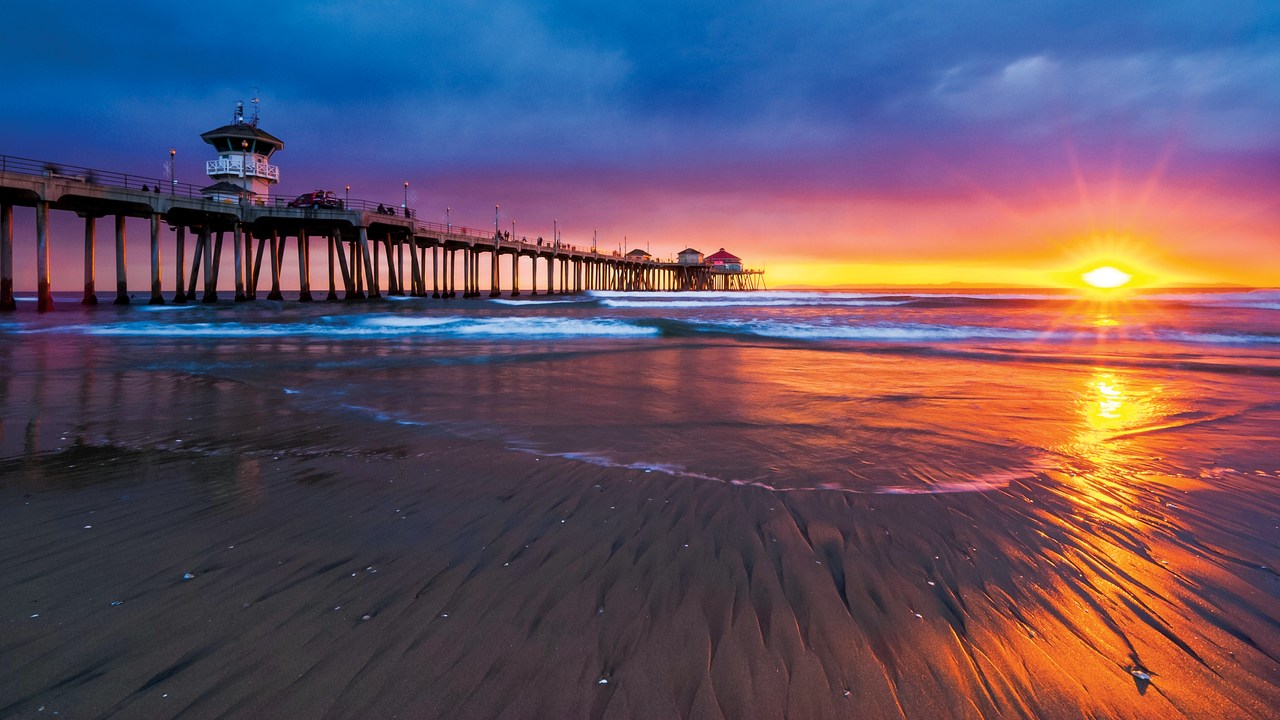 Known as 'Surf City, it should come as no surprise that Huntington Beach is known worldwide for its fabulous surf spots. So, of course, he just had to appear in a Beach Boys song at some point.
Beautiful to behold, the palm-fringed beach stretches for more than ten miles, and the gigantic waves crashing dramatically off the shoreline mean it's a mecca for surfers.
Away from the water, the city itself has a lot going on. After a busy day sunbathing or strolling along the pier, there are plenty of bars and clubs to go out to.
3. Santa Monica State Beach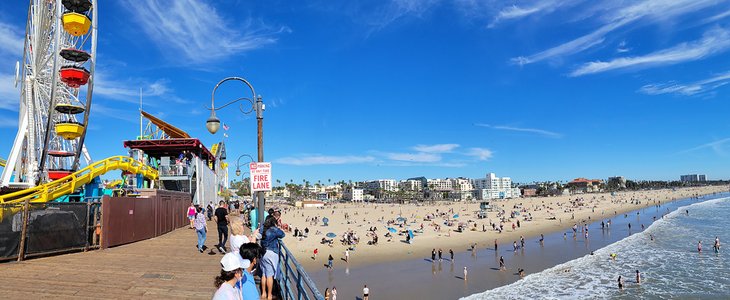 Stretching the length of most of the Santa Monica coastline, this lively beach is a lot of fun. There's so much to do here, and its fantastic location means you're just a stone's throw from attractions like Beverly Hills and Venice Beach.
The charming Santa Monica Pier, for example, has plenty of attractions that will keep the whole family entertained. Along the beach, there are many restaurants, bars, and cafes for you to enjoy.
While just relaxing on the beach is divine, there are plenty of beach activities to try, like volleyball, surfing, and swimming, plus relaxing yoga classes.
There's a very laid-back atmosphere to the place, and Santa Monica is known for its alternative scene. Many small art galleries are scattered around the city, and many street artists are doing shows along the waterfront.
4. La Jolla Shores Beach
One of the best beaches in the state, La Jolla Shores Beach, is lined by dramatic cliffs, and its location outside of San Diego makes it a popular weekend getaway.
Although it can be a bit crowded, it is worth a visit. There is a lot to do here besides the beautiful scenery and stunning coastline views.
Especially popular with swimmers and kayakers, the waters that line the beach are rich in marine life, so it's worth renting or taking some snorkeling gear with you when visiting La Jolla Shores beach.
Many restaurants, bars, and hotels are nearby, and many beachgoers combine their stay with a visit to San Diego to enjoy all that the city has to offer.
5. Mission Beach
Situated between the Pacific Ocean and Mission Bay, the thin strip of land that separates it is artificial and contains the fabulous Mission Beach, which has several different sides.
At one end is Belmont Park. This amusement park is packed with spooky rides, as well as shops and restaurants. Far from what it offers in terms of entertainment, the beach has many outdoor activities for visitors to enjoy, from swimming and surfing to volleyball and water sports.
After a blissful day spent lounging on the beautiful beach, many people enjoy the lively nightlife in the many bars and clubs along the beach or enjoy a sumptuous meal while watching the Pacific sunset.
Located in the westernmost part of San Diego, Mission Beach offers the perfect package of beautiful golden sands and vibrant city life.
6. Manhattan Beach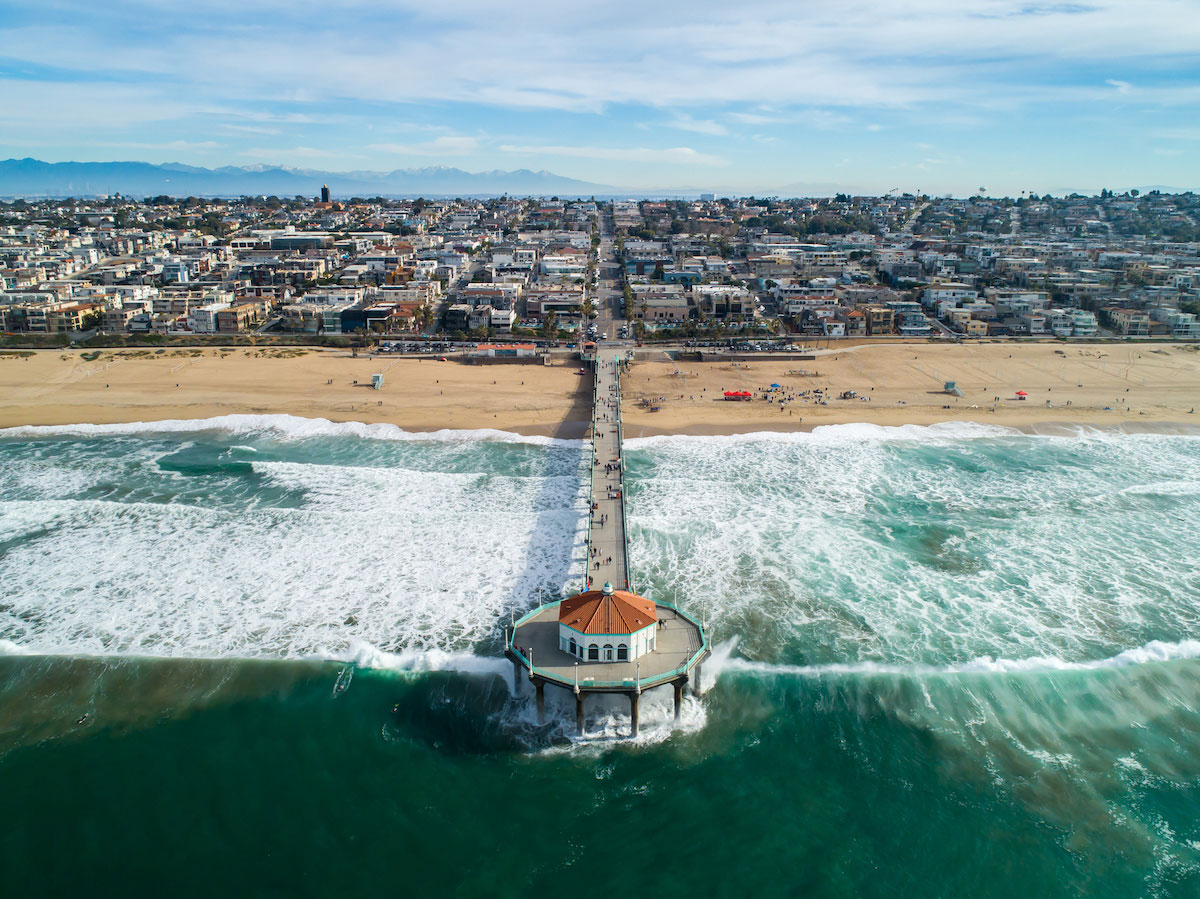 With a very exclusive atmosphere, Manhattan Beach is one of the most expensive places to live in Los Angeles County, which is no surprise since its location on the Pacific coast is stunning.
In addition to the beautiful beach, visitors will find many lovely houses on display, as well as many elegant restaurants, fashionable boutiques, and some very stylish hotels. On the weekends, it can get a bit crowded as the rich and fabulous descend on Manhattan Beach to enjoy all it has to offer.
In addition to all this, you are only a half-hour drive from downtown Los Angeles. So if you want to combine your trip to the beach with a look at the Hollywood sign, a visit to Beverly Hills, and a walk down Sunset Boulevard, this is the perfect place to do it.
7. Natural Bridges State Beach
One of the best beaches in the entire Golden State, Natural Bridges State Beach is named for its beautiful rock arch that is impressive to behold. There is a remarkably intact and wild look around the place.
Located in a beautiful state park on the outskirts of Santa Cruz, the beach has plenty of wildlife on display.
Many people come here to see the spectacular migration of the monarch butterfly that takes place every year when thousands and thousands of them flit through the park.
After enjoying the delightful views and lounging on the beach for a while, visitors can choose to go hiking, surfing, or even exploring the city itself.
It's well worth a visit; Bridges State Natural Park's desolate and unspoiled look will make you feel like you're a million miles away from civilization, making it ideal for people looking to immerse themselves in nature.
8. Arroyo Burro Beach
Located in Santa Barbara County and surrounded by rugged coastal cliffs, Arroyo Burro Beach is beautiful but lonely. The big waves that hit the shoreline only add to its rugged appearance. Many surfers come here to surf the surf, while locals come to walk their dogs.
The beach has many facilities on offer, so you will often find people having a picnic, preparing a barbecue, or fishing in shallow water. For those with a keen eye, whales can sometimes be seen offshore.
With some great parks a stone's throw from its golden sands, Arroyo Burro Beach is perfect for people looking to immerse themselves in nature.
9. Paradise Cove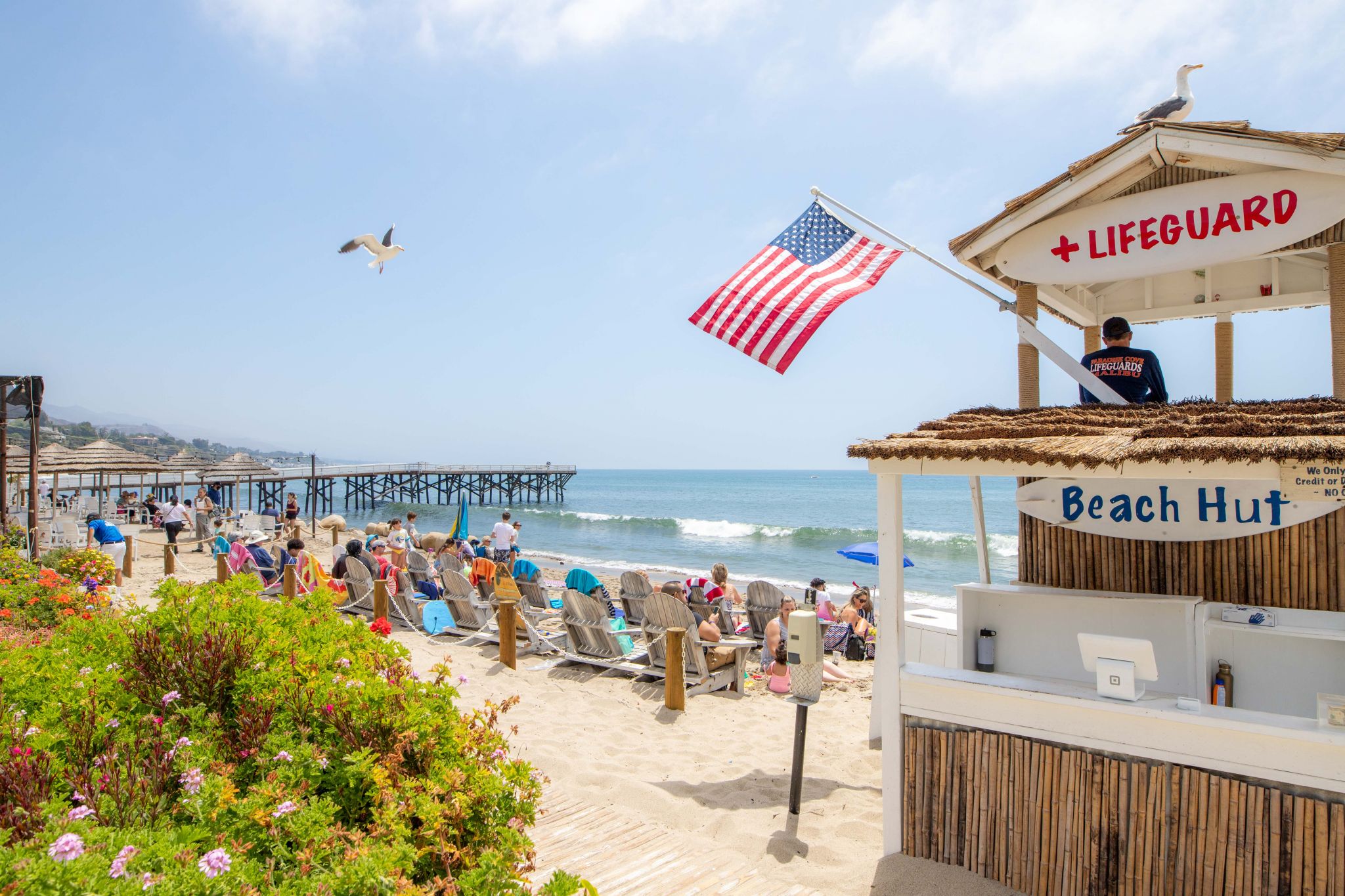 Nestled amid dramatic rugged cliffs and tree-covered hills, Paradise Cove is a delightful place to visit. It is undoubtedly one of the most beautiful beaches in the state.
Due to its popularity, there is now a fee to enter the scenic beach; while this has kept some of the crowds at bay, it can still get a bit crowded on the weekends.
With its golden, sun-kissed sands, beautiful views over the Pacific, and cozy, laid-back atmosphere, Paradise Cove lives up to its name.
10. Carmel Beach
The dazzling white sands of Carmel Beach are lined with picturesque green hills, and strolling through the spectacular scenery while taking in ocean views is an enchanting experience.
Indeed one of the most beautiful beaches in California, Carmel Beach is blessed with incredible sunsets and is much calmer and more relaxed than many other beaches.
As it is located next to Carmel-by-the-Sea, there are plenty of restaurants, bars, and hotels for visitors to check-in – although, in reality, most people come for the solitude and the spectacular scenery.
Frequently Asked Questions: Best Beaches in California
What is the clearest beach in California?
Laguna Beach, a seaside artist village and resort destination in Orange County, California, has been selected as one of the cleanest beaches in America. Located halfway between Los Angeles and San Diego, Laguna Beach has over seven miles of coastline and 20 pristine coves and beaches.
Does California have any clear water beaches?
La Jolla Cove Beach lies 14 miles north of San Diego. Perched at the base of sandstone cliffs, the beach's clear blue waters offer visibility of up to 30 feet, providing opportunities for snorkeling and scuba diving.
What beaches do celebrities go to in California?
Malibu, California is known to many as a hot-spot for celebrities. This city has lots of beautiful features, including miles of beaches (Zuma Beach, Malibu Beach, Point Dume), trendy restaurants, amazing homes, and scenery for days.
What is the safest beach in California?
Coronado Beach is also the safest beach in California for swimming. Towards the shore, the waves are very gentle, the waters are usually calm and clear that you can easily see what you're stepping on. It also features numerous lifeguard stations, making the area safer.
Is there private beaches in California?
California has quite a few private beaches. All of them are immediately in front of private property, many of which are gated communities. If a beach has no access except crossing private property, it is considered inaccessible. Those are the beaches in California that you'll never get to see up close.
What beach has the warmest water in California?
Scientists on Thursday announced that the sea surface temperature off the coast of La Jolla, California, came in at 78.6 degrees – the warmest it's ever been in the 102 years measurements have been recorded.
Related Searches:
Best Beaches In California To Swim
Best Beaches In California For Couples
Best Beaches In California Bay Area
Best Beaches In California For Families
Best Beaches In Southern California
Best Beaches In Los Angeles
California Beach
Beaches In California Open
10 Best Hot Air Balloon Rides Around the World 2022
17 Best Things to Do in Santa Fe, New Mexico: Top-Rated Attractions 2022
12 Best Things to Do in Oklahoma City: Top-Rated Attractions 2022
11 Best Things To Do In Kansas City (Missouri) 2022
15 Best Things To Do In Indianapolis: Top-Rated Attractions 2022