11 Best Things To Do In Kansas City (Missouri) 2022
This Midwest double city, straddling the Kansas-Missouri border, sits at the junction of the Kansas River with the Missouri River, which runs along the high banks, known as the Bluffs, of both rivers.
World-famous for its steaks and barbecue, it is sometimes called "Barbecue Capital." The city's legacy in jazz history can be explored in the Historic Jazz District, once filled with the sounds of jazz icons like Charlie "Bird" Parker and Big Joe Turner.
Another historic area is the Westport neighborhood, packed with things to do, including antique shopping and river cruises. Kansas City is also home to several good museums, such as the Nelson Atkins Museum of Art, the Arabia Steamboat Museum, and Toys and Miniatures.
1. National WWI Museum at Liberty Memorial
The National WWI Museum in Kansas City sits at the foot of the Liberty Memorial, an impressive Egyptian Revival-style monument erected in 1928 to honor the men and women who served and died in the war.
The museum's collections include a wide variety of historically significant artifacts, letters, films, and other pieces collected between 1920 and the present day.
The collections and exhibits present a comprehensive view of the global impact of the war, including exhibits such as the recreation of the crater left after a shell hit a French farm. Visitors can walk through the crater and experience what it looked like and sounded like inside the trenches with six reproduced scenes.
Other exhibits share shocking stories from those who experienced war, both on the front lines and at home. Other items on display include a Renault FT-17 tank with damage from a German shell, weapons, uniforms, and personal items the soldiers brought into battle. In total, the collection is one of the largest in the world, with more than 75,000 items.
Address: 100 W 26th Street, Kansas City, Missouri
2. Nelson-Atkins Museum of Art
The Nelson Atkins Museum of Art has impressive collections representing North America, Europe, Asia, and Africa. The collection of antiquities includes Greek, Roman, and Near Eastern pieces from the second millennium BC, including its most recent Egyptian addition, the ornate inner casket of Meret-it-es.
The African art collection represents 2,500 years of craftsmanship, containing more than 400 works in various media, from wood to ivory. Native American artifacts include basketwork, pottery, and ornate feather and beadwork.
The museum's collection of European art spans from medieval times to the 19th century, emphasizing 19th-century Impressionist and Post-Impressionist paintings and 17th-century Italian Baroque art.
Additional galleries focus on Chinese, Japanese, and American art, and other exhibits are dedicated to both contemporary and modern art. You don't have to be an art enthusiast to appreciate the beautiful gardens and sculpture park, where you can go for a walk, play sports, enjoy a picnic, or take an audio-guided tour.
Address: 4525 Oak Street, Kansas City, Missouri
3. Arabia Steamboat Museum
On September 5, 1856, a steamboat carrying 400,000 pounds of supplies destined for general stores in the Midwest sank in the Missouri River, just six miles before reaching Kansas City.
Arabia was lost for more than 130 years before an amateur archaeologist discovered that it was buried 45 feet below a cornfield. As erosion caused the course of the great river to change, the remains and cargo of the boat were locked in the ground and preserved like a giant time capsule.
The result is a massive collection of pre-Civil War artifacts, all examples of the objects and foods that were part of the daily lives of the pioneers. The number of artifacts found was so great that museum staff cleaned up the artifacts today.
Visitors can see this process, and items are continually added to exhibits as they are restored. The collections include a wide range of everyday items such as toys, tools, kitchen utensils, and even china sets.
The museum also has exhibits on the glory days of steamboats on Mighty Missouri, a river that claimed hundreds of steamboats under its waters.
Address: 400 Grand Boulevard, Kansas City, Missouri
4. Union Station
Union Station was built in 1914 and housed thousands of passengers. It included a waiting room designed to hold up to 10,000 people.
The station closed in the 1980s, underwent major renovations, and reopened in 1999 with shops, restaurants, and other services. It has a much smaller rail service as it now functions as an Amtrak stop.
The building itself is quite impressive and one of the main tourist attractions in the city. It's also home to several cool things to do, including Science City, the Regnier Extreme Screen Theater, the Arvin Gottlieb Planetarium, and the City Stage Theater.
Address: 30 W Pershing Road, Kansas City, Missouri
5. Science City
Science City, located at Unión Station, is a great attraction for visiting Kansas City. The exhibits focus on various aspects of science and are all interactive so that visitors can learn through hands-on experience.
The newest permanent exhibit is Force and Motion, a space where you can test and explore physics properties. Similarly, the Every Last Drop exhibit explores the unique properties of water, from its movement and potency to the many ways we depend on it, as well as the need for conservation.
Younger kids dig into the Dino Lab, where they can learn about paleontology by discovering their discoveries, and the whole family will be fascinated by the genetics lab.
Other interactive exhibits include daily activities in the Demonstration Area, a test kitchen where children can explore the properties of food, and a mysterious maze park. The museum also has a planetarium, nature center and hosts special events.
Address: 30 W Pershing Road, Kansas City, Missouri
6. Toy and Miniature Museum of Kansas City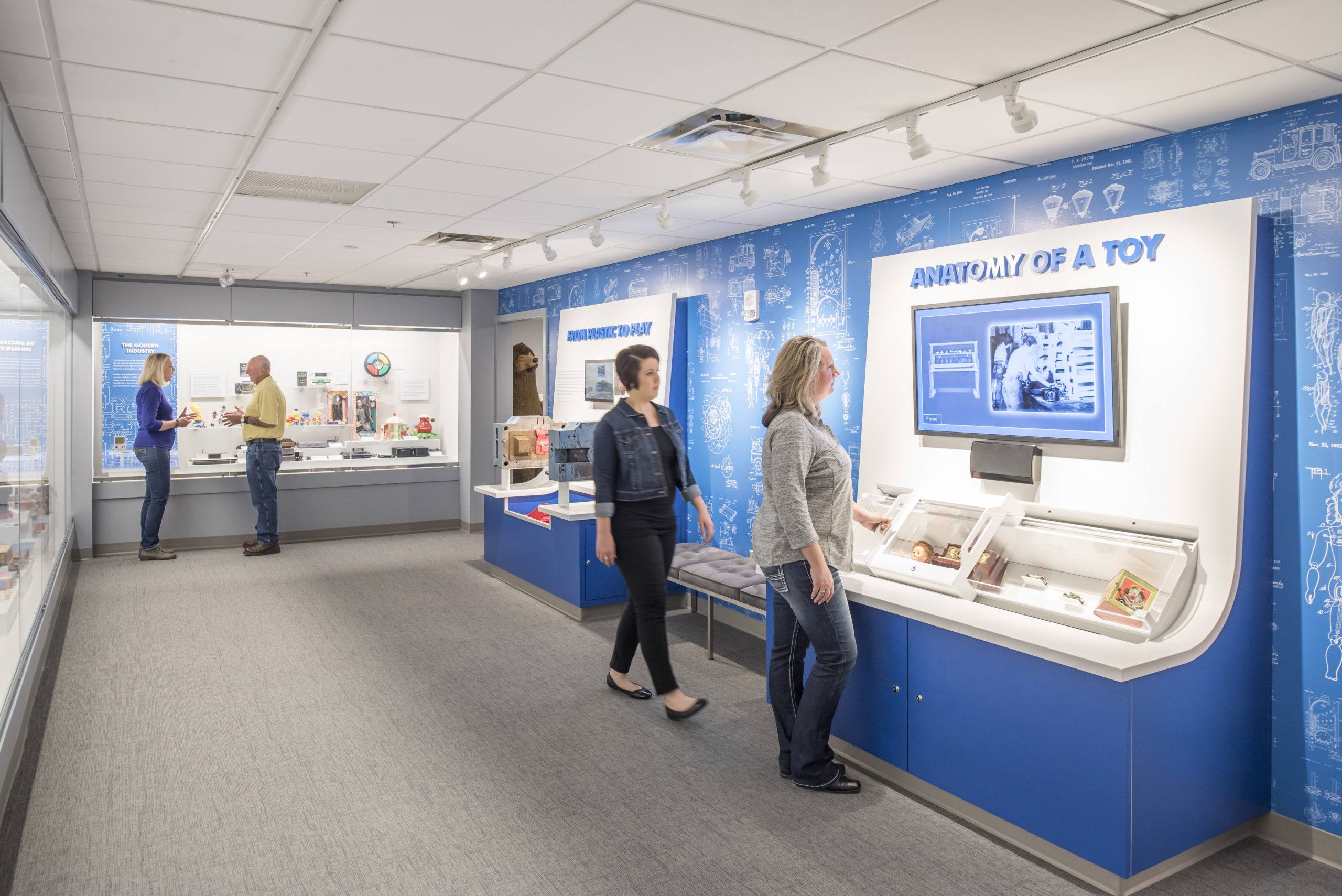 Located on the University of Missouri-Kansas City campus, the Museum of Toys and Miniatures contains more than 72,000 examples of antique toys and scale miniatures.
The museum originated in 1982 from the personal collections of Mary Harris Francis and Barbara Marshall and has since grown to occupy 33,000 square feet.
Tourists will find an impressive collection of vintage toys, including dolls, figures, games, model trains, and more. Some of the more nostalgic examples are Ovaltine's 1938 Telematics Radio, Annie Pin, agate marbles, and a set of moldy soldiers.
The museum's collection of fine-scale miniatures is the largest globally, with perfect-scale reproductions of real art and artifacts. Notable pieces include a miniature 1955 Singer sewing machine and a small ornate 1:12 scale chest made of ebony and gold.
The museum also hosts special events that allow adults to revisit childhood, such as marble tournaments or Saturday morning cartoons, with a large bowl of cereal.
Address: 5235 Oak Street, Kansas City, Missouri
7. Kemper Museum of Contemporary Art
The permanent collection at the Kemper Museum of Contemporary Art began with the Bebe and Crosby Kemper Collection, including works by Georgia O'Keeffe, Robert Mapplethorpe, and William Wegman.
Now includes a wide range of jobs, including painting, sculpture; facilities; fingerprints; and works on paper, photography, and time-based media. Groups of 10 or more can arrange a free teacher-guided tour, and there are free tours every Saturday that is open to the public without reservation.
The museum also hosts programs and workshops designed to engage diverse groups, including youth, teens, adults, and entire families.
Address: 4420 Warwick Boulevard, Kansas City, Missouri
8. Hallmark Visitors Center
Located in the Crown Center complex, the Hallmark Visitors Center showcases the history of the greeting card industry. It tells the story from poverty to wealth of how Joyce Hall created an international institution based on caring.
The center's exhibits explore the history of the company and include interactive stations and a movie. It is also home to Kaleidoscope, a children's creativity center that allows children to use various materials to create their art. Sessions are 50 minutes long and free, led by Hallmark creative staff.
Address: Crown Center Complex, Grand Boulevard, Kansas City, Missouri
9. Museum of American Jazz
The American Jazz Museum is located in Kansas City's Historic Jazz District, once home to some of the genre's most influential musicians, including Big Joe Turner, Count Basie, and Charlie Parker.
Visitors to the museum will be immersed in all aspects of jazz, from history to exploring the music itself. Collections include memorabilia such as posters and photos and personal items such as Ella Fitzgerald's dress and Charlie Parker's saxophone.
Other exhibits include listening stations, mixing consoles, and movies. The museum also houses the Blue Room, a jazz club that offers live music several nights a week, and the fully restored 1912 Gem Theater, which hosts various events and productions.
The Jazz Museum is also heavily involved in community outreach, offering youth programs, and organizing local events.
Address: 1616 E 18th Street, Kansas City, Missouri
10. Westport Neighborhood
Tourists looking for a good neighborhood to explore will love Westport, one of the city's oldest and most popular tourist destinations.
It was named the "last stop" in Kansas City before the pioneers set out on their journey west and are the site of the Battle of Westport, a crucial victory in ending the Civil War.
It is also home to the 1855 Harris House Museum and several Missouri River cruises. It is a trendy neighborhood filled with the best new restaurants and many shops in its elegant boutiques and antique stores. The community also organizes festivals, concerts, and Christmas celebrations.
11. Airline History Museum
In the far north of the city, the Airline History Museum at Centro Airport ensures that any flight enthusiast's heart beats faster. Here, you can relive the days when people still flew jet engines over the Atlantic, and Kansas City was the home of TWA.
Flight veterans will be delighted to tell their stories, and visitors will be able to admire the many aircraft on display. One of the museum's best-known pieces is the TWA Moonliner, a model of the iconic passenger rocket conceived by Howard Hughes, Walt Disney, and Wernher Von Braun.
The museum's most popular attraction is its flight simulators, which give visitors a chance to see and feel what it's like to fly a wide range of aircraft, from a biplane to a fighter jet.
Address: 201 NW Lou Holland Drive, Kansas City, Missouri
Where to stay in Kansas City for sightseeing?
Kansas City's top attractions are located in the vibrant downtown area, and many of the best hotels are located here as well. The southern part of downtown is known for its parks and historic monuments, including the National WWI Museum at Liberty Memorial.
Further north, the Power and Light District is the newest entertainment area, with restaurants, shops, and music venues. Below are some highly-rated hotels in convenient locations:
Luxury Hotels: The boutique Ambassador Hotel is housed in the restored neoclassical Gate City National Bank building from the 1920s. Offering sophisticated service and 43 luxurious rooms, it is within walking distance of City Hall. The imposing Sheraton is good for families, with spacious, well-appointed rooms and an indoor/outdoor pool. This hotel is next to LEGOLAND and offers a free local shuttle service. The Westin Crown Center, also with a free shuttle service, offers great views of the city and is connected by air to the Hallmark Visitors Center and Union Station.
Mid-Range Hotels: The BEST WESTERN PLUS Seville Plaza Hotel, just a few miles south of the city center, features Spanish-themed decor and is within walking distance of the Kemper Museum of Contemporary Art. The Holiday Inn is located in the same area and close to the restaurants, shops, and entertainment venues of the Country Club Plaza. The Nelson-Atkins Museum of Art is right behind the hotel. Further out and perfect for sports fans is the Drury Inn & Suites, across from the Kauffman and Arrowhead stadiums.
Budget Hotels: With a great downtown location, the 816 Hotel offers comfortable rooms, free parking, and complimentary breakfast. Near the airport, 20 minutes from downtown, are Holiday Inn Express Hotel & Suites and La Quinta Inns & Suites, free airport transportation. The Comfort Inn & Suites is located approximately 15 minutes northeast of downtown, near the Worlds of Fun Amusement Park and the Oceans of Fun Waterpark. All of these hotels offer indoor heated pools.
Frequently Asked Questions: Best Things To Do In Kansas City
Is Kansas City worth visiting?
Tuesday, National Geographic named KC as a place worth visiting in 2019, one of just three American destinations on the list that includes exotic destinations like the Peruvian Amazon and Perth, Australia.
How safe is Kansas City?
4 in the U.S. News & World Report's "Most Dangerous Places in the U.S." Kansas City, Missouri ranked No.16 on the list. The ranking was based on murder and property crime rates per 100,000 people, according to the online study.
What food is famous in Kansas City?
But when it comes to Kansas City's famous foods, there really are four that stand out above all the others: burnt ends, our signature cut of steak, cheesy corn and chicken spiedini. These four creations are both unique to the city and pretty much ubiquitous.
What foods is Missouri famous for?
Missouri may be known for toasted ravioli, provel cheese, and BBQ, but the Show Me State is much more than that. Nearly 200 years of German, French, and Italian influence combined with incredible local meat and produce means award winning charcuterie, beer, and pastries.
Is Kansas City walkable?
Kansas City is the 41st most walkable large city in the US with 459,787 residents. The most walkable Kansas City neighborhoods are Old Westport, Downtown Loop and South Plaza.
Why do people go to Kansas City?
Kansas City is a fantastic foodie destination, and a great deal of its reputation is due to the outstanding barbecue options. Kansas City has it all, from history, music, and architecture to amazing things to do, cool places to stay, and even awesome ways to get around town.
Related Searches:
Unique Things To Do In Kansas City
Fun Things To Do In Kansas City For Adults
Things To Do In Kansas City At Night
Things To Do In Kansas City For Couples
Best Things To Do In Kansas City For Families
Free Things To Do In Kansas City
Things To Do In Kansas City This Weekend
Things To Do In Kansas City Today
17 Best Things to Do in Galveston, Texas: Top-Rated Attractions 2022
15 Best Beaches in Georgia, US: Best Time To Visit 2022
15 Best Things To Do In Indiana: Places To Visit 2022
15 Best Things To Do In Indianapolis: Top-Rated Attractions 2022