15 Awesome Water Parks In Georgia, US [Updated 2022]
Georgia is full of amazing parks! If you're looking to beat the heat, these water parks have something for people of all ages and skill levels. From the most experienced and thrill-seeking sliders to the little ones, there's a promenade, slide, or pool for hours of wild, wet fun.
If you're planning a one-of-a-kind vacation or want to get away for the day and try something new, Georgia's natural wonders and scenic landscape provide the perfect backdrop.
Many parks offer camping, cabin rentals, zip-lining, hikes, picnics, live music, or dryland walks in addition to their water areas, so you can be sure to find a perfect experience for you and your family.
1. Wild Adventure Theme Park, Valdosta
Wild Adventure is a unique experience that the whole family will surely enjoy. Experience the thrilling theme park rides, the wet wild splashes at the water park, and the furry fun at the animal park.
Splash Island is included with your park admission and offers a host of wild rides, tube slides, raft-style slides, a lazy river, and amazing kids and sprinkler areas.
Take on the Bozai Complex and choose from three heart-racing slides. Raft the rapids of Hakini and Cyclone Wahee or descend the cliffs of Kalani Blasters or Kona. Dry off or spend the day and explore the dry rides, stop at the concessions, or see the animals!
2. Terminus Wake Park, Cartersville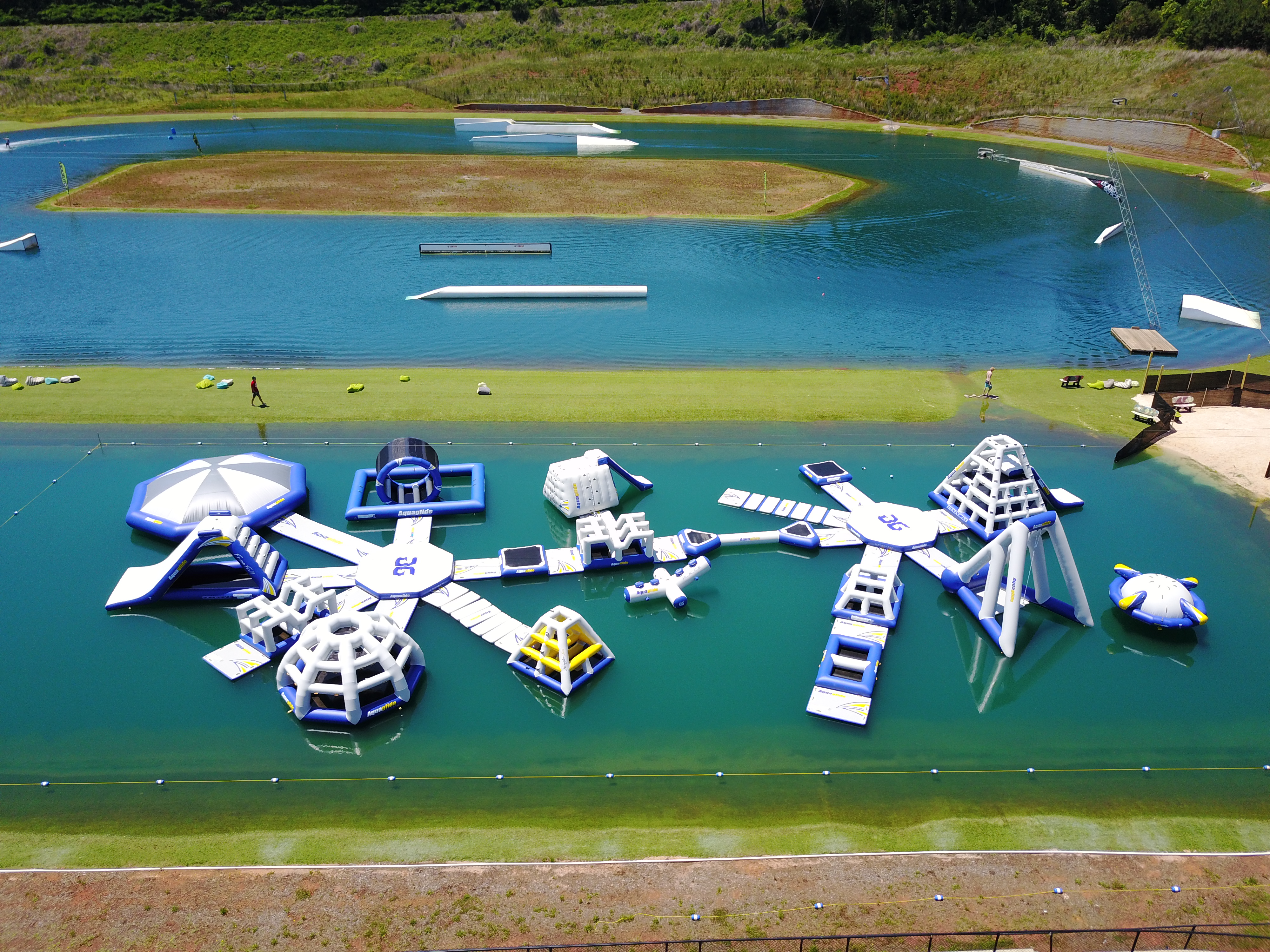 Visit this unique park to enjoy a day full of action and water sports. An overhead cable system allowed adrenaline lovers to enjoy water sports without a boat.
Wakeboarding, wakeskating, waterskiing, knee pads, and more… whether you've always wanted to try it or are a seasoned pro, Terminus Park is the place to be. The park has a lake for beginners, intermediate and advanced.
If you're not sure how it works, the park's website offers a great explanation!
3. Bogan Park Community Recreation and Aquatic Center, Buford
Spanning over eighty-three acres, this massive park offers a host of activities that are sure to please people of all ages and interests. There is a vast indoor pool for hours of swimming and fun.
The park also features a dance studio, softball field, soccer field, sand volleyball court, outdoor basketball courts, indoor badminton courts, a large outdoor playground, and two miles of trails for walking or running. With so many things to do, you are sure to come back again and again.
4. St. Marys Aquatic Center, St. Marys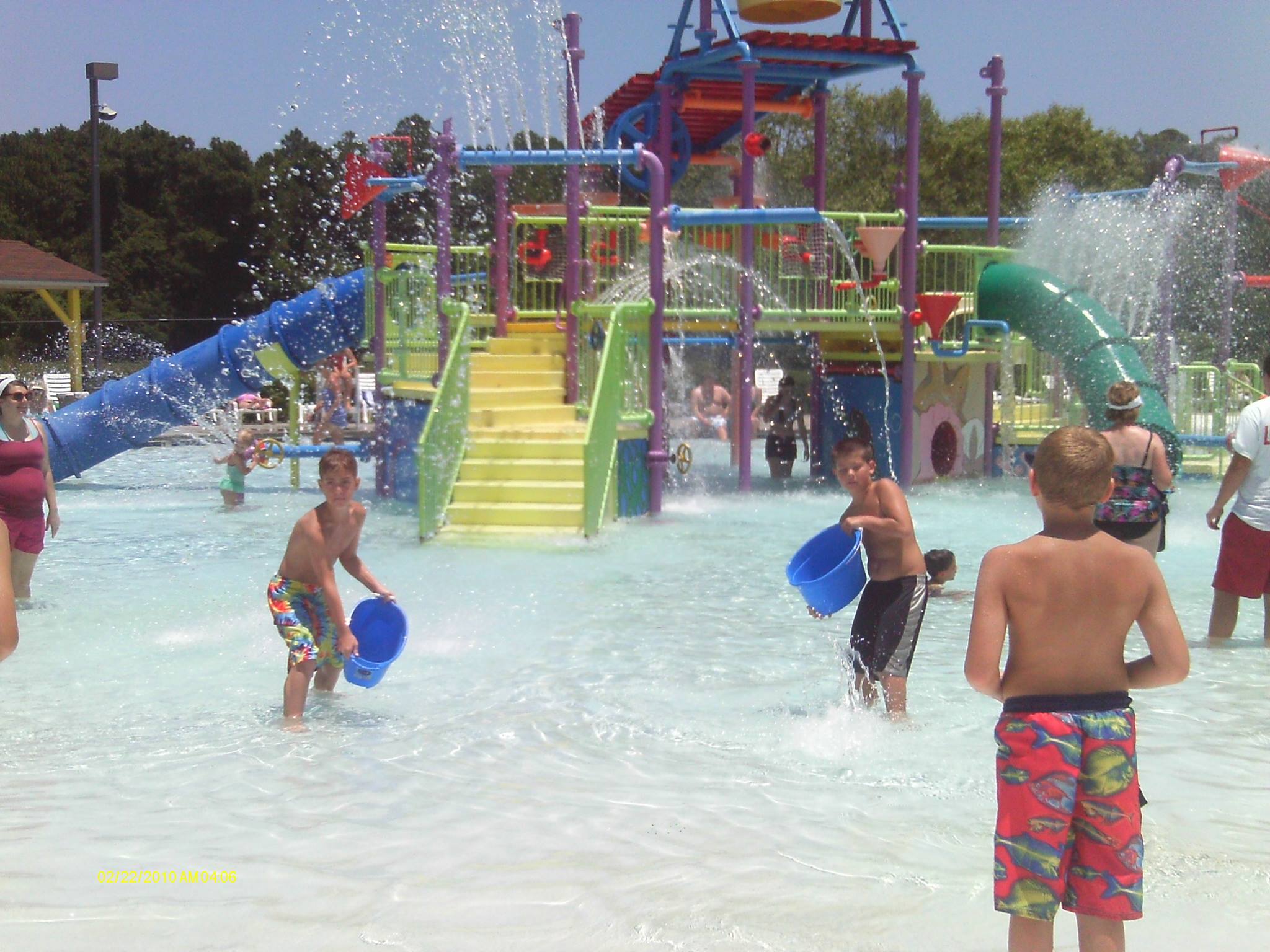 Cool off in style and enjoy hours of fun at St Marys Aquatic Center. Kids of all ages will love Splash Mountain, the zero-depth water park that features water cannons, slides, and a giant garbage can that spills every two minutes.
Swim in the 25-yard lap pool. Take a subway and spend hours relaxing floating down The Oasis lazy river.
Be sure to visit the island's center surrounded by the river to play shuffleboard and other fun games! The park also features the Orange Crush, a massive tornado slide. If you've worked up an appetite, head over to the Snack Shack, or for the perfect souvenir, visit the gift shop.
5. Helen Tubing & Waterpark, Helen
This water park offers many different ways to cool off and have fun. The newest feature of the park is a twenty-five-foot-high four-lane climbing wall. The water park offers slides and children's areas ideal for all ages.
True Adventure awaits you on the Chattahoochee River. For an experience like no other, venture upriver and go on an adventure-filled scenic drive. Weekends tend to be busier, so plan to arrive early for this tubing experience of a lifetime!
6. Summer Waves Water Park, Jekyll Island
Beat the heat and enjoy breathtaking views of the Jekyll River at Summer Waves. Float down the relaxing lazy river of Turtle Creek or surf the waves in the Frantic Atlantic Wave Pool.
Take your little ones to the specially designed kiddy pool featuring kiddy slides, waterfalls, fun-filled activities, and shaded areas, or try the splash zone.
Thrill-seekers are sure to enjoy the wide variety of slides. Nature's Revenge offers two forty-foot tall slides for a twisty adventure—a double-style tube through the five-story Pirate Passage.
The thirty-two-foot-tall Force Three offers three slides for fast-paced action.
7. Water Wiz, LaGrange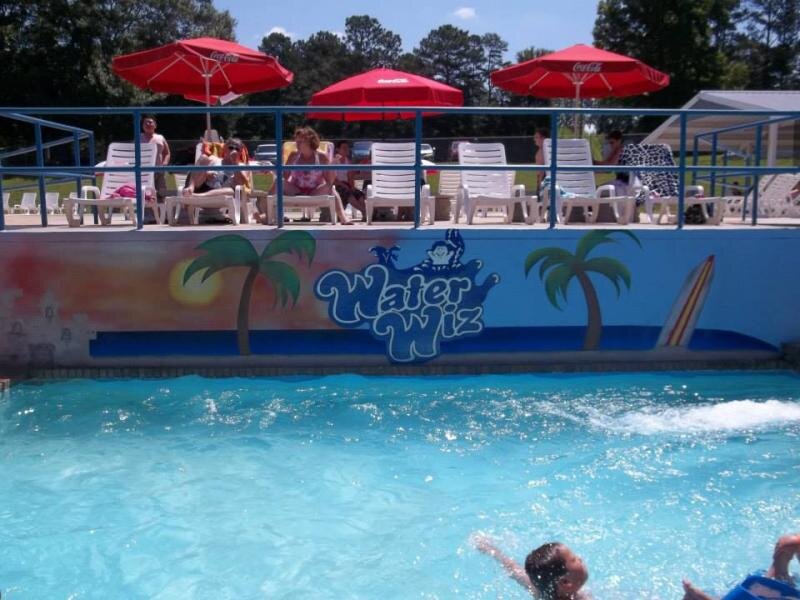 Enjoy a variety of activities at Water Wiz! In addition to an exciting water park filled with various activities for hours of water-soaked fun, there's camping, fishing, and roller skating! The water park features a variety of slides for all ages and skill levels, as well as cool pools and other attractions that are sure to make for a fun-filled day.
If you plan a birthday party and look for unique options, the park offers birthday party packages. Working up an appetite isn't a problem at Water Wiz, as the park also comes complete with a concession!
8. Six Flags White Water, Marietta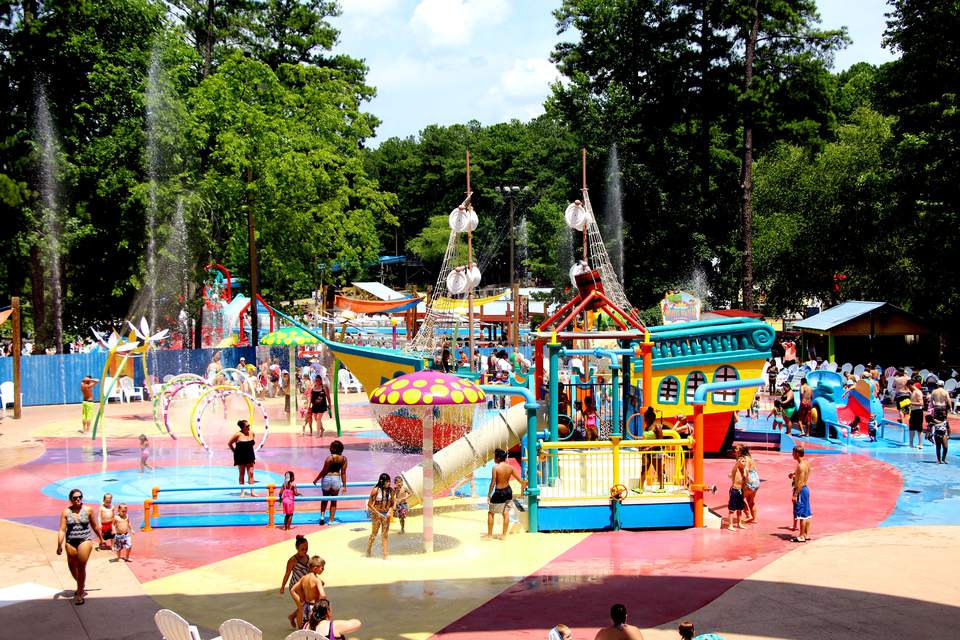 Spanning forty acres, Six Flags White Water is sure to have an activity for everyone! From thrill rides to kid and family rides, Six Flags is not to be missed. Climb aboard the Dive Bomber.
The ground will drop below you to sink you ten stories on this thrilling ride. Ride the Gulf Coast Screamer or raft down the Typhoon Twister and Tornado rides.
Drop fifteen meters in three seconds at the Caribbean Plunge. Brave the darkness of the Bermuda Triangle or take the whole family down the Bahama Bob Slide. Grab a mat and compete with up to five friends head-on in the Wahoo Racer. Cool off in the Atlantic Ocean wave pool or go down the lazy river.
If you have little ones on your toes, try the activity pool designed just for them. The park also offers excellent shopping and restaurants.
9. Boundary Waters Aquatic Center, Douglasville
Boundary Waters Aquatic Center comes complete with an eight-lane completion pool and a four-lane teaching and therapy pool.
Are you planning a birthday party? The pool offers unique and exciting options! The aquatic center also offers many programs and classes, including aqua aerobics, SEALS swim lessons and lifeguard certification classes, Aqua Zumba, mommy and baby classes, and much more.
Visit the website for hours, class information, upcoming events, and fees.
10. Lanier World, Buford
For a unique experience that will please people of all ages, visit Lanier World. Enjoy the Family Fun Park, a giant wave pool, and a lazy river. Head to Big Beach for a variety of thrilling rides and thrilling slides.
Get a bird's-eye view of the area on the zip line, just added last year. For adults, take a stroll along the boardwalk to Sunset Cove, a beautiful place where nightlife is at its best with dining options, music, and entertainment.
The website offers live music and programming information to choose which night is best for you.
11. Splash 'n Play-Riverside Park, Roswell
Splash 'n Play is vast and offers various areas, activities, and functions. You'll want to bring the whole family and stay for the day. Young and young at heart can cool off and have fun getting soaked.
Don't miss out on the unique geysers, aerial dump trucks, and water jet structures. If you've worked up an appetite, be sure to stop by the snack bar. The park is seasonally managed, so check the website in advance for the schedule.
12. Whitewater Creek Park, Oglethorpe
This impressive four hundred and the eighty-two-acre park has been a part of Macon County's history since the 1800s. The park is open year-round and includes various exciting activities, including fishing, hiking, and camping.
Bring the tent, pack the trailer, or rent a cabin. Plan to stay more than one night, as you don't want to miss all the scenic trails, stunning natural wonders, and crystal clear waters.
The park offers an enclosed pavilion with kitchens, bathrooms, and other designated picnic areas. The park comes complete with a dry play area and a splash for the kids.
13. High Falls Water Park, Jackson
For a day of wet and wild family fun, visit High Falls Water Park.
The park has two exciting slides, a play area with a pirate ship for hours of wet fun for babies and children, a large family pool complete with chairs and umbrellas, and green areas for sunbathing.
The park includes a concession to satisfy your appetite. For more bang for your buck, check out Family Season Passes.
14. Collins Hill Aquatic Center, Suwanee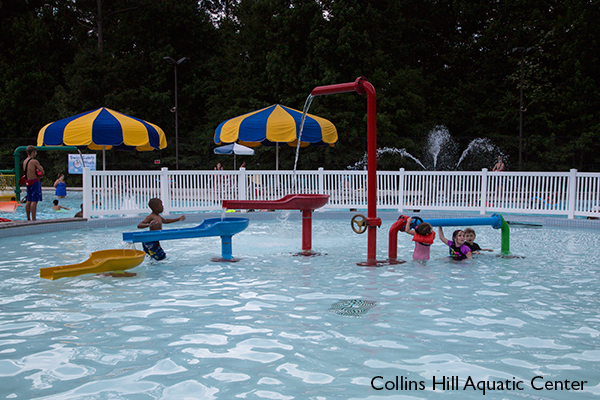 The exciting Aquatic Center is spread over fifteen acres and offers hours of fun and a variety of activities for people of all ages. The enormous indoor swimming, diving, and competition pool are open all year.
Come dive, swim or take the family swimming for hours and have fun splashing. There is an outdoor pool with a lazy river and zero-depth entry pool, exciting water structures, and two massive waterslides during the summer months.
The center also has a one-mile paved trail for running or walking.
15. Mountain Park Aquatic Center and Activity Building, Stone Mountain
Mountain Park truly offers something for people of all ages. For year-round swimming and fun in the water, visit the indoor pool.
The outdoor pool and water park are open seasonally. They feature two unique twisting and thrilling water slides, a zero-depth entrance for little ones, a relaxing lazy river, a bubble bank, a vortex, an area for kids with an impressive play structure, and tons of tables and chairs and shaded areas.
Frequently Asked Questions: Water Parks In Georgia
What's the biggest waterpark in Georgia?
Helen, Georgia's largest attraction usually reopens to the public every Memorial Day weekend all the way through until Labor Day. With prices ranging from $15 to $25, you can tube all day long! They have giant waterslides to splash down plus a 1000-foot lazy river.
Does Georgia have a waterpark?
The park features a wide range of slides and pools, including a lazy river, a water playground for toddlers, and a five-lane racing slide. Admission fees to the park are based on height, and group rates are available for large groups of 20 or more.
Is Hurricane Harbor open at Six Flags Over Georgia?
Hurricane Harbor at Six Flags Over Georgia is now closed for the season. The waterpark will open in spring 2022. Check out the waves at Hurricane Harbor, or stay cool in one of our exclusive cabanas.
Does Six Flags have a water park?
Kids and adults at Six Flags Great Escape Lodge & Indoor Waterpark can float leisurely on inner tubes, enjoy the thrills of a whitewater rafting experience, catch a wave with some surfing, ride the tubes through curls and tunnels, or explore a treehouse full of slides and water features.
How much does it cost to get into Lake Lanier Beach?
A gate fee of $20 per car for day visitors to Margaritaville at Lanier Islands applies (12+ Passenger Vehicle is $30). The gate fee may increase for special events. The Margaritaville Annual and Season Park Passes include the gate fee.
What is under Lake Lanier?
Perhaps the most well-known remnant of the land that Lake Lanier now occupies is Looper Speedway, which Coughlin said was a dirt race track. "If you go to Laurel Park and you go to the boat ramp at Laurel Park if you look off to your left, that body of water there, is where that racetrack is located," Coughlin said.
Related Searches:
Indoor Water Parks In Georgia
Best Water Parks In Georgia
Water Parks In Atlanta
Campgrounds With Water Parks In Georgia
Biggest Water Park In Georgia
Water Parks In Georgia Open
Water Parks Near Me
Water Parks In Florida
Awesome Water Parks In Georgia
25 Best Things to Do in New Orleans: Top-Rated Attractions 2022
16 Best Things To Do In Tulsa, Oklahoma: Top-Rated Attractions 2022
20 Best Things To Do In Alaska, US: Top-Rated Attractions 2022
12 Best Things to Do in Anchorage, Alaska: Top-Rated Attractions 2022
25 Best Things To Do In West Virginia: Top-Rated Attractions 2022
Awesome Water Parks In Georgia