Things to do in laguna beach
Laguna Beach is a small coastal city in Orange County, California. It's known for its many art galleries, coves, and beaches. Main Beach features tide pools and a boardwalk leading to the paths and gardens of nearby Heisler Park.
Aliso Beach Park is a popular surf spot. The waters off Crystal Cove State Park are designated as an underwater park. Trails meander through coastal canyons in Laguna Coast Wilderness Park.
How to spend a day or a weekend in Laguna Beach
Laguna Beach is perhaps the least developed beach town in Orange County and one of the prettiest. Created as an artists' getaway, Laguna Beach retains its artistic passion, with excellent art galleries and fun summer art festivals. You will also find a great beach atmosphere in Laguna.
Before telling you about all the fun things to do in Laguna Beach, take a moment to decide if this is a place you would like to go.
Why should you go?
If you are a shopper, you will find plenty to entertain yourself in Laguna Beach. The streets are lined with clothing boutiques, jewelry stores, art galleries, and shops selling decorative items. Some t-shirt and souvenir shops mix but don't dominate. Its seaside location sets the mood for romance.
Laguna Beach can also keep you busy for an entire weekend, especially if you go during the Festival of the Arts and the Contest of the Masters or for the alternative art fair, the Sawdust Festival.
The best time to go
Laguna Beach is great almost any time of year, but like most of the California coastline, it is susceptible to the "June blues" when, like a cranky child, the sun can refuse to rise for days on end. During the summer and especially during art festivals, it can get very crowded.
September and October are great times to visit when the low season begins, with lower hotel rates. The weather is sunny, and things are less crowded.
If you only have one day, take a walk down Main Beach and browse some shops.
More things to do
Shopping: The walkable downtown portion of Laguna Beach stretches along Forest Avenue and Coast Highway. You will find art galleries, clothing stores, and local boutiques that offer all kinds of products.
Take a Walking Tour – Pick up a brochure at the Visitor Center (381 Forest Avenue) for a self-guided walking tour of the historic bungalows, cottages, and homes built by the first residents.
Laguna Playhouse – This repertoire company is the oldest continuously operated theater company on the West Coast. They present a variety of works, including some local and world premieres and productions that have won awards from the Los Angeles Drama Critics Circle.
Greet the Greeter: The Laguna Beach Greeter tradition began in the late 1800s when local character Eiler Larsen decided to greet visitors. Today's Greeter locates at the corner of Brooks Street and S. Pacific Coast Highway. As you greet him, explore the Laguna HIP district. It's a bit off the beaten path downtown scene, more casual, and full of funky shops and charming buildings. It runs from Thalia to Bluebird Canyon along PCH.
Divers, explore a sunken ship:  The wreck of the Foss 125 is located about 175 meters offshore on Cleo Street, in about 60 feet of water. If you prefer diving, Goff Cove is well-liked for that.
California Artists on Display: The Laguna Beach Museum of Art specializes in artwork created by California artists or depicting California life and history. It's an excellent place to see the work of some of California's great contemporary artists, as well as the best of the past.
Check out the tide pools: Pick up a tide chart from the visitor center at 381 Forest Avenue to determine when it will be low. Some hotels also publish the daily tidal schedule. Some good places to go are the shoreline just below Heisler Park. Treasure Island is at the bottom of the ramp in the southwest corner of the Montage Resort. The resort has tidepool docents available at low tide on weekends and holidays.
Laguna Beach is a lovely place to base your weekend getaway, but depending on how active you want to be, you may have to mix up a few activities in nearby Newport Beach or Dana Point.
Annual events
Laguna Beach has some excellent summer art festivals. The Master's contest is so fun and so unusual that we have an entire page dedicated to it, where you can find out what it is and why it is justifiably famous. His Companion Festival of Arts is a juried art exhibition exhibited in an outdoor setting.
In August, the Sawdust Festival features only artists from Laguna Beach, over 200 of them.
The Doheny Blues Festival, held in mid-May, features singers like Bonnie Raitt, and the Tall Ships Festival takes place in September. They are both at Dana Point, just down the street.
Tips for visiting
Parking is limited, and Laguna Beach is very popular. Get there early to get a spot. All meters in the city accept credit cards, but you can still use coins if you want. Most meters have a three-hour limit. You may want to check out this helpful resource in advance. List all public parking lots in the city.
On busy days, traffic backs up along the Pacific Coast Highway. Instead of driving forward in frustration, think about stopping somewhere, parking, and going to the beach. If you are south of the city, try going up one block and following a street parallel to Pacific Coast Highway.
During the summer art festivals, the town operates free shuttles from remote lots into the city and along the Pacific Coast Highway. They make it easy to get around without having to drive.
Get the App: You can get real-time trolley information and find places around town using the free Visit Laguna Beach app.
You will find public restrooms on the beach, but they are often busy. Instead of joining the line, walk down Forest Avenue, where you'll see signs directing you to a couple of places to "go."
If you take your four-legged friend to Laguna, you should know the rules for taking him to the beach.
Where to stay
It's pretty easy these days to find a hotel on your favorite travel booking site. But they don't tell you everything you need to know about the locations. They don't mention things that can make you end up in a place that isn't ideal for you either. Before you go random, learn about the best places to stay in Laguna Beach. 
Eight things to do in Laguna Beach with kids
Known for its mild year-round climate and artist community, the seaside town of Laguna Beach invites families to enjoy its picturesque beaches and kid-friendly attractions.
1. Go to the beach
Address: Broadway St and Pacific Coast Hwy, Laguna Beach, CA 92651, USA.
Telephone: +1 949-497-3311
Of the 22 public beaches in Laguna Beach, downtown Main Beach is the most popular and family-friendly because it offers many nearby amenities. There is a wooden boardwalk, several green areas, a playground, beach volleyball, and basketball courts, restrooms, showers, and walking trails at the north end. You will find surf and water temperature information posted on the historic lifeguard tower. (Pacific Coastal Hwy. Between Broadway and Ocean Ave.)
2. Visit a sea lion hospital.
Address: 20612 Laguna Canyon Rd , Laguna Beach , CA 92651 , USA
Telephone: +1 949-494-3050
In love with sea lions? The Pacific Marine Mammal Center rescues, rehabilitates, and releases marine mammals into the sea. You can visit for free and see the sea lions that are recovering. Volunteers are available to answer questions and share the story behind each patient's recovery. (20612 Laguna Canyon Rd.; 949.494-3050)
3. Spying on seals from a kayak
Address: 1257 S Coast Hwy , Laguna Beach , CA 92651 , USA .
Telephone: +1 949-275-7544
Take the kids on a three-hour eco-adventure with La Vida Laguna Kayak to Seal Rock, a natural sanctuary and home to a colony of California sea lions. Along the way, you'll paddle through beds of algae, float over hidden reefs, explore caves, and even get to spy on a dolphin or whale. Children 3-7 years old can ride in the middle of a tandem kayak for free. (Fisherman's Cove, 673 N. Coast Hwy.; 949.275-7544)
4. Explore the tidal pools
Address: 8471 N Coast Hwy, Laguna Beach, CA 92651, USA.
Telephone: +1 949-494-3539
Wear water shoes to explore some of Laguna Beach's best tide pools at Crystal Cove State Park. The park offers guided walks for the whole family, where you can spy on hermit crabs, starfish, sea anemones, scallops, and other sea creatures. Also, within the park, you will find restrooms and two children's restaurants, Ruby's Shake Shack and The Beachcomber Cafe. (8471 N. Coast Hwy.; 949.494-3539)
5. Get arty
Address: 307 Cliff Dr , Laguna Beach , CA 92651 , USA .
Telephone: +1 949-494-8971
When do you want to inject culture into your visit? Free for children 12 and under, the Laguna Art Museum offers a popular "Art Detective Game" scavenger hunt with questions and clues related to the museum's artwork. If your child loves hands-on creativity, there is also a free children's art studio on the third Sunday of the month from 2 p.m. to 4 p.m. (307 Cliff Dr.; 949.494-8971)
6. Go for a walk
Address: 18751 Laguna Canyon Rd, Laguna Beach, CA 92651, USA.
Telephone: +1 949-923-2235
Laguna Beach has some of the most magnificent hiking trails in Southern California. The 3.5-mile Laurel Canyon Loop Trail in Laguna Coast Wilderness Park brings wildflowers and jagged rock formations as you slowly ascend towards the canyon peak. At the top, the climb rewards with a panoramic view of the coastal canyon. (18751 Laguna Canyon Rd.)
7. Relax in a fantastic playground
Address: 772 Cress St , Laguna Beach , CA 92651-2954 , USA.
Telephone: +1 949-497-3311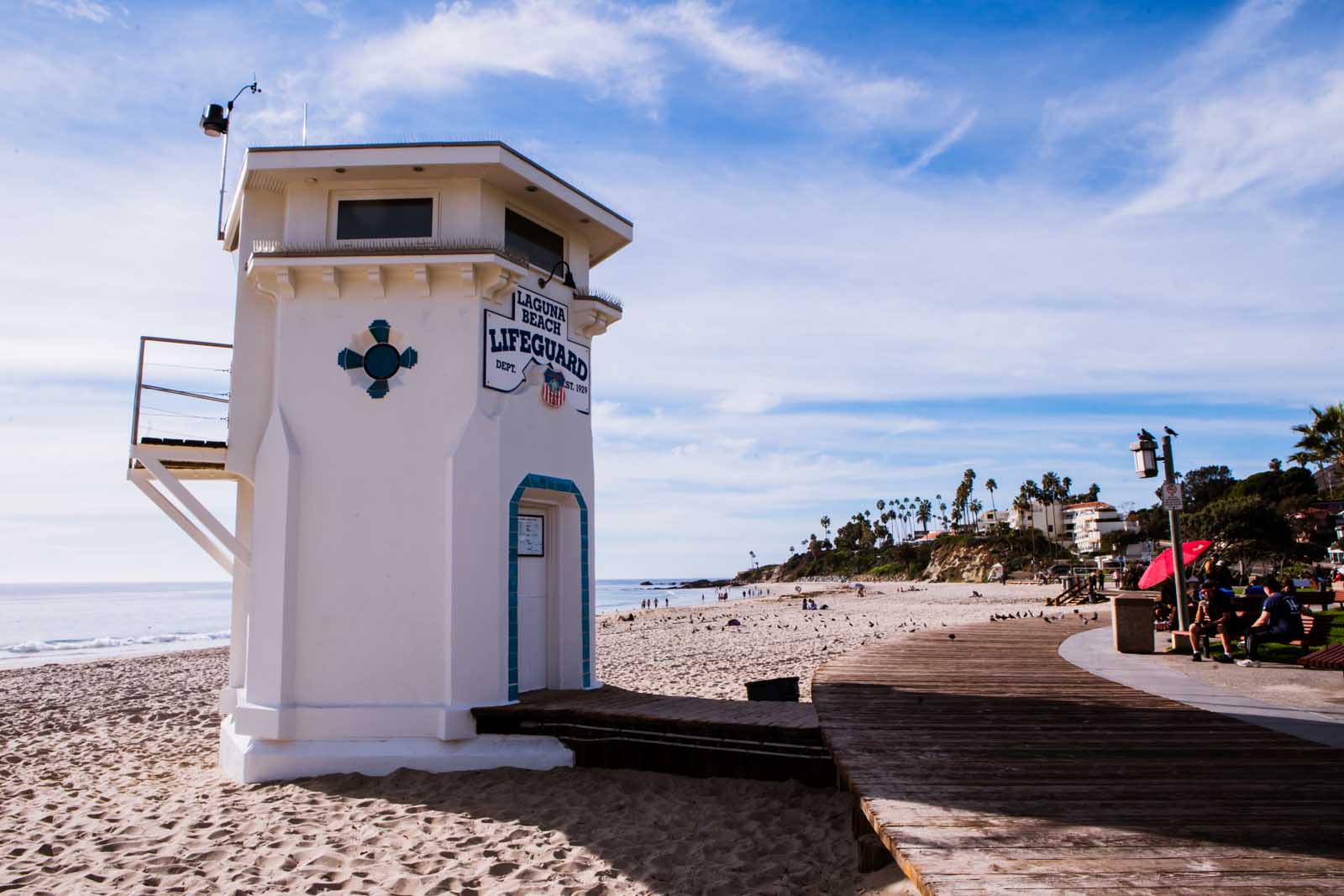 When you need some downtime at a good playground, head over to Bluebird Park, this whimsical space offers a play area for toddlers and one for older children, as well as restrooms, a drinking fountain, and picnic tables. The main draw is the collection of fantastic play equipment, including slides built into a hillside, climbing ropes, a new-age merry-go-round, and a four-story rocket tower. On Sunday evenings in the summer, you can watch the summer concert series "Music in the Park."
8. Enjoy a sweet treat.
Address: 231 Forest Ave, Laguna Beach, CA 92651, USA.
Telephone: +1 877-798-2339
If you're a fan of the candy shops of yesteryear, but the Candy Baron is on your must-stop list. This much-loved institution in downtown Laguna Beach is stocked with huge barrels of saltwater taffy, licorice, jelly beans, candy, and every classic and novelty treat imaginable. (231 Forest Ave; 877.798-2339)
Recent Posts
Things to do in laguna beach
Things to do in laguna beach
Laguna Beach Recommendations
If you are visiting Laguna Beach, the first step to success is exploring our site. On Expedia, we have a list of all the attractions, recommendations, and activities in Laguna Beach to make your trip unforgettable.
We offer all the activities with the best discounts, classified as outdoor, cultural, free, or other activities to make it easier to find what you like to do when you travel.
Once you have found the things to do in Laguna Beach and you have already decided, please take advantage of our incredible promotions and book from your home or office. The deals that we offer at Expedia for excursions and packages will leave you with your mouth open and allow you to enjoy and save simultaneously.
Areas of Laguna Beach
1. South Laguna
When in South Laguna, take the opportunity to see some of its main attractions, such as Table Rock Beach and West Street Beach.
2. Blue lagoon
When you are in Blue Lagoon, please take the opportunity to see some of its main attractions, such as Victoria Beach and Treasure Island Beach.
3. Mystic hills
While there aren't many attractions in Mystic Hills, there are some worthwhile attractions nearby, such as the Sawdust Art Festival and Laguna Playhouse.
Cities near Laguna Beach
Dana Point
Irvine
Newport Beach
Niguel Lake
Old alder