20 Most Beautiful Mountains In West Virginia: Complete Guide 2022
It's not surprising that West Virginia is known as the Mountain State. You can see mountains from nearly anywhere in the state and can access excellent off-road biking trails and mountain trails. Mountain is approximately two hours away from major cities.
You'll find the gorgeous Ridge-and-Valley Province along West Virginia's border with Virginia. These long mountain ranges are punctuated with many rugged peaks and offer endless mountain biking and hiking opportunities.
1. Seneca Rocks
Seneca Rocks, a large, impressive spire of rock, rises high above the forested landscape in Pendleton Country, West Virginia.
These rocks are made of quartzite, vertically layered rock with deep cracks. They provide an attractive lure for climbers.
You can also take a Seneca Rocks Climbing School course in basic and advanced rock climbing techniques if you are new to the sport. You don't have to summit Seneca Rocks if it is too difficult. Instead, enjoy the beautiful views and scenery while hiking the moderately strenuous Seneca Rocks Trail from the spire's base.
2. Spruce Knob
Spruce Knob, at 4,863 feet above sea level, is the summit of the Spruce Mountains and the highest point in West Virginia. You don't need to be a rock climber or even wear hiking boots to enjoy the views from this top point. The best way to reach Spruce Knob is by driving up a mountain road and then walking a short distance. Take a short walk to reach the observation tower.
To explore the area by foot, you can choose from the Huckleberry Trail or Seneca Creek Trail. Camping enthusiasts can camp at Seneca Shadows Campground and Big Ben Camp Ground for a few days to explore the area.
3. Bear Rocks
Bear Rocks, one of West Virginia's most photographed landmarks, can be found in Bear Rocks Reservation in northern Dolly Sods Wilderness. Bear Rock and the surrounding wilderness are beautiful areas for hiking.
Hikers have two options: the Bear Rocks Trail (easy), which runs 2.4 miles, or they can head further south to explore the Dolly Sods Wilderness. Many established and backcountry campgrounds are scattered along the trail, so you can expect to see a lot of unusual flora.
4. Red Spruce Knob
You can easily access Red Spruce Knob from the Highland Scenic Highway, one of West Virginia's highest peaks. Hikers will find beautiful wooded trails through Red Spruce Knob, where they can see many species of birds and endangered Virginia flying squirrels.
The trail can be walked all year, and you can also ski in the woods in winter. If you want to spend a few nights in the area, you can either set up camp at Tea Creek campgrounds or Day Run campgrounds. Or, try primitive camping in the backcountry.
5. Bickle Knob
Bickle Knob, another one of West Virginia's 4,000+ peaks, is located on a high ridge overlooking Otter Creek Wilderness within the Monongahela National Forest. Non-hikers have good news: you can reach the peak via Forest Service Road (91A) and then walk a short distance to the lookout tower. This tower was once used as a fire watchtower.
You can also hike the 5.2-mile Middle Point Trail. Otter Creek Wilderness also offers other trails for hikers more experienced in route-finding. There are many options for camping in the area.
6. Rose Benchmark
The Rose Benchmark is the highest point of Braxton County in West Virginia. It stands at 2,183 feet. This gives it the distinction of the 28th highest point in the state. It's on the radar for peak hunters. West Virginia. The area is full of activity from invasive oil/gas wells. It makes it not an area that's particularly appealing for hiking.
The Rose Benchmark is a great addition to your list of peaks. It can be reached by car via Crites Mountain Road, near Birch River. After you have taken your pick, you can visit Lake Summersville for hiking, camping, and boating.
7. Trap Mountain
Cheat Mountain, a mountain that stretches fifty miles and is more than 5 miles in width at times, is the easternmost part of West Virginia. Cheat Mountain was home to the largest red spruce forest in Maine south of Maine until the logging industry destroyed it. However, the Mountain had been almost completely depleted by 1960.
Cass Scenic Railroad State Park was established in 1960 to protect the area. Reforestation is an ongoing project. To enjoy the stunning views from the summit, you can ride the scenic train to Bald Knob on Cheat Mountain. The Cheat Mountain Ridge Trail is a great trail for snowshoeing; hikers can also explore it.
8. Back Allegheny Mountain
Back the Allegheny Mountain runs almost parallel to Cheat Mountain. It is also a large mountain with a summit at Bald Knob that reaches 4,843 feet above sea level. Back the Allegheny Mountain, protected by the Monongahela National Forest and home to many species of wildlife and birds, is located in an environmentally sensitive region of large red spruce forest.
The summit is a short but steep hike up the Bald Knob Trail. It is one of the most beautiful places in West Virginia for catching a sunset. You can also ski at the Snowshoe Ski Area, five miles south of Bald Knob. The vast Monongahela National Forest offers many outdoor activities, including rock climbing, fishing, and camping.
9. Mount Port Crayon
Mount Port Crayon, the sixth highest peak of West Virginia, is located in the Roaring Prairie Wilderness in the Monongahela National Forest. Peak Chasers will need to be determined to reach Mount Port Crayon's top, which is the most distant point in the state.
You will need to climb a steep 5-mile trail, including long stretches off-trail bushwhacking. This is a challenging hike for experienced hikers/scramblers. However, it's not recommended for beginners. In the Monongahela National Forest, many scenic trails can be used by less experienced hikers, walkers, or bird watchers.
10. North Fork Mountain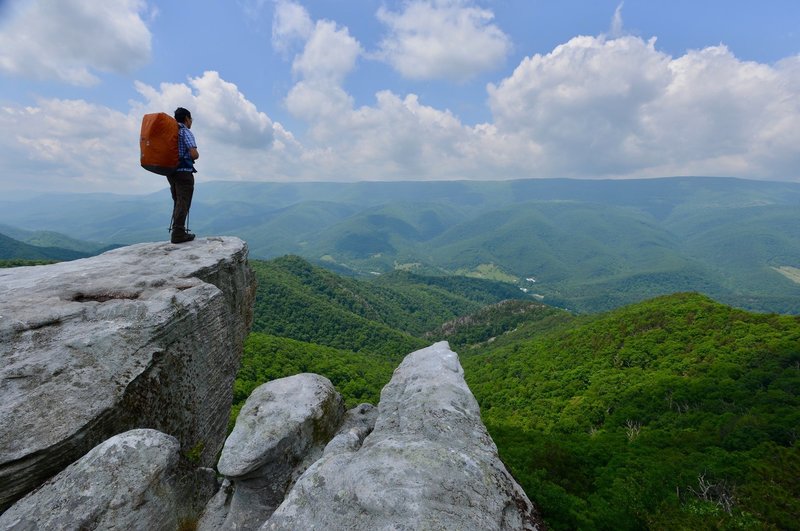 North Fork Mountain can be found in eastern West Virginia's "High Alleghenies." Kile Knob is the highest peak in the North Fork at 4,588 feet. There are also three other high peaks, Panther Knob and Chimney Top, that are nearly as high and will be of interest to Peak Chasers.
The North Fork Mountain Trail, 24 miles long, is well-known for being one of the most beautiful high-elevation trails in California and should be on every hiker's bucket list.
You will be awestruck by the views as you climb to the top of the Mountain. This trail suits trail runners, mountain bikers, and backcountry campers.
11. Allegheny Mountain
The Allegheny Mountain, part of the Appalachian Mountains along the Virginia/West Virginia border, is one of the most well-known mountain ranges of the Allegheny Range. This Ridge has 14 peaks, with the highest at 4,477ft Paddy Knob.
The Paddy Knob Special Biological Area covers a large portion of the area. It is home to rare and endangered bird species such as the mourning warbler and the bald eagle. This area is ideal for wildlife watchers and hikers who want to be alone. You will reach the ridge's highest point by climbing the difficult Paddy Knob Trail. It climbs more than 2,300 feet.
12. Shavers Mountain
Shaver's Mountain, another tall mountain in West Virginia's Allegheny Range, is located in eastern West Virginia. Shaver's Mountain is a truly unique location, nestled in two stunning natural wilderness areas: Otter Creek Wilderness & Gaudineer Scenic Area. These areas offer outdoor enthusiasts a variety of hiking trails.
Gaudineer Knob, at 4,460 feet, is the highest point of Shaver's Mountain. It is easily accessible via Forest Service Road 27A. There are also restrooms and a picnic area at the summit. Hikers have many options for exploring the area, such as the High Falls Trail. Campers can set up camp at Shaver's Fork Campground or go backcountry camping.
13. Shenandoah Mountain
Shenandoah Mountain, which forms the easternmost portion of the Allegheny Range, can be walked for 73 miles alongside the Virginia and West Virginia borders in the George Washington National Forest.
Three notable peaks on Shenandoah Mountain are Redbish Knob (4 387 feet), Flagpole Knob (4 383 feet), and Bald Knob (3 680 feet), which draw avid Peak Baggers. The entire area is also popular for mountain biking and hiking.
Camping and trail running are two options. Mountain biking on an asphalt road will take you to Reddish Knob. Hiking up the mountain will give you amazing 360-degree views of the Shenandoah valley. You will find many camping options in the valley and many hiking trails. One of these trails is the Appalachian Trail.
14. Backbone Mountain
Backbone Mountain can be found in the central Appalachian mountain ranges, 39 miles from West Virginia and Maryland. The mountain peak at Hoye-Crest (3360 feet) is Maryland's highest point. Blackwater Falls State Park is located on Virginia's west side. It offers mountain bikers and hikers a wide variety of trails that can be explored at Backbone Mountain.
Rent a cabin, or pitch your tent at the campground and enjoy various outdoor activities, including bird watching, hiking and biking, fishing, and interpretive programs for all ages.
15. Castle Mountain
Castle Mountain, a high ridge, runs between the North & South Branches of Potomac River; Pendleton County, West Virginia, is just 7 miles from Spruce Knob.
Castle Mountain is at a good elevation of 3,410 feet. A hike up to the summit will give you expansive views of the surrounding landscape, Spruce Knob, and the north.
You can explore the beautiful mountain forest area by setting up camp at Seneca Shadows Campground or Big Ben Campground. Enjoy nature in West Virginia's Appalachia.
16. North Mountain of greatness
The Great North Mountain is located west of Shenandoah Valley and east of the Allegheny Mountains. It forms a 50-mile border with Virginia and West Virginia. The Great North Mountain can be found in the George Washington National Forest. This forest offers outdoor enthusiasts the opportunity to hike, mountain bike, hunt, and view wildlife.
There are many trails to explore, including the Blue Ridge Trail, Seven Springs Trail, and others leading to Big Schloss Peak. There are many campsites available for campers along the trails. Off-campus camping is also possible.
17. Laurel Mountain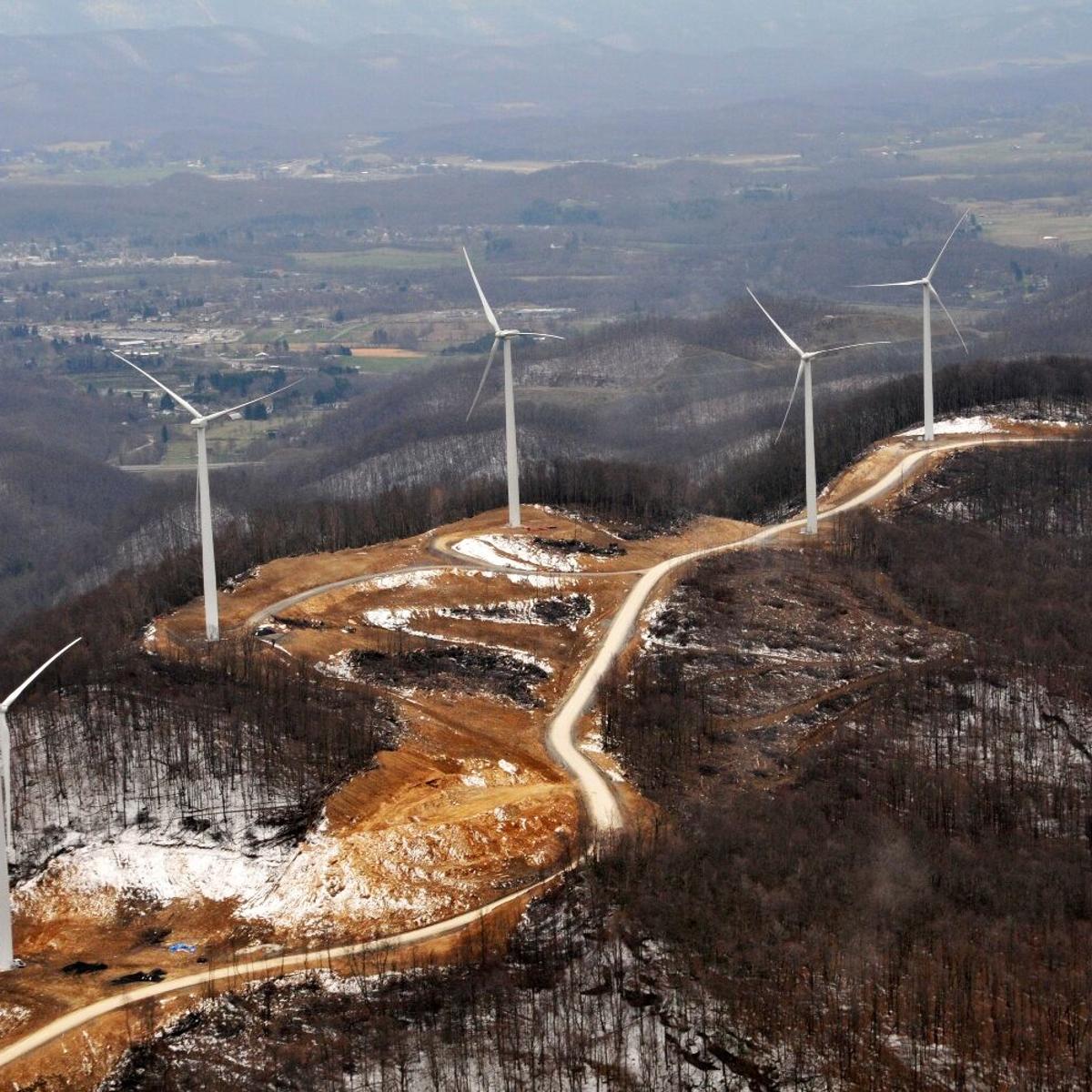 Laurel Mountain, also known as Laurel Hill, is a part of the Allegheny Mountains. It runs 32 miles along the Ridge-and-Valley region in West Virginia between the Tygart Valley and the Cheat River.
The Laurel Fork North Wilderness and South Wilderness areas will please outdoor enthusiasts who seek solitude. They are ideal for backpacking or backcountry camping.
There are more than 19 miles worth of trails in the area. You can also enjoy stunning scenery, fishing, swimming pools, and bird watching along your journey. You can add the Elliot Pickaxe (3.157 feet) to your West Virginia pickaxe packer list.
18. New Creek Mountain
New Creek Mountain is one of West Virginia's mountain ranges. It is part of the Ridge-and-Valley Range in Appalachia. New Creek Mountain is 3,084 feet high and attracts hikers and wrestlers to visit Saddle Mountain, a depression in the Ridge that looks like a saddle. It can be viewed best from Skyline and the impressive cliffs at New Creek Mountain.
You don't have to hike up the steep gorge at New Creek Mountain Cliffs. Instead, take a scenic drive on the paved road along the banks of Patterson Creek.
19. South Branch Mountain
South Branch Mountain, located in West Virginia's Nathaniel Mountain Wildlife Management Area, is one of the most prominent mountain ridges in the area. The highest point on the Ridge is 3,028 feet above sea level. You can take a scenic drive through the Sunrise Summit Area along the Northwestern Turnpike.
The Wildlife Management Area has a lot of wooded trails that offer wildlife viewing, hunting, and trout fishing opportunities, as well as swimming, kayaking, and camping. If you are looking for more challenging hiking, the Appalachian National Scenic Trail can be found east of South Branch Mountain.
20. Big Schloss
Big Schloss, a prominent rocky peak of the Great Northern Appalachian Range, was named by German settlers because it resembles a castle. It is located right at the Virginia/West Virginia border and provides hiking enthusiasts with various routes to get there.
The most popular route to the summit from Wolf Gap is the 4-mile Mill Mountain Trail. This route is moderate and offers stunning views of the summit. It can be reached via a wooden bridge. Wolf Gap Campground is available for you to set up camp or take your tent to enjoy the night camping at the summit.
Frequently Asked Questions: Beautiful Mountains In West Virginia
What part of West Virginia is the most mountainous?
Spruce Knob, the highest point in West Virginia, U.S., is located in the Allegheny Mountains in the eastern part of the state, about 25 miles (40 km) southeast of Elkins.
Are there any mountains in WV?
Four provinces of the Appalachian Mountains system can be found in West Virginia: The Blue Ridge, the Allegheny Plateau, the Allegheny Mountains, the Cumberland Mountains, and the Ridge and Valley Appalachians. West Virginia contains over 1,000 named mountains and is almost entirely mountainous.
What is the coolest small town in West Virginia?
Lewisburg is more than a one-hit-wonder. In addition to its title America'sa's Coolest Small Town, it has been listed as one of t "e "Dozen Distinctive Destinations" ns" by the National Trust for Historic Preservation," "One of the Best Small Arts Towns in Ameri "a," and a National Geograph "c "Best Small Town Esca" e."
Are the Smoky mountains in West Virginia?
Great Smoky Mountains National Park spans two states (Tennessee and North Carolina) and includes more than 800 miles of hiking trails spread among the 521,895-acre park.
Does Charleston, WV, have mountains?
Charleston, the capital of West Virginia, U.S., is the seat of Kanawha county and the largest city in the state. It is situated in the Allegheny Mountains, at the confluence of the Elk and Kanawha rivers (there bridged to South Charleston), in the south-central part of the state.
What are 3 mountain ranges in West Virginia?
Three major provinces characterize WeVirginia'sa's landscape: The Allegheny plateau in the west and north, the Allegheny Mountains, which run from the southwest through the northeast, and the Ridge and Valley province, east of the Allegheny Front (the continental divide) along WeVirginia'sa's eastern border with…
Related Searches:
West Virginia Appalachian Mountains
Highest Mountains In West Virginia
Blue Ridge Mountains West Virginia
West Virginia Mountain People
West Virginia Mountain Towns
Mountains In West Virginia Map
West Virginia, Mountain Mama
19 Best & Fun Things To Do In San Jose, California 2022
Best Time To Visit Puerto Rico: Weather, Season, Temperature 2022
20 Best Things to Do in Victoria, BC: Top-Rated Attractions 2022
15 Best Things To Do In Montauk, Long Island 2022
20 Best Things to Do in El Paso, TX: Top-Rated Attractions 2022