14 Awesome Water Parks In California [Updated 2022]
If you're looking to beat the heat, look no further than California's water parks.
From thrilling rides that are sure to please avid thrill-seekers to wild raft rides in the dark, gravity-defying half tubes, lazy rivers, wave pools, and children's areas created for hours of fun, each park offers something unique. and exciting.
Take your bathing suit as you will surely want to visit at least some of these great attractions.
1. Boomerang Bay, Santa Clara
Admission to Boomerang Bay is included with access to California's Great America Park, so if you're looking for thrill rides or want to catch some shows before hitting the waves, Boomerang Bay is a great way to stretch your money.
Be sure to try the Didgeridoo Falls, a four-person raft ride that's fifty-four feet tall. Don't miss the Tasmanian Typhoon and the Screamin 'Wombat for other thrilling rides. If you're just in the mood to relax, float down the lazy river at Castaway Creek.
For the younger water park enthusiasts in your life, there are plenty of attractions, as well as the Jackaroo Landing, complete with rope ladders, slides, and a tilting bucket of water.
2. LEGOLAND Water Park, Carlsbad
LEGOLAND water park is one of the most incredible experiences and a must-see! For the smallest swimmers, there is the Duplo Splash Safari.
Don't miss Eglor's Build-A-Boat, where you'll design your own LEGO boat and navigate through scenes and pre-built buildings. The Pirate Reef is also not to be missed. Choose your lucky ship and fight with squirt guns. There is also a wave and splash pool.
When you're finally ready to dry, enjoy all the wonder of LEGOLAND, too. Stay at the exciting LEGOLAND hotel, and if you have enough time, the Sea Life Aquarium is also worth seeing!
3. Raging Waters, Sacramento
Raging Waters in Sacramento is a water paradise with more than twenty-five attractions, including thrilling slides, beautiful pools, and children's areas. Adventure seekers must enter the Dragon's Lair.
Ride through five floors of darkness to immerse yourself in a misty shroud below. Challenge the Cliffhanger or Great White slides. With massive waves and the Hurricane Bay Slide, six stories of darkness, the Honolulu Half Pipe are other rides not to be missed.
The park also features volleyball, tidal waves at Break Beach, and a beautiful lazy river. Kiddie slides and kiddie areas are sure to provide hours of fun!
4. Waterworld California, Concord
Waterworld California season passes are pretty affordable to get more bang for your buck. From the experienced cyclist to the children's pools, Waterworld has a wide variety of attractions for all ages.
If you dare, go down the BreakPoint Plunge. The ride is over six stories tall and includes an enclosed launch pod and two hundred and seventy feet of daring fun. There are also a host of exciting slides. Try the raft slides and tube slides for other exciting adventures.
If you're not up for freefall dives, there are more relaxing rivers and wave pools. For the kids, visit the water park and sprinkler field. Food and drinks are conveniently available throughout the park.
5. WaterWorks Park, Redding
With exciting attractions and innovative children's areas, WaterWorks offers wild and wet fun hours. Be sure to visit the website for special offers and features! Meet The Beast if you dare. The ride is over three hundred and fifty feet long of pitch-black thrills, twists, turns, and drops. Regarded as "the ride of a lifetime," descend on The Cyclone.
Take a five-story jump to land in a giant bowl and eventually get sucked into another closed slide. A waterfall ends the trip. The Awesome Avalanche shoots you four stories to land in a canyon and quickly shoots up the sides.
When you want to relax, let the slow currents of the lazy river carry you past tall palm trees and flowing waterfalls. The children's area has a pool, slides, and a fountain.
6. Raging Waters, San Dimas
The park has excellent group rates, so whether you're planning a family reunion, school trip, or birthday, it's a great way to stretch your money! The park features the Aqua Rocket, a wet roller coaster that takes you for a wild ride on a four-person raft.
Try the Bermuda Triangle for fun twirling, twirling, and hair-raising. Don't miss the Black Hole, the first raft ride for two through the dark in the country. As with other Raging Waters locations, this park also features Dragon's Den. Neptune's Fury is sure to please even the most avid adrenaline junkie.
The six-hundred-foot-long journey takes a four-person raft down a sixty-foot drop at thirty miles per hour, all in complete darkness! If you like racing, turn on the eight lanes of the Ragin 'Racer. The park has many other thrilling rides and slides and more relaxing wave pools and lazy rivers.
The children's areas are significant too!
7. Splash Kingdom Water Park, Redlands
The giant Egyptian head with sunglasses at the entrance distinguishes this park.
Featuring the Tower of the Kings, the tallest freestanding waterslide tower in the country, many other heart-racing slides, a lazy river, a wave pool, a wave simulator, fountains, water parks, and activity parks, the Splash Kingdom is a delight. However, that is not the end.
The park also offers the Big Air Trampoline Park! If you are lucky enough to visit the park in October, it turns into the Scream Kingdom and features exciting and scary mazes and scare zones.
Don't worry about being hungry. The park offers excellent food and treats with Egyptian statues everywhere!
8. Knott's Soak City, Buena Park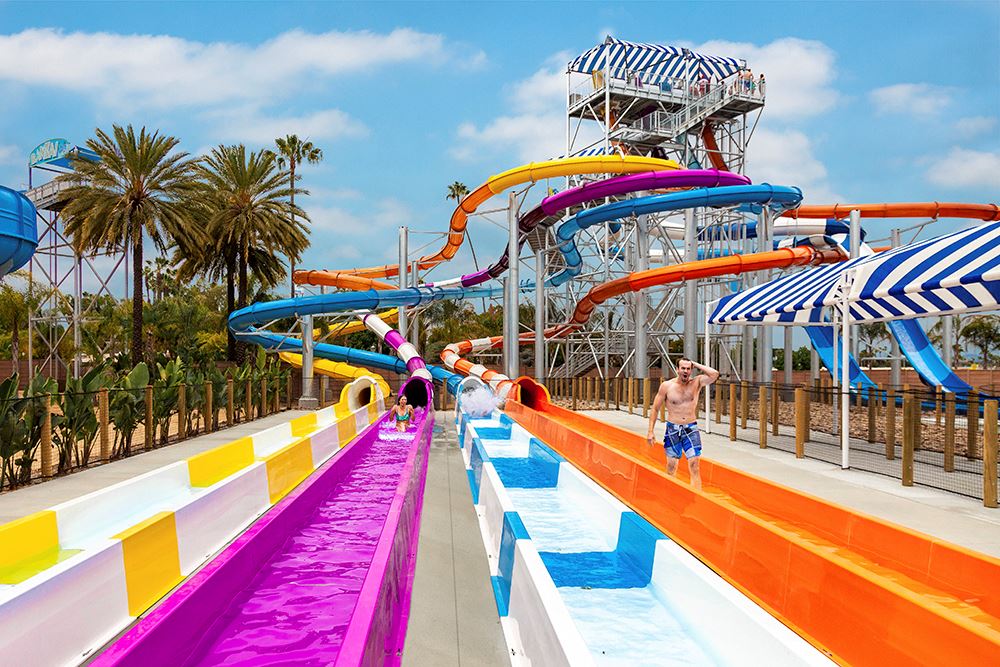 Knott's Soak City in Buena Park offers all the heart-racing slides, rafting options, tidal wave bay, lazy river, and mat runners you can handle.
Toyota Beach House features three floors of water fun, including a giant bucket of water poured over anyone below. There is also great food, treats, and shopping in the park.
You can purchase a ride and slide ticket for a great price that allows you to enter both Knott's Berry Farm and Soak City. Visit the website for prices, hours and details!
9. Wild Water Adventure Park, Clovis
Wild Water Adventure Park in Clovis has everything from thrills to kiddy pools. For those who dare, the GhostSlider, the most extreme ride in the park, awaits them. Fly down the slide into a super bowl before entering the cold water. Try the Sidewinder, a halfpipe tube ride hit the Black Hole slide, or challenge the Vortex & Vertigo dark tube rides.
The park also features The Blue Wave, the largest wave pool in California (thirty thousand square feet). Visit Kings River Waterworks, a four-lane waterslide if you're up for a race. There's Adventure Bay, California's largest kiddie area for the youngest water lovers.
The fifteen thousand square foot area is complete with a tropical garden, beautiful sea creatures, and tons of slides and activities. Exceptionally, Wild Water Adventures also has three lakes for fishing. Bring a pole (the admission fee covers the license) and fish for bass, crappie, catfish, and bluegill. Visit the website for details on fishing and other gear to go.
10. Raging Waters, San Jose
This twenty-three-acre park in San Jose is the largest water park in Northern California, with tons of different rides, slides, rivers, wave pools, and children's areas.
New to the park is the Sidewinder, the first quad racer from the inside out! Try the spooky Bombs Away ride, where you'll plummet through over 200 feet of twists and turns. This Raging Waters location also has Dragon's Den, a dark, mysterious walkway with a misty chasm.
Plastic water bottles are allowed in the park, but no other food or drinks may be brought in from outside, so be sure to check out the many dining options inside the park, including funnel cakes and cotton candy!
11. Six Flags Hurricane Harbor, Valencia
Look no further than Six Flags for a day of wild and wet fun. Climb to the Summit of the Black Serpent or the Taboo Tower if you dare. Raft down the Tornado or Lost Temple Rapids.
Hop on the lazy river cruise or relax in the forgotten ocean wave pool. Cool off in the Lizard Lagoon or visit Splash Island and Castaway Cove for the kids. Immerse yourself in movies or enjoy great food and snacks. The park also offers unique purchases.
12. The Wave Waterpark, Vista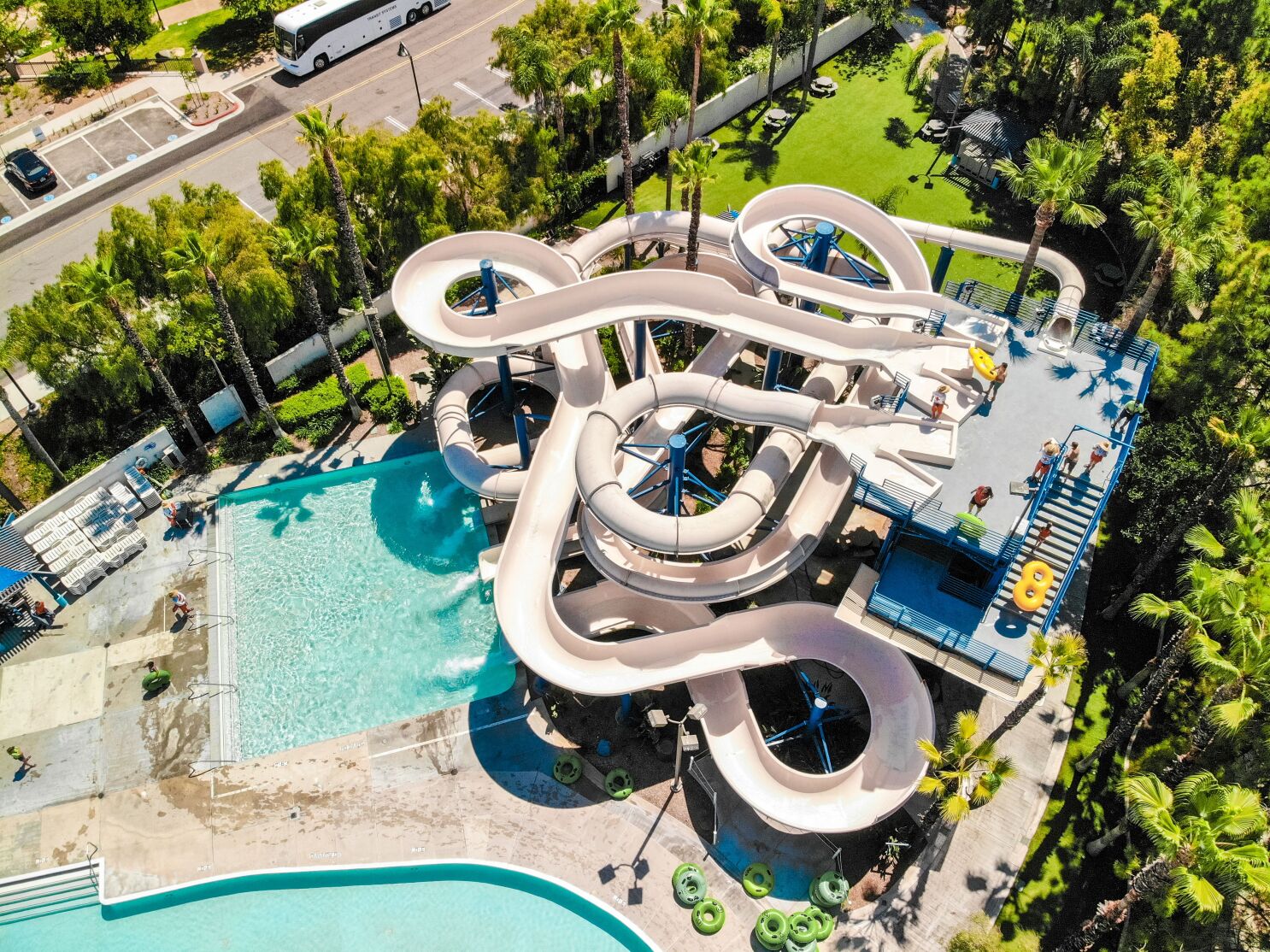 In addition to great attractions and hours of fantastic, wet fun, the park offers swim lessons, splash camps, and other programs. Visit their website for details and hours.
If you go to the park on select Fridays, be sure to check out the splash events on Friday night. The park is home to thrilling slides, simulated waves, a lazy river, and a competition pool that offers lane swimming lessons.
Check out Rippity's Rainforest for younger kids. Be sure to check out the concession stores, including the Sugar Shack cart, for some delicious treats!
13. Dry Town Water Park, Palmdale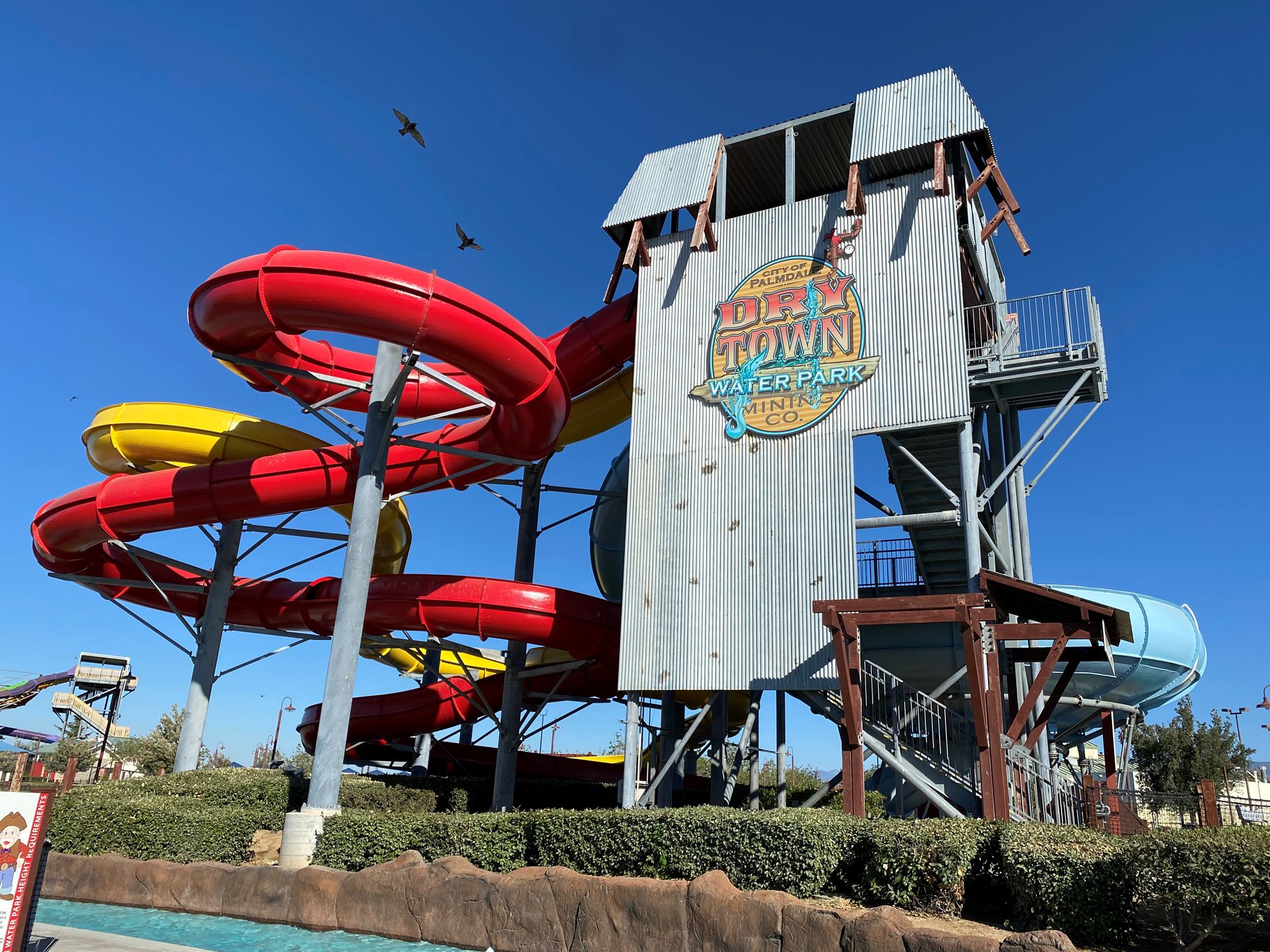 Once a booming city of ten thousand thanks to the gold mines of the California Gold Rush, Drytown in Palmdale is a California Historical Landmark.
drytown Water Park features attractions named after the historic goldish and is a gold mine of exciting water fun. If you feel like running, try the Dusty Mineshaft Racer, a high-speed mat race with 360 degree turns and forty-foot drops.
The Devil's Punch Bowl is sure to thrill you. Slide down an enclosed slide into the bowl where you twist and turn before sliding into the pool below.
Take a dark plunge at Rattler's Revenge, or try your luck at the Wildcatter. The park also features the Big Rock River, a nine hundred and twenty-five foot long lazy river, and the Little Miner's Camp area, including spray cannons and a giant overturning water bucket.
14. Island Waterpark, Fresno
Located in Fresno, Central California, Island Waterpark has a wide variety of attractions for people of all ages. Daring slides, freefalling falls, and great kids' areas add up to make this park an exciting place to visit.
Be sure to check the calendar and events calendar on the website for the special events the park usually hosts.
Frequently Asked Questions: Awesome Water Parks In California
What is the biggest water park in California? – Water Parks In California
Splash around The Wild Water Adventure Park! Located just over three hours north of Los Angeles, this water park spans over 52 shady acres of land, making it the largest water park in California.
What is the biggest waterslide in California? – Water Parks In California
Black Snake Summit at Six Flags Hurricane Harbor features 4 unique slides, all terrifying. Towering at 75 feet above the ground, these rides are the tallest enclosed slides in California.
Which is better Hurricane Harbor or Raging Waters? – Water Parks In California
5 stars better than Raging Waters. The rides in these water parks are never that distinctively different in my opinion. Raging water seems to have more variety. BUT, Hurricane harbour is a lot cleaner, friendlier and nicer.
What is the smallest water park in California? – Water Parks In California
For smaller water lovers there's Adventure Bay, California's largest kiddie area. The fifteen thousand square foot area comes complete with a tropical garden, beautiful sea creatures and tons of slides and activities. Uniquely, Wild Water Adventures also has three lakes for fishing.
Are there Disney water parks in California? – Water Parks In California
There isn't any actual water park within Disneyland. On the water-based rides such as Splash Mountain at Disneyland and Grizzly River Run at Disney California Adventure, you could get quite wet at some points during the ride.
Is Raging Waters bigger than Soak City? – Water Parks In California
Your boys will enjoy Raging Waters and Wild Rivers more than Soak City not only because of it's much more larger size but also the more wild rides they have to offer. Knott's Soak City is more demure in comparison to the "WOW! factor" of the other two.
Related Searches: Awesome Water Parks In California
Water Parks In California Los Angeles
Indoor Water Parks In California
Biggest Water Park In California
Water Parks In California Open
Water Parks In Southern California
Hotels With Water Parks In California
Raging Waters California
Awesome Water Parks In California
25 Best Things to Do in New Orleans: Top-Rated Attractions 2022
16 Best Things To Do In Tulsa, Oklahoma: Top-Rated Attractions 2022
20 Best Things To Do In Alaska, US: Top-Rated Attractions 2022
12 Best Things to Do in Anchorage, Alaska: Top-Rated Attractions 2022
25 Best Things To Do In West Virginia: Top-Rated Attractions 2022
Awesome Water Parks In California