15 Best things to do in Santa Monica
Over the years, Santa Monica has never lost its fame as a beach town, even as it became more glamorous with luxurious beachfront hotels, fine restaurants, and high-end boutiques. Today you can enjoy the best of two worlds: wide California beaches with surfing and volleyball, plus a sophisticated urban scene within the city. On your next visit, enjoy some of the ultimate Santa Monica experiences.
This oceanfront city, bordered by a 3½-mile / 5½-km beach, feels like a place for weekend getaways, even though it's only 15 miles / 24 kilometers from downtown Los Angeles. Car-free options, including the downtown LA light rail line, and a bus from Los Angeles International Airport, make this a laid-back place.
You can hang out on the wide beaches or on the lively Santa Monica Pier (which has its amusement park) without having to worry about traffic or parking. Another great way to get around: bike rentals (rental shops abound) to follow Marvin Braude's coastal bike trail. Known locally as "The Strand," the paved, multipurpose road follows the coastline for approximately 35 kilometers, from south of Santa Monica to Torrance.
Regardless of how you want to explore this beach town, the key is to take your time (and ideally stay in one of the luxurious beachfront hotels). After all, this is a prime area to see the stars at their neighborhood businesses, wandering the shops along Montana Avenue, or shopping for celebrity-worthy produce at farmers' markets (the city has in different locations).
Or dine on those chefs' creations: Santa Monica is home to a long list of must-try restaurants, from Wolfgang Puck's Chinois to Josiah Citrin's Mélisse.
1. Wake up next to the Beach in a hotel with style
If you've ever dreamed of your beach hut, you'll probably like Shutters on the Beach. Sophisticated without fanfare, the bright and casual rooms at this green-tile hotel are both peaceful and elegant, dominating the expansive sands of Santa Monica Beach.
Socialize by the pool or rent a beach cruiser bike from the hotel and hit the 35.4-kilometer trail along the coast. Shutters is just one of many high-end resorts to choose from in Santa Monica; other great options include Casa del Mar, Fairmont Miramar Hotel & Bungalows, and the Viceroy Santa Monica. 
2. Walk a historic pier.
Where Route 66 ends, the fun begins at the landmark of the Santa Monica Pier. The neon sign at its entrance is one of Southern California's most recognizable icons. The pier, which opened in 1909, connects you to surfing, with spectacular views of all parts of the shoreline. Go for a spin on the beautifully preserved 1922 Looff Hippodrome carousel and get a glimpse of the world beneath the waves at the Santa Monica Pier Aquarium.
3. Enjoy some old-fashioned fun at Pacific Park.
With its renovated roller coasters and bumper cars, Pacific Park on the Santa Monica Pier takes the classic amusement park experience into a new era. The only West Coast amusement park on a pier, Pacific Park has an arcade where you can hone your skills at Whac-A-Mole or Balloon Bust. Then hop on an amusement ride and take in incredible coastal vistas on the Pacific Wheel, the only solar-powered Ferris wheel.
4. Escape to a cabin on the cliffs
Inspired by the laid-back Santa Monica vibe and the romance of a Baja California-style cottage, The Bungalow is the embodiment of beach life. With its beamed ceilings, elegant furnishings, and a game room, this hideaway on the grounds of the Fairmont Miramar Hotel & Bungalows is like a private beach club designed for surfers. Socialize on the patio with a craft cocktail as you watch one of Santa Monica's unforgettable sunsets.
5. Stroll the Third Street Promenade
The state of California is considered the heart of American culture and heritage. Tourists often find plenty of things to do in California that allows them to have a good time with friends and family, especially in the seaside town of Santa Monica.
One of its famous attractions is Third Street Promenade, an upscale entertainment and dining area in the city's heart. It was developed in the 1960s when were transformed the three street blocks into a shopping center.
The open-air Third Street Promenade is a shopper's paradise with a stellar repertoire of retail stores, including Lululemon, Abercrombie & Fitch, and a spectacular Apple Store and the like. Browse the shops as you walk along this pedestrianized street, where buskers perform for passersby, and bushes with fantastic dinosaur shapes add a whimsical touch.
6. Don't miss either 
Art lovers will want to make a stop at Bergamot Station, once a water heater factory and warehouse complex that is now home to one of Southern California's premier gallery collections. And for high-end fashion in a low-key setting, head to Montana Avenue, where you'll find great boutiques, restaurants, and an excellent chance to find high-end celebrities.
15 Best things to do in Santa Monica
7. SHOPPING IN SANTA MONICA
You can shop and shop in Santa Monica. It is a city that knows how to satisfy every whim: from luxury boutiques to one-of-a-kind shops and the familiar (but irresistible) chain stores. Depending on where your car (or your feet) is pointing, you will indeed find what you are looking for; and probably some things you didn't know you wanted until you saw them on the sideboard.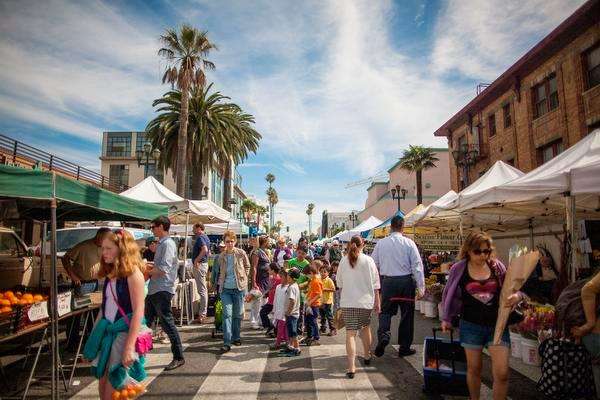 One of the biggest attractions in Santa Monica is the Third Street Promenade, a four-block pedestrian stretch to the east of the beach, where you will find renowned chain stores such as Abercrombie & Fitch, H & M, Old Navy, among others. Of course, you've seen these places before, but there's something special about trying on a pair of sunglasses at Pac Sun and then heading out to the Pac Sun to wear them.
There is a lot of activity here, too, thanks to the colorful mix of artists and buskers, but it's not all about the chain stores. Just off the Promenade, Hennessey & Ingalls sell the most extensive collection of art and architecture books in the western United States. At the same time, Kenneth Karmiole Bookseller specializes in books published before 1800. Kids go crazy dressing up and playing at Acorn Store, a store that specializes in wooden toys.  
If you still want to continue shopping in Santa Monica style, take a walk down Montana Avenue downtown. If you like flea markets, go straight to Rachel Ashwell Shabby Chic Couture. Enjoy a skin treatment and indulge yourself with a facial at Dermalogica. Plus, find super trendy outfits at Jill Roberts and a host of other designer boutiques.
8. SANTA MONICA PIER
At sunset, take a stroll along the characteristic Santa Monica Pier, with the vast sun setting in the Pacific, and you may think that nothing could be better. But wait: there is something else. Just here. First of all, there is an amusement park located here on the pier, Pacific Park, with not-so-scary roller coasters and carnival rides – a perfect mix even for the little ones.
You can also find the simplest pleasures – a creamy milkshake or a simple seashell necklace – at the dock-side food stalls and candy stores. And local fishermen add color to the scene; stay there for a while, and you are sure to hear some good stories and watch the fishermen catch fish. 
9. FARMERS MARKET
Where fresh homegrown finds and unique flavors draw Santa Monica locals and chefs alike. Bright sun, bags of fresh produce dangling from a tanned arm, buskers strumming and singing – Santa Monica Farmers are like perfect pop-up festivals in the heart of the city. 
Each of the city's year-round market venues has its unique charms:
There's a picnic on the lawn in Virginia Avenue Park (Saturdays), jazz at the Main Street Market in Heritage Square (Sundays), and chefs Famous for fresh produce at the Downtown Santa Monica Market (Wednesdays and Saturdays).
Tip: Wednesday Farmers Markets are when many Santa Monica chefs do their grocery shopping for the week (after they finish surfing in the morning). Costa, Figure, LAGO, and Ocean & Vine, and other fine artisan restaurants typically have their menus on Wednesdays and Saturdays around what they pick fresh that day at the market.
10. LUXURY HOTELS
Whether you want to wake up to the ocean from your window or feel like a fashionista, Santa Monica has a luxury hotel to suit your style. Check into The Huntley Hotel to enjoy its inviting mix of beachy chic and urban sophistication, plus the exciting atmosphere and iced cocktails at The Penthouse, which offers an enchanting view of the ocean. 
Learn about the delicate art deco glamor of Hotel Shangri-La, a historic landmark dating back to 1939, where you can join the trendy crowd at Suite 700, a terrace bar and lounge. Or live like a star at the Viceroy Santa Monica, staying in a navy-hued room, endowed with as much freshness and breeze as the nearby Pacific Ocean.
With its Cape Cod-inspired architecture and homey yet stylish rooms created by star designer Michael S. Smith, the oceanfront Shutters on the Beach embodies all of Santa Monica's laid-back coastal charm. Or right on the Beach, discover the charming Mediterranean-style lobby of the classic 1926 Hotel Casa del Mar, where rooms offer impeccable ocean views through vaulted floor-to-ceiling windows.
11. RESTAURANTS
Santa Monica can boast a fiery dining scene with restaurants run by celebrity chefs and rising culinary stars. It begins with a classic, Chinois on Main, where Wolfgang Puck pioneered the style of fusion cuisine. You'll also find Michael McCarty's restaurant, Michael's, a landmark for California cuisine since 1979.
New restaurants include Michelin-starred French cuisine, like perfect Kagoshima Wagyu beef steak at Josiah Citrin's Mélisse.
Sample irresistible creations (don't miss the bacon and maple cookies) at the best breakfast spot, Huckleberry Bakery & Café, home of James Beard award-winning pastry chef Zoe Nathan. (Their pastries and desserts, such as the Champagne Chocolate Tart and Sticky Caramel Dessert, are also served at the Rustic Canyon Restaurant, farm-to-table.)
Even burgers get special treatment in Santa Monica – visit Father's Office gastropub for Chef Sang Yoon's deliciously big burger topped with smoked bacon and caramelized onion compote, Gruyère, and Maytag blue cheeses. Just avoid asking for ketchup. Yoon, don't let anyone ruin your masterpieces.
12. ARTISTIC PANORAMA OF SANTA MONICA
Bold, modern, bohemian, and cultural currents in a city facing the sea: With waterfront views as beautiful as a painting, it's no surprise that Santa Monica has become a significant arts hub, with more than 120 museums, galleries, and public art installations within the nearly 8 square miles / 21 square kilometers of the city. But don't expect mediocre paintings of sailboats navigating endless dusk – this pedestrian-friendly waterfront city includes multimedia installations that are the innovation of today's art scene. 
To help you find the art treasures of Santa Monica, follow the Santa Monica Art Trek guide, an easy-to-understand map that features the city's top art locations. (It also includes places to rent bicycles or skates to explore the town more actively).
It starts at the Santa Monica Museum of Art, an exhibition with contemporary works worldwide. Other worthwhile stops include Bergamot Station, home to Santa Monica's largest concentration of art galleries, and the Broadway Gallery Complex to view recent works by local and international artists.
Dance and performing arts also have a lot of support here. In summer, the Santa Monica Pier becomes the setting for a series of open-air concerts. 3rd Street Promenade is a well-known place to enjoy quality street musicians and performers.
Downtown venues for music, dance, and theater include the innovative The Broad Stage on the Santa Monica City College campus and the Edgemar Center for the Arts. And design buffs head straight for the Santa Monica Design District, where modern showrooms and shops display classic and contemporary designs.
13. VENICE
Surfers, Skaters, and Stars: Venice is LA's extreme neighborhood, where surfing meets the human circus. Enjoy a day strolling along Venice's palm-fringed beachfront promenade, and you might spot a skating guitarist, chainsaw juggler, bodybuilders, and bikinis.
You could also witness some of the best basketball games in the country on local outdoor courts, as well as admire reckless skaters on a rink located on the sands of Venice Beach. Find or join a bench to watch the parade by renting a touring bike and riding a stretch of the 22-mile / 35-km Marvin Braude Coastal Bike Trail, which links Santa Monica to Torrance.
For a truly wild experience, Walk inland, away from the beach, to discover a different Venice. The most famous street in the city, Abbot Kinney Boulevard, is an ideal stroll for a walk and an actual treasure chest when it comes to shopping.
Look for designer clothes in chic boutiques that attract Hollywood stars, and also choose from a wide variety of beautiful home accessories – you'll find everything from vintage to mid-century style.
Mix your fragrances in Strange Invisible Perfumes. Cafes and food trucks make sure you don't go hungry while shopping. And yes, there are canals in Venice – stroll past the original country houses, lush gardens, and modern residences of the Venice Canal Historic District.
5 Best things to do in Santa Monica
14. Flight Museum – Santa Monica
If you are planning to visit the United States during the summer, be sure to add the city of Santa Monica as part of your things to do in California. The city is full of famous historical buildings and attractions that can help you enjoy the natural environment and entertainment centers. However, if you are a lover of military history, there is no better place for you to go than the Flight Museum.
In 1974, the museum was initially known by the Douglas Museum and Library but later transformed into an Aviation Museum in 1989. After being closed for almost a decade, they reopened it to the public in 2012. Since then is visited by dozens of people, including tourists who will appreciate the aviation history and its many exhibits focused on Southern California.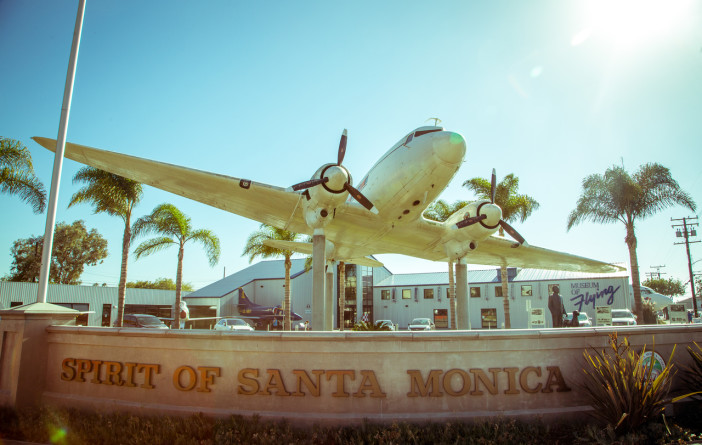 Visitors benefit from several things to do in the Museum of Flying. First, they can attend a wide variety of exhibitions over an area of ​​over 20,000 square feet. At the museum, you will explore many exhibits focused on the growth of the aerospace and aviation industry, mainly related to the Douglas Aircraft Company.
The museum proudly displays 24 types of planes, from the Wright Flyer to FedEx 727, and is a fantastic place to bring your spouse and kids.
15. Santa Monica State Beach
If you are looking for the perfect summer experience in the United States, there are various things to do in California that can help you have an unforgettable experience. Santa Monica State Beach is an example of a destination where all of your summer vacation dreams can come true.
Located on the Pacific Coast Highway, the Santa Monica State Beach is 3.5 miles long and is the one-stop place for spectacular family entertainment. It contains various entertainment areas, including parks, playgrounds, bike paths, picnic areas, hotels, and restaurants.
Things to do in Santa Monica